The inaugural Arkesden Hill Climb Championships will take place on Sunday 3rd November on closed roads on the famous Col du Long Lane.
About this Event
Man and Woman vs Mountain in the ultimate test of cycling suffering. We offer you the chance of biking immortality by conquering the mighty Col du Long Lane. Pit yourself against the finest grimpeurs in North-West Essex.
An initial individual time trial up the punishing 0.7 mile / 1.2km Col du Long Lane will be followed by head to head matches.
A compulsory cash donation of £5 per competitor, to cover the event costs, will be collected at registration on the morning of the event. Minimum age is 12 on the day of the event.
Thanks to Innes Dunlop for the artwork!
Please read the Terms and Conditions below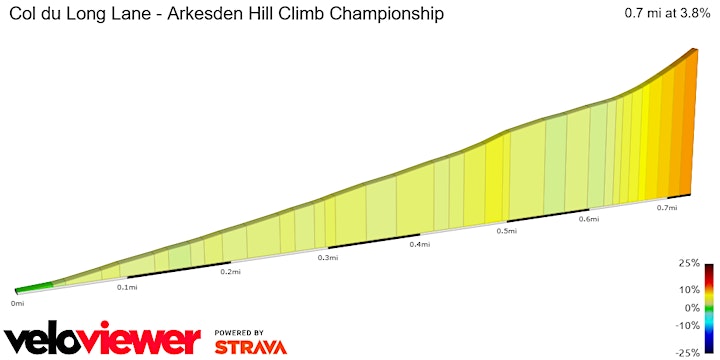 Dyce Fitness Terms and Conditions
Participation risk
I understand and agree that I participate in the event entirely at my own risk and that no responsibility whatsoever shall attach to any race directors, or any person involved in the organisation of the event for any injury, accidents, loss or damage suffered by me in, or by reason of the event, however such may be caused. Whilst Dyce Fitness takes every care with running the event, I acknowledge that personal accident and personal items insurance is my responsibility.
Dyce Fitness shall not be liable to the participant for any loss or damage of or to personal equipment belonging to the participant, or any indirect or consequential loss or damage whatsoever arising out of the participant taking part in the event; or for any loss of business; revenue or profit. Dyce Fitness will not be liable for any actions of any spectators or other third parties.
Health
I am aware of the physically strenuous nature of this event. I confirm I am healthy and fit (physically and medically) enough to complete this event and I know of no medical reason why I cannot participate in this event. I accept that should any medical or physical condition arise prior to the event which is likely to affect my ability to compete will be reason to withdraw in accordance with these conditions.
Online Entry
By completing the online application for entry into this event I understand and agree to abide by the terms and conditions and the instructions given by the organiser and race officials.
Email Communication
Dyce Fitness uses email to communicate with its competitors. By entering this event, I agree to receive emails regarding this specific event.
Equipment
I understand that it is my responsibility to provide and use a roadworthy bicycle and helmet.
Personal Identification
At registration I must produce appropriate photographic personal identification such as drivers' licence, British Cycling or British Triathlon membership cards. Children less than 16 years of age are not required to produce photo ID.
Photography and Media
I understand and accept that photographs and video footage of the event and its participants may be used by Dyce Fitness to publicise and promote this and future events.
Data protection
I agree for the purposes of this condition, personal information includes medical data collected for health and safety purposes ("Personal Information").
I agree that my personal information can be stored, used by Dyce Fitness in connection with the organisation, staging and administration of the Event.
Medical information will only be used to allow medical assistance to be given on the event date.
We shall take all necessary steps to ensure that personal information or marketing information pertaining or relating to you which comes into the possession or control of Dyce Fitness shall not be used or reproduced in whole or in part in any form except for the purposes outlined in these Conditions.
Cancellations
Dyce Fitness reserves the right to cancel the event due to circumstances beyond its reasonable control or for any safety related reason.
Final Decision
All decisions and rulings by Dyce Fitness are considered final. Accordingly, I agree to comply with all event rules and all instructions and guidelines given by race crew, stewards, marshals, and safety personnel. I acknowledge and agree that Dyce Fitness will organise and run the event and will have sole authority and be the final arbiter on all decisions relating to the safety, running and organisation of the event, the rules of the event, the timings/finish times and the placing's.