Description
Hip Hop Caucus Think 100% and Alaska Wilderness League present…
The Arctic in Los Angeles
Culture, Storytelling, and Climate Justice Uniting Communities on the Frontlines of the Climate Crisis
Together we can be the solution to the climate crisis that threatens our culture, rights, health, and existence. Like those standing up to the fossil fuel industry at Standing Rock, the refineries in Port Arthur, Texas, the Atlantic Coast Pipeline on the east coast, and oil drilling and refineries here in Los Angeles, the Gwich'in people in the Arctic are standing up for their way of life and at the same time for all of us on this planet.
This event will be a beautiful way to spend a Saturday afternoon, transporting you to a place so few of us ever get a chance to go. Come feed your soul and open your eyes to our indigenous brothers and sisters in Alaska who are standing up for all our futures.
Featuring...
Photography Exhibit: 'Vashraii K'oo - An Arctic Refuge Experience' - by Chad Brown (more here)

Live Podcast Taping of Think 100% - The Coolest Show on Climate Change, with Bernadette Demientieff and Isaiah Horace of the Gwich'in Steering Committee, and photographer Chad Brown, hosted by Rev. Lennox Yearwood Jr.

Musical Performance by Choklate, presented by Critical Breakdown
NOTES: Snacks and refreshments served. This event is family friendly. Must RSVP, invitation only.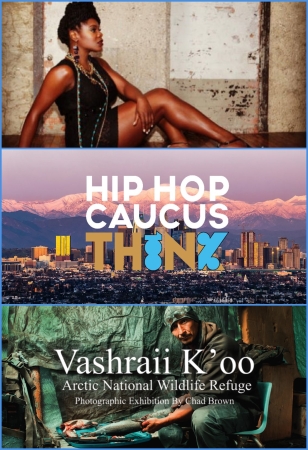 Hip Hop Caucus has teamed up with a number of incredible partners for this event, including Gwich'in leaders from the Arctic, Alaska Wilderness League, Sankofa.org, One Up Action, and Moving Forward Network.