The Archetypal Journey - Life Purpose Clarity & Ending the Confusion - mp3 REPLAY

Tuesday, March 29, 2016 at 7:00 PM

-

Saturday, December 31, 2016 at 8:00 PM (BST)
Event Details
UNCOVERING YOUR ARCHETYPAL & LIFE PURPOSE CLARITY & FINDING YOUR WAY OUT OF CONFUSION 
TELESEMINAR CALL & ONLINE WEBINAR - REPLAY
WHAT IS THE ARCHETYPAL JOURNEY & HOW DOES IT RELATE TO YOU?
The number of people recently coming to me and sending me messages about this subject (even though they didn't realise they were talking about the Archetypal Journey) has gone way beyond mere chance.  This has included people feeling:
Lost

Confused

Unsure of the next stage of their life

Not knowing which way to turn

Like the 'rug has been pulled from under your feet'

As though you are being 'called' to do something else yet now sure what
Some are also questioning their life purpose and what they are really here to do on this earth, or aware that life is pulling them in a different direction but unable to get clarity on the 'what' or the 'why' regarding those changes.
If it's a subject that is completely new to you, I have written a series of Blogs on this subject with stories from Oprah, Debbie Ford, Elizabeth Gilbert, and Lenny Kravitz, the links to which are in the 'Further Information' section below.  It will give you an idea of how the Archetypes and the Hero's Journey show up and manifest in real life.
WHAT IS THE ARCHETYPAL JOURNEY OR HERO'S JOURNEY?
The Archetypal or Hero's Journey is that which is said to depict the journey of human life.
If you have ever watched a Hollywood blockbuster movie you have seen this journey played out before your very eyes; The not so heroic feeling hero is awoken from their slumber and Called (cue Neo in The Matrix, Harry in Harry Potter, Peter Parker in Superman, Dorothy in those red Wizard of Oz slippers; insert hero's name here and it'll still work).  Once they have heard, and most importantly acknowledged The Call, they have to cross the all-important Threshold in order to see the possibility of what is being offered in the next phase of their life.
If they take courage and cross The Threshold they are met with Challenges which can be physical, emotional, mental, or spiritual, depending upon the new path being embarked upon.
Crossing The Threshold brings with it a new set of Challenges and the need to let go.  This might be letting go of old thoughts, beliefs, ways of being, the life that you thought you had planned for yourself, even the letting go of people, places, or things; cue Elizabeth Gilbert in Eat, Pray, Love.
If you're still in the game and on the path at this point you head right on into to Abyss, which is just like it sounds.  Insecurity, uncertainty, questioning your decision to take the plunge; Is Neo really the chosen one?  Can Luke Skywalker really master the Force?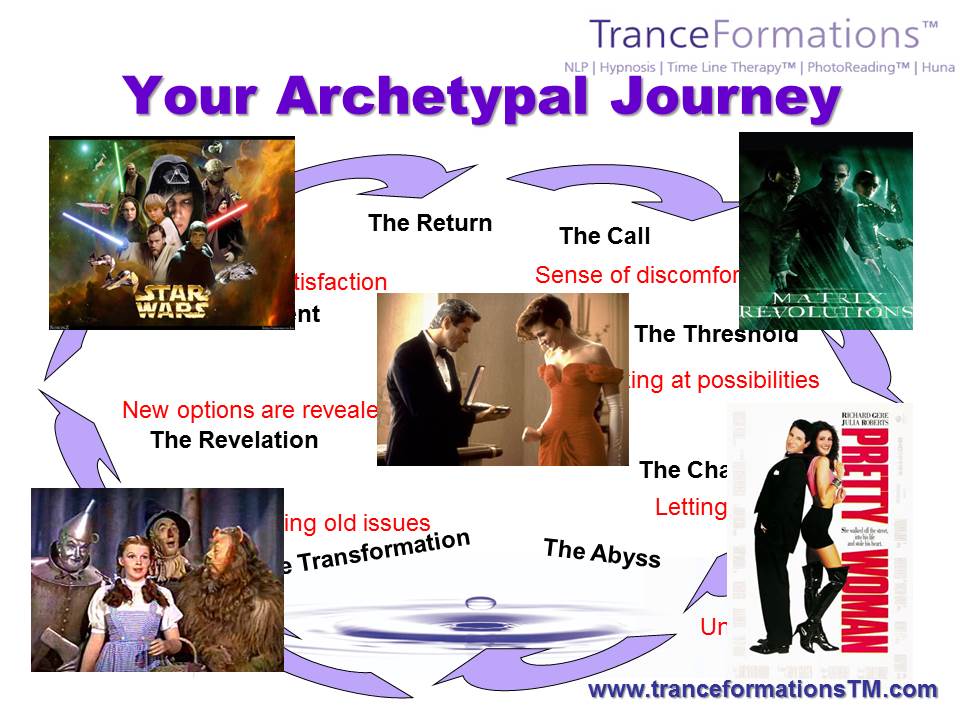 There are another 4 stages which follow before you make your Return to the Kingdom with the spoils and gifts of your physical or emotional quest.
WHAT WILL WE BE COVERING DURING THE LIVE TELESEMINAR & WEBINAR CALL?
I'll be taking you through the 8 Stages of the Archetypal Journey, as first put forward by Carl Jung, and expanding on some of the following:
What is the Archetypal Journey?

Does everyone hear or even receive The Call?

How do you know which stage you are at?

What resources or insights do you need to move beyond the stage that you are in?

How this information relates to your life and business?

What can you do to make the transition to and through the next stages easier?
WHERE CAN I FIND OUT MORE INFORMATION ABOUT ARCHETYPES BEFORE THE CALL?
I've been working as an Archetypal Profiling Coach and Archetypal Branding Consultant since 2005.  For further information click here.
It started as one of those Practitioner Courses that I did more out of curiosity however the results of the Archetypal Profile Test that I completed back then astounded me and described my life journey and the path that I was currently on to a T!  Right down to studying to be an Accountant yet being inexplicably 'called' to be a Hypnotherapist instead and having to take the leap of faith and cross The Threshold and then go through everything else that came thereafter before coming out of the other side both qualified, and living a completely different life.
What surprised me even more than the personal side of things was the fact that it perfectly identified and described the values of my business, TranceFormations, with my strongest Archetypal energies being The Sage (PhotoReading Instructor and sharing wisdom), The Magician (TranceFormation is all about magical transformations), The Creator (well creativity is my middle name and that fits with the Roger Hamilton Wealth Dynamics profile that I completed many years later), and The Jester (those who have worked with me will know that I also know that laughter is a bit part of the reframing process).
WHAT HAVE CLIENTS EXPERIENCED WHEN EXPLORING THEIR ARCHETYPES?
I've had amazing feedback from my Breakthrough and TranceFormation Programme clients over the years.  A small selection is below: 
"I love it. I'm a happy bunny! When you first sent the information about the Programme I was like 'bing' and a light bulb went off. When I was completing both the Soul Plan and Archetypes questionnaire I was kind of chuckling to myself because I know myself so I didn't expect it to tell me anything I didn't already know . . . . but when you explain it, it's like hearing about me and other aspects of me on a sheet of A4 paper! Some of the things you say, you're scaring me because you could never have known that I was even thinking about some of those things."
"The Archetypes was a fascinating insight into the world.  We've done Skype, we've done phone, and you've not said 'right, you've got an hour or an hour and a half.'  It's like a journey with magic steps along the way, and a magic wand with more and more clarity along the way.  That's what makes it so special."
"I have done similar processes with the Archetypes work so this is not new for me but this process today is really really powerful because it's shifted stuff I wasn't even aware of . . .  It's amazing.  Thank you so much Marilyn.  I would say it's been life changing, and I think I need the rest of the week to process this!!"
"Hi Marilyn,
Thanks for the amazing session. Just thought I'd share my moment of noticing. Remember when you asked my destroyer archetype for a sign of moving on, before I got into limbo & that sign was 999? I've just literally turned the TV on whilst having some lunch & pretty much the first thing I saw was an advert for medical negligence with a phone number including the number, you've guessed it... 999!!!
Love this stuff!
Thanks again,"
"So last night was super interesting. Really felt as if it was just you and me.  It was so spot on, which took me completely by surprise as I have always held the opinion that you can 'make' these things fit your own personal circumstances.  Somehow this seemed different altogether.  When you got to the bit about reclusive, hermit, don't want to participate in things, etc it was like you have been sitting quietly observing me for a long time now… and the natural facilitator - yep! that's me.
I was totally intrigued by the Archetypes - and then it came up as one of the suggestions!  The Soul Retrieval took me to the roots of the tree where I scooped up a big handful of joy, happiness and smiles and slipped them in my pocket.  I am feeling a little bit different in a formless sort of way - can't put it into the form of words right now…. will keep you in the loop of developments!"
WHAT ARE THE BENEFITS OF KNOWING MORE ABOUT YOUR ARCHETYPAL PROFILE?
As providing often much needed insights into what is happening in your life, to know where you, why certain things might be happening and what you can do to get through them for me was priceless.
It offered clarity, peace of mind, and just being able to breathe and make sense of it all.  Life is no longer just a completely random crazy path; there is some framework and method to the seeming madness.
To know where you are on either your life path or your current journey can make the whole transition easier.  There may still be work to do, challenges to be faced, or courageous decisions to be made, however somehow, when you can see what's ahead of you and know more about the 'light at the end of the tunnel' that can provide the all-important motivation and staying power to keep going.
YES!  I'D LOVE TO JOIN YOU!  HOW DO I SIGN UP?
To join the call simply register using the Eventbrite form above and you will be sent the login details and password.  Please note that any e-mails will be sent to the e-mail address that you use for registration so please check all spellings, even if it auto fills, and also use an e-mail address that you have access to or check regularly.
A reminder of the login information will also be sent out just before the live call, and it should also be displayed once you have completed the booking form.
WHAT IF I CAN'T MAKE THE LIVE CALL?
All pre-registered attendees will have access to both a call replay and an mp3 download.  Unregistered guests can purchase a copy of the mp3 via this page following the live call.
BONUS ITEMS
For those purchasing a copy of the mp3 recording you will also receive the 12-Page Archetypal Overview Bonus pdf which covers the:
Archetypal Profile Characteristics 

Archetypal Journey Overview

Archetypal Strengths and Shadows

The Benefits of Knowing Your Archetypes

A 20% discount off the price of a private 1-2-1 Archetypal Profile Analysis
FURTHER INFORMATION
If you need further information or to book private sessions e-mail: marilyn@tranceformationsTM.com or go to http://tranceformationstm.com/archetypal.html#arch  
I've also written several Blogs which touch on or cover this subject.  A few of them are outlined below:
Debbie Ford & Oprah: Ignore Your Shadow Side at Your Peril 

Elizabeth Gilbert on The Heroine's Journey: Did You Get the Memo? 

Lenny Kravitz: Finding Your Life Purpose & the Calling of Your Soul 

HOW LONG IS THE LIVE TELESEMINAR/WEBINAR CALL?
The call will be 60 minutes, with a further few minutes at the end of Q&A.  

When
Tuesday, March 29, 2016 at 7:00 PM

-

Saturday, December 31, 2016 at 8:00 PM (BST)
Add to my calendar
Organizer
Trance Formations TM
Trance FormationsTM offers Training, Coaching, NLP Facilitation, PhotoReading and Accelerated Learning & Development courses to corporations and individuals.
A pioneer in cutting edge change technologies, and with over 20 years industry experience, Trance Formations offers Coaching and Events that enable people to tap into their own innate potential.
Contact Information:
For details of PhotoReading one to one coaching sessions and corporate training courses, you can contact Marilyn Devonish on: 
Tel: +44 1923 337282
E-mail: Marilyn@tranceformationstm.com  Web: www.tranceformationstm.com