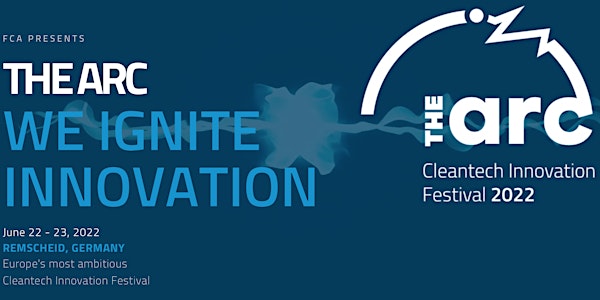 The ARC - Cleantech Innovation Festival 2022
The ARC is a two-day Cleantech Innovation Festival taking place in Remscheid, Germany.
About this event
FCA is a non-profit cleantech thinktank working to close the remaining innovation gaps in order to reach net-zero emissions by 2050.
Together with international partners and co-hosts from the public and private sphere, ARC brings together the brightest minds and best ideas in cleantech worldwide. Four stages, each focusing on accelerating high-impact ideas across cleantech innovation, will give attendees the opportunity to discuss the most effective technologies, policy approaches, and financial ideas to drive down emissions drastically.
Ordering a ticket constitutes a registration to the in-person cleantech innovation festival taking place in Remscheid, Germany. Due to the ongoing COVID-pandemic, short-term changes are possible. Most events will be made available via livestream for those not able to attend in person.
Registration for specific events will be opened in the coming weeks. More information on the specific registration process, the programm, and speakers will be circulated via e-mail and published on www.arc-festival.org.
The ARC – igniting cleantech innovation worldwide.