"The Apocalypse Project: House of Futures" Future Now Day - September 22

Tuesday, September 22, 2015 from 9:00 AM to 7:00 PM (PDT)
Event Details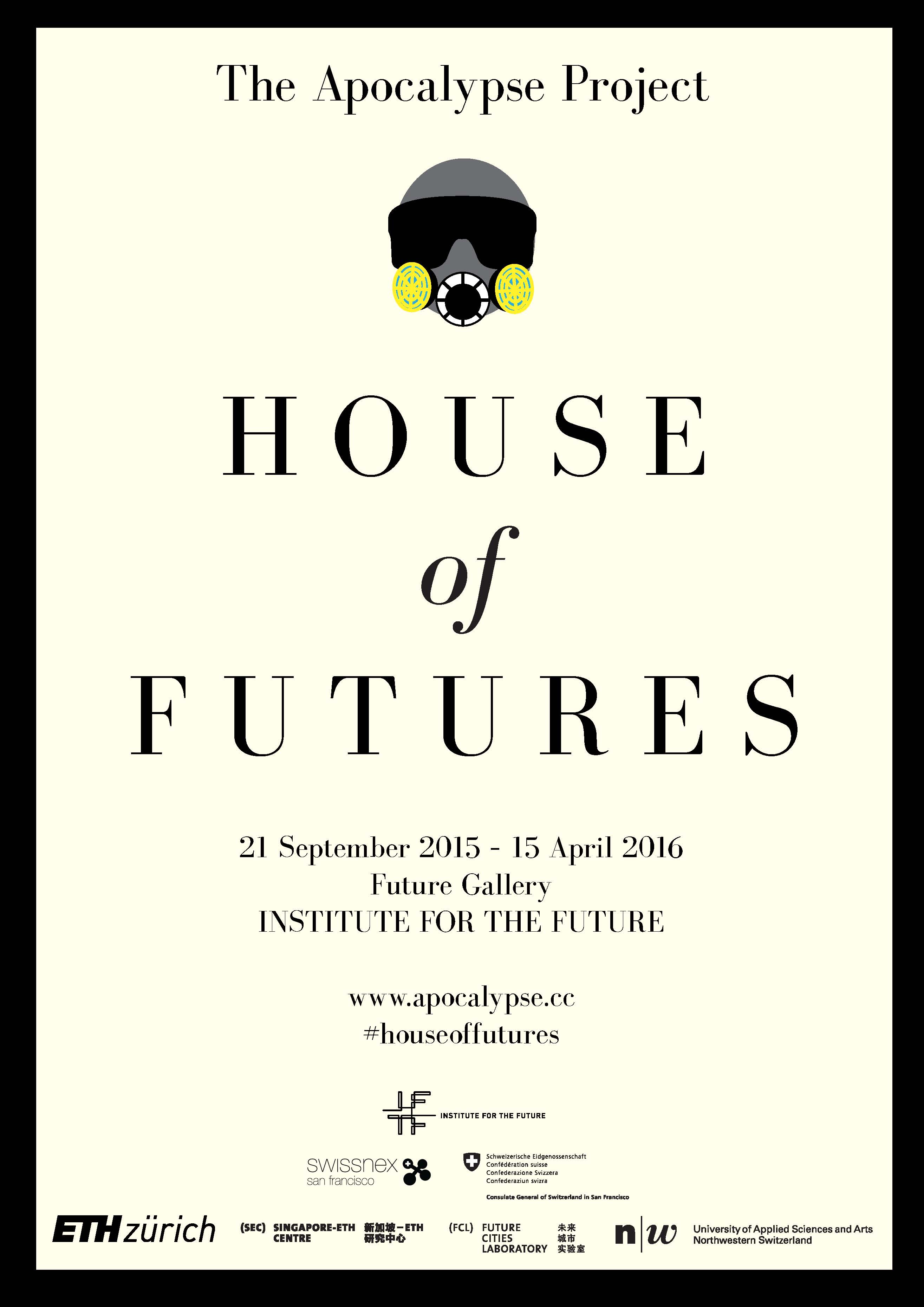 Join Institute for the Future
for our
inaugural full-day Future Now event 
featuring the artist of our latest installation!
Join us at Institute for the Future for our inaugural Future Now day of futures thinking in our Future Gallery! Future Now: The Apocalypse Project features a brand-new exhibition at IFTF's Future Gallery that speculates on our environmental futures through the lens of high fashion. Artist and designer Catherine Young, in collaboration with scientists from the Singapore-ETH Future Cities Laboratory and the University of Applied Sciences and Arts, Northwestern Switzerland, developed this work in previous exhibits in Singapore, Manila, Seoul, San Francisco, and New York City. The exhibition will feature interactive projects and welcomes audiences of all ages. The Apocalypse Project is a participatory platform where people can discuss their ideas about what makes a sustainable planet and what is a desirable future.
The day-long event will be the first in the Future Now series, where IFTF will open the doors to our Future Gallery, a 3,000 square foot room in the heart of Silicon Valley, for a full day of events and networking. 
What to Expect
9:00am-12:00pm — Open space for viewing The Apocalypse Project and coworking
12:00-1:00pm — Lunch and talk by the creators of the exhibit, Stefan Müller Arisona, Simon Schubiger (ETH), and Catherine Young.
1:00-4:00pm — Guided tours of the exhibit to view and interact with the art on display, additional open space for coworking and conversation
4:00-7:00pm — Cocktail reception with music by Stefan Müller Arisona and Simon Schubiger. Wine, beer and appetizers to be served.
7:00-8:00pm — Train from the Future: Guests are invited to ride public transportation together and encouraged to take the conversation onto the train with them. The Apocalypse Project stickers or wristbands will keep the group together as they head home.
How you can imagine the future under climate change:
Climate Change Couture: Haute Fashion for a Hotter Planet

imagines what we might wear under anthropogenic climate change. 

The Weather Millinery

is a hat project that makes the consequences of climate change visible.

The Ephemeral Marvels Perfume Store

is a perfume line of smells that we could lose in the natural world because of climate change.

Wild Jewels

explores the possibilities of wearable technology that responds to future environmental scenarios. 

Future Feast

imagines potential dishes we might have if our supplies of meat, dairy, and wheat are used up.
How you can explore the future through interactive works:
Climate Closet

invites people to try on Climate Change Couture and to draw their own designs.

Mission Apocalypse

challenges participants to answer climate change-related questions hidden in the gallery and win an official The Apocalypse Project Commander Badge.

Let's Prevent the Apocalypse

by....

invites people to share their sustainable solutions.
For information about Institute for the Future (IFTF), visit iftf.org.
When & Where

Institute for the Future
201 Hamilton Avenue
Palo Alto, CA 94301


Tuesday, September 22, 2015 from 9:00 AM to 7:00 PM (PDT)
Add to my calendar
Organizer
The Institute for the Future (IFTF) is an independent nonprofit research group. We work with organizations of all kinds to help them make better, more informed decisions about the future. We provide the foresight to create insights that lead to action.