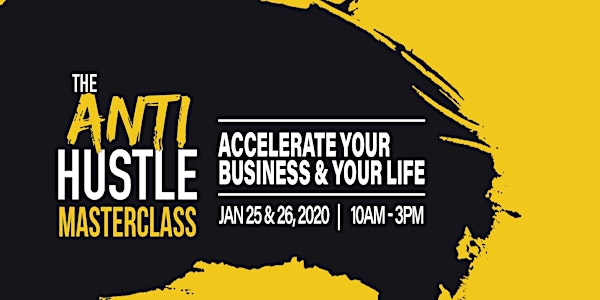 The AntiHustle Intensive MasterClass - Accelerate Your Business & Your Life
Christian Business Class that will help you to use biblical principles and spiritual laws to accelerate your business
When and where
Location
Better Than Success LLC 2930 Jasper Street ##103 Philadelphia, PA 19134
Refund Policy
Contact the organizer to request a refund.
Eventbrite's fee is nonrefundable.
About this event
****2 Important Warnings:
1) This class is for serious entrepreneurs ONLY (both new and vets) . This class is exclusively designed for someone who runs a business or has the serious intent to launch a business in the next year or less. Any attendee found in violation will be asked to leave with a partial refund
2) This class' curriculum is based on Christian principles. The content for this course is specifically designed to encourage participants to use their God given purpose to its fullest and maximum potential. If this makes you uncomfortable then this class is not for you.
****
Imagine starting and building your business to six figures in revenue in just one year…
Owning and running a successful business in your passion industry has been your dream your whole life. But, the problem is, most entrepreneurs fail in the first two years and you CANNOT allow that to happen to you! Whether you are looking to grow your stagnant business, or get your business off the ground so you can live the life you've always dreamed, The AntiHustle will give you the blueprint for avoiding the pitfalls of most unsuccessful entrepreneurs.
Based on the best selling book, The AntiHustle by Nicole Purvy, this step-by-step intensive masterclass will teach you:
How Nicole grew a six-figure business in less than a year, without "hustling" or "over-stressing".
Why the concept of "hustling" is actually working against you and keeping you in the poor house.
Why trying to "hustle" your way to the top will NEVER work.
How to work smarter, and not harder, so you can have your time and peace of mind while making money from your passion.
How to start a business with as little stress as possible.
The five steps to breaking the hustle mentality, known as the AntiHustle formula.
How to leverage the gift of the AntiHustle to start a six-figure business in just one year.
In just one year, you could achieve your six figures in business and set yourself up for endless success, and beyond.
In this 2-day intensive Masterclass students will learn:
How to pick the right business in the right industry
How to time your success properly
How to implement the 7 steps of the AntiHustle to ensure success at any stage of building your business
The most common ways that cause most entrepreneurs to fail and how to strategically avoid them like the plague
How to prepare yourself to receive an overflow of revenue
How to align your specific talents, gifts, skills, and purpose to create a customized plan of action to success and beyond
Each attendee will leave with a clear and defined plan of action for their business and ultimately their life purpose
Your ticket includes:
Copy of "The AntiHustle" book
Copy of "The AntiHustle" workbook
Attendance for both days of the event: January 25, 10am-3pm AND Jan 26, 10am-3pm
Main Instructor, Nicole Purvy
Entrepreneur, author, real estate investor and podcaster, Nicole Purvy is the founder of Better Than Success. BTS provides education, and valuable resources to first-generation entrepreneurs, leaders and key members of small teams around the world, through 9 sub-brands including the Better Than Success Real Estate League, Philly Real Estate Week, Women In Real Estate Summit, the Better Than Success Podcast and BTS Funding.
Through her leadership the Better Than Success Real Estate League is one of the largest and fastest growing Real Estate Clubs in Philadelphia by bridging the information gap between developers and decision makers and hundreds of every day investors and investor hopefuls.
She also provides platforms for thousands of entrepreneurs and real estate investors to come together and learn through her large events such as the 7-day event, Philly Real Estate Week and the Women and Real Estate Summit.
Her podcast the Better Than Success Podcast, was named #11 of the top 48 podcasts for entrepreneurs by Entrepreneur Magazine and 1 of 5 top podcasts for Entrepreneurs by Kontrol magazine. Her passion for helping entrepreneurs and businesses grow and succeed is the cornerstone for her businesses. She has also authored the critically acclaimed book "The AntiHustle: Start a Six Figure Business in One Year".
Prior to becoming an entrepreneur and real estate investor, she had a successful career in finance, as an Institutional Fixed Income Trader. From working on Wall Street, her knowledge and understanding of the financial markets and business finance allows her to bring a unique and accurate perspective to real estate investing and leadership. She also plays the bass in her spare time.