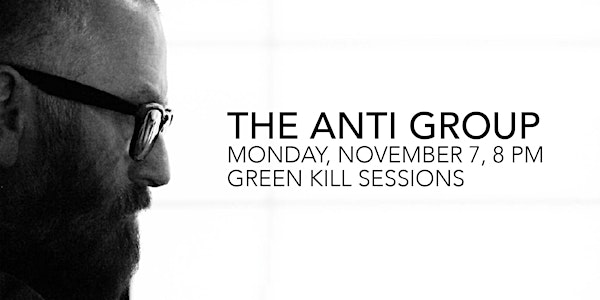 The Anti Group, Monday, November 7, 8 PM, Green Kill Sessions
Green Kill Sessions presents The Anti Group, Monday, November 7, 8 PM.
Refund Policy
Contact the organizer to request a refund.
Eventbrite's fee is nonrefundable.
About this event
Green Kill Sessions presents The Anti Group, Monday, November 7, 8 PM.
"Adi Newton has long since described the process of making music as his research. It represents a more thoughtful and reflective body of work than that which dominates his peer group. In particular, Newton's grasp of the philosophical connotations of technology placed him apart from the majority of its practitioners."
- NME.COM
This event will be livestreamed on the Green Kill Sessions YouTube Channel and will be open to a live audience of 30. Tickets are 10 dollars.
1. Please click "Tickets" button to access livestream or live audience ticket.
2. Select "Livestream Ticket" or "Live Audience Ticket". Audience members attending in person must be masked! Please choose the right ticket. A Livestream Ticket provides you with a link to the Green Kill Sessions livestream which can be accessed remotely on your own equipment. A Live Audience Ticket puts you on a list for a reserved set at the event, and also provides you a livestream link. If you are coming to the event, please arrive 15 minutes before starting time. There are no ticket sales at the door. All tickets must be reserved on Eventbrite.
3. Enter the number of tickets you would like to buy.
4. Enter your credit card information: Name, Number, Expiration Date, and CVV code. Double-check the info you entered. Make sure it's correct. It's easy to slip up!
5. Select "Place Order". You will then have access to the page which has a watch event link. Click on that link to see the YouTube event address. An email will also be sent to the email address you provided with the link.
Shortly before the event, you will receive a reminder link.
Please be advised that tickets are not transferable. If you wish to buy a ticket for someone else, you must use their email when buying a ticket for an event.
Because COVID is still a potential hazard guests attending the livestream in person must be masked and vaccinated. Artists organizing events can limit the number of a live audience or decline to invite any in-person attendance.
Adi Newton
Adi Newton began his life long involvement with sound via painting, and through a theatre project which began his involvement with the electronic trio The Future. From that group he founded  ClockDVA and The Anti Group, both of which are increasingly considered as preeminent pioneering groups of 80's experimental music. Acclaimed ClockDVA albums include the 1988 electronic masterpiece, BURIED DREAMS, and the 1980 electro-acoustic, THIRST. Newton's collaboration with Andrew Mckenzie of the Halfler Trio, as the Psychophysicist, is also considered as a important seminal work of experimental music.
The original idea for the Anti Group was devised by A. Newton & S.J. Turner (R.I.P) as early as 1978, with the intention of the formation of a multi-dimensional research & development project active in many related areas. Strictly speaking TAGC are not a group, but a variable collection of individuals contributing under invitation. TAGC are not affiliated to any one system of philosophy or epistemological paradigm or occult fraternity but are open more to individual systems and innovative thinkers Science, Art , Music Sonology ,Visual Arts, Literature, Research & Publication are its main areas of focus ,Over the years ideas and occult philosophy of various individual practioners have been a focus of exploration and research within TAGC projects, but there is always connections to other areas of research within those projects in some our aim is to highlight and discover new connections and correspondences between systems of thought and the systems of technics similar to Bernard Stiegler's concept of technics which has emerged recently as an important contribution to studies of the relation between technology, time and the human spirit. by exploring the possibilities of the technology of spirit, to bring forth a new "life of the mind".
The Anti Group's Meontogical Research Recording series and the Ambisonic landmark Digitaria are highly regarded as influential works. Recent releases from The Anti Group include Organ Needles, recorded with various collaborators, and AMMA, released in 2022.
Newton has recently returned to painting and continues to explore and develop his multi-disciplinary practice, while still remaining very active within the DVA/TAGC/PSYCHOPHYSICIST projects, including a new solo recording Newtones (his first release under his own name) and a new ClockDVA record to be released in 2023.
Newton Directs all three projects as well as the Multi media production company ARMComm / Anterior Research Media Communications.