INVITATION TO ATTEND!
Be prepared to look fabulous Invited Guests!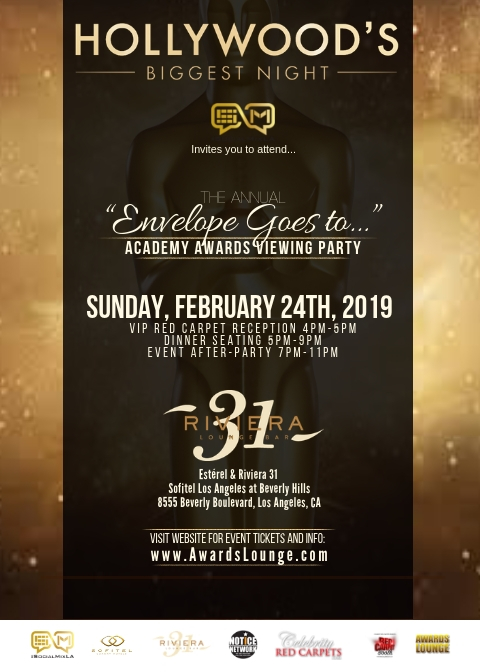 We're rolling out the red carpet because it's time for the 10th Annual Academy Awards celebration and viewing party. This event will sell out, be sure to get your tickets now and take advantage of Early Bird pricing.
@
The world famous
Riviera 31 and Cattle & Claw Restaurant
Sofitel Los Angeles at Beverly Hills
8555 Beverly Boulevard
Los Angeles, CA 90048
A sophisticated cocktail lounge with a Mediteranean-style menu that caters to L.A.'s most discerning clientele and the cosmopolitan guests of Sofitel L.A. at Beverly Hills. Riviera 31's stunning and thought-provoking decor takes visitors on a visual journey through the evocative history of the French Riviera with photography by the legendary Edward Quinn.
Cattle & Claw Restaurant will offer delicious food for purchase, and Mixologist Expert Frederic Zemmour, will be serving special signature cocktails at the event (non hosted bar). VIP guests will have full event access between the private VIP seating area and general admission standing to enjoy the entire ceremony. 
SocialMixLA proudly invites movie lovers to celebrate the Oscars in style at the Annual Oscar Awards Viewing Party on Sunday February 24th, 2019 inside Riviera 31 in Sofitel Los Angeles at Beverly Hills.

EVENT DATE:
SUNDAY, FEBRUARY  24TH, 2019
VIP Red Carpet Reception 4pm - 5pm
Dinner Seating 5pm - 9pm
Event After-Party 8pm - 12am

Each year, SocialMixLA rolls out the red carpet and invites everyone to participate in an interactive celebration of the Oscar nominated films of the year. Attendees can enjoy food and drinks, the live telecast, trivia games and more. 



EVENT LOCATION:


Riviera 31 and Cattle & Claw Restaurant
Sofitel Los Angeles at Beverly Hills
8555 Beverly Boulevard
Los Angeles, CA 90048
EVENT FEATURES:
• General Admission is only $15.00 Online (no reserved seating)
• Private VIP Area W/Lounge Table style seating (reserved for VIP)
• Star Studded RED Carpet event
• Multiple plasma's located throughout the venue (best viewing would be in VIP)
• Oscar Themed cocktails and dining menu (non-hosted)
• Oscar Ballots (enter to will some great prizes)
• Spectacular Venue located in Beverly Hills
• Outdoor seating and dining avail
• Music and Dancing
• Valet Parking avail.
• Specialty Themed Cocktails
• Mingle and network with film and entertainment talent, agents, attorneys, directors, distributors, directors, financiers, producers, writers and members of the press.
• Spectacular audio/video Production
• VIP Tables *available
• Multiple Bars
• Heated Smoking Patio
• Plenty of Outdoor Smoking areas
• Live Entertainment
• Party favors
• Coat check available
• Quick check-in
**MUST BE 21YRS TO ATTEND!!!*