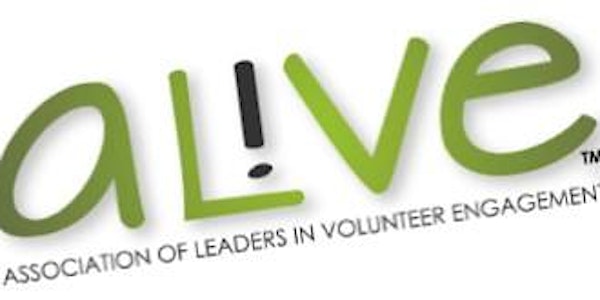 The Annual AL!VE Web Conference
This year the topic is The Future is Now: Tech Trends for 2020. Exploring how volunteers impact our volunteers, programs, and agencies.
When and where
Location
Bayhealth Hospital, Sussex Campus 100 Wellness Way Milford, DE 19963
About this event
Presentation team:
Dana Litwin, CVA – Host and Moderator
Dana has 13 years' experience building  volunteer and community engagement programs, as well as developing relevant training and educational materials, and presentations.   She is a Board President  of Association of Leaders in Volunteer Engagement (AL!VE) representing the Pacific Region.
Faiza Venzant CVA, CVRM
Faiza has been a leader in the sector for 20 years. She is currently General Manager, Volunteer Development at the YMCA of Greater Toronto. Faiza holds her CVA and CVRM certifications in the field of volunteer engagement and is passionate about issues of inclusion in volunteerism.
Faiza serves on the Board of the Council for Certification in Volunteer Administration (CCVA) and is also an active member and volunteer of the Toronto Association for Volunteer Administrators and Professional Association of Volunteer Leaders – Ontario (PAVR-O) where she has twice received the President's Award (2010 and 2012) in recognition of her volunteer contributions and where she also received the Linda Buchanan Award for Volunteer Administration (2013). She is also a member of Volunteer Management Professionals of Canada (VMPC.) In 2018, Faiza published her first children's book entitled, My Mamma Wants to Eat Me Up! As a mother of a two young boys, she has not actually eaten any of her children up.
Lisa Dyer, CVA
Liza has been working and volunteering in the nonprofit and public sectors for over 15 years and currently works in a public library in Portland, Oregon. She spends her days connecting people and information, creating better access to volunteer experiences, and nerding out over technology.  
Rob Jackson
Rob Jackson is Director of Rob Jackson Consulting Ltd, a consultancy and training company that helps engage and inspire people to bring about change. Rob has worked in the volunteering movement for more than two decades, during which time he has led and managed volunteers and volunteering in education, advice, fundraising and children's services settings at local, regional and national levels.
Rob is co-author of The Complete Volunteer Management Handbook (DSC, 2012) and From The Top Down - UK Edition (Energize Inc., 2015).
Erin Spink, MA
Erub's academic and thought-leadership work has since been published around the world. For the last several years, Erin has volunteered as the Training Designs Editor for e-Volunteerism. Recently, Erin was recognized with the 2017 recipient of the Linda Buchanan Outstanding Leader of Volunteers award for her contributions to the profession. After 20 years working in Volunteer Engagement, she has changed her mind and no longer believes in eating volunteers.
Below are some frequently asked questions that you may have about the conference.
FAQ #1: Do we record the sessions and share? No, we do not record and share the conference.
FAQ #2: Will you share the slide decks of the presenters? Yes, but most are very photo/graphic heavy. We will be asking the presenters to provide a short summary as a handout.
FAQ #3: Do you have the websites referenced in the broadcasts? Yes, we will collate all those and get those to you as soon as possible after the conference.
FAQ #4: I cannot make any of the the facilitator training, will you record? Yes, and it will be on September 30. I'll send the recording link in my next update (October 4) or you can email directly for it after October 1.
FAQ#5: Will there be a session to test my connection? Yes, it will be October 16 and 17 from noon - 2 Eastern each day.