Description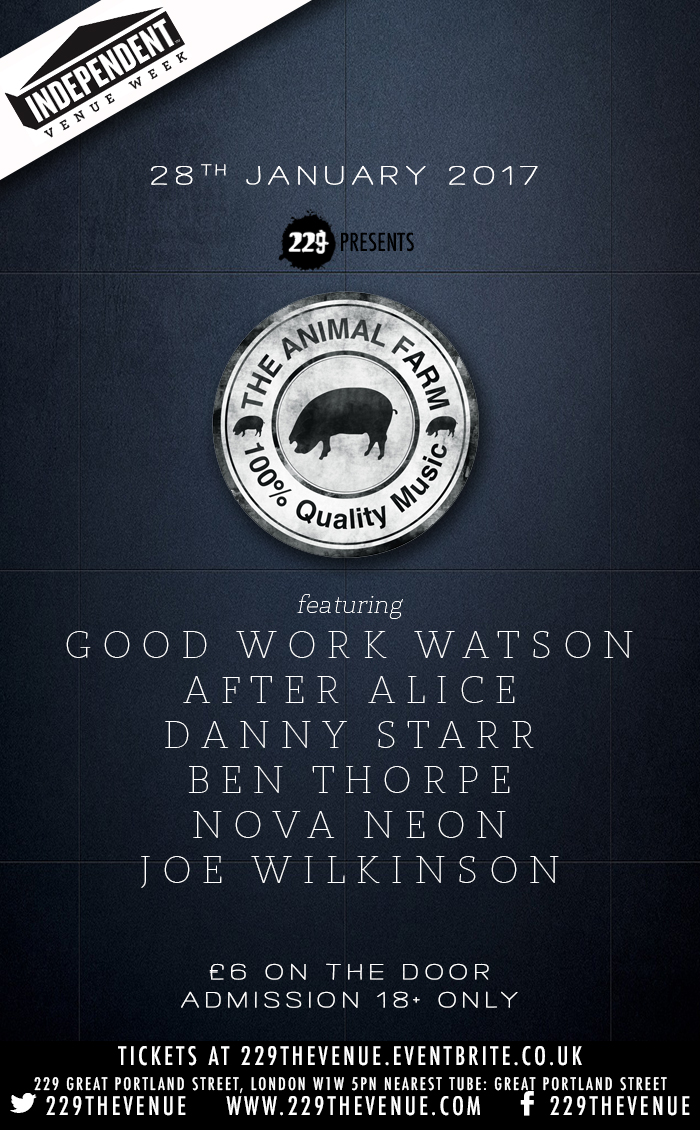 As part of Independent Venue Week 229 has teamed up with The Animal Farm to present a night of new and cool emerging talent.

Taking prices back to the 90's with tickets for just £4 you don't want to miss out on the lineup the 'Farm has put together for you.
Good Work Watson
Fast paced, hard hitting music form the heart of British rock: B18, Birmingham.
Good Work Watson was founded by Matt Trenfield (Lead guitar) and Shawn Booker (Lead vocals) in 2014. The song writing partnership began to fill the remaining roles and after 8 months of auditions the band was completed by Caleb Keenan (Guitar and Vocals), Naeem Mulla (Bass), and Thomas Cory James (Drums).
With multifarious influences Good Work Watson take inspiration from bands such as Foo Fighters, Biffy Clyro, Rage Against The Machine, Led Zeppelin and Fall Out Boy, creating their own brand of mashed up, melodic punk and old school Rock 'n' Roll with a huge, hard hitting sound.
Good Work Watson recorded their first track 'I Want (Doesn't Get)' in August 2015 which saw them jump to the top of the local ReverbNation alternative chart. Tom was then endorsed by SJC Custom Drums and Pellwood Stick Supplies.
Good Work Watson released their single 'Let's Begin' via The Animal Farm label on the 2nd of December 2016.



SM LINKS:
https://www.facebook.com/goodworkwatson/?fref=ts
https://twitter.com/Good_WorkWatson
https://www.instagram.com/goodworkwatsonofficial/
https://www.youtube.com/channel/UCuTmqAksRuojb6NXwGzOtxQ