Description
RxJS is a JavaScript library that allows developers to program "reactively". Reactive programing is a declarating style of programming where state is managed by expression how values should be generated and how they should be reacted to. Reactive programming is a new way of thinking that requires a lot of learning and a big mindset shift, but ultimately leads to more understandable code.
Angular is built on the RxJS library, but the Angular community isn't the only-front end community taking advantage of it. RxJS is being used across many projects and in combination with other frameworks and libraries like React, Vue, and Svelte.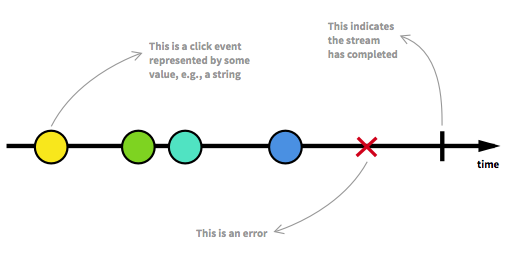 This interactive workshop will teach you the basics of RxJS and how to use some of the more utilized operators.
Course Outline:
RxJS basics with Observables

Reading and writing to Observables

Using the map operator

Learn to debug Observables without effecting state

Using merge and scan operators

Manage state with Observables to display validation and processing in UI

Flattening Observables, using combineLatest operator, and converting Observables to multicast subject
Who Should Attend?
New Angular Developers

AngularJS developers looking to implement RxJS in their current applications

Front and back end developers looking to use RxJS in any JavaScript projects

Developers interviewing for roles with reactive programming

Team leads wanting to adopt RxJS


FAQs
Are there any prerequisites to attend?
Attendees should have basic web development knowledge including HTML, CSS, and JavaScript.
What do I need to bring?
Attendees will need a wifi-enabled laptop and ability(admin credentials) to install any tools you may need, including Node, Git, and Visual Studio Code or similar IDEs, and anything else to be productive(mouse, headphones, power cord).
Why in-person vs. an Online or Pluralsight Training?
When it comes to learning code, there is no substitute for having a more experienced developer in the room to walk through concepts and help spot mistakes. Our trainers have vast experience in Angular, TypeScript, RxJS, and web development in general and can break down advanced topics and draw parallels based on student's existing knowledge.
Why "Field Guide"?
A field guide is a book designed to help the reader identify wildlife, plants, or other objects of natural occurrence. It is generally designed to be brought into the 'field' or local area where such objects exist to help distinguish between similar objects. Field guides are often designed to help users distinguish animals and plants that may be similar in appearance but are not necessarily closely related. The web development ecosystem is far too robust to teach any concept fully in only a few hours, or even a few days. We have creating this training to act as a field guide to outline the things a pragmatic developer needs to know to be effective day one as well as to teach the developer what patterns and best practices to recognize and employ in the ever-expanding landscape of modern web development.
Find out more about Bitovit's Consulting Expertise: https://www.bitovi.com/frontend-javascript-consulting/angular-consulting