THE ANGELS IN THE DETAILS - an engaging documentary on the extraordinary history of the Basilica of St. Mary of the Immaculate Conception.
About this event
The Basilica of St. Mary of the Immaculate Conception is the only African-American basilica in the nation and is home to quite an extraordinary and astounding local and national African-American history. Presented in observance of Black Catholic History Month, THE ANGELS IN THE DETAILS documentary, written, produced and directed by Terrance Afer-Anderson, provides a window on stunning revelations of the church's relationship with the local black community, to include being the home of an African-American Civil War spy, as well as a conductor on Norfolk's edition of the Underground Railroad. Additionally, during recent major $6.7 million renovations of the Basilica, two underground tunnels were found that date to the early19th Century. This is one not to miss! Please note that due to COVID, all attendees will be required to wear masks and social distancing will also be practiced.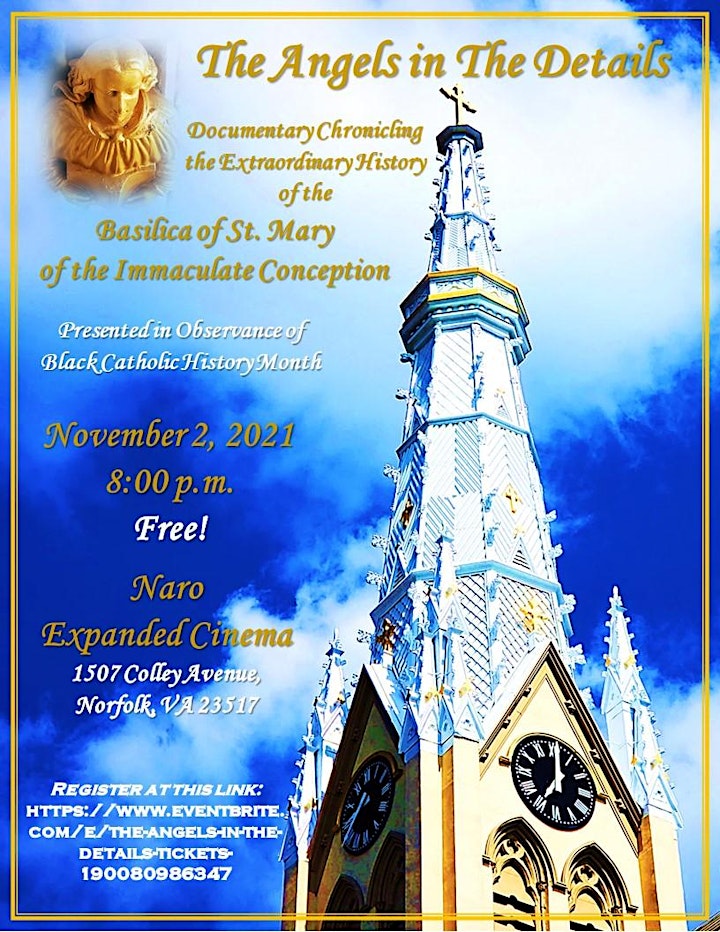 Organizer of THE ANGELS IN THE DETAILS
The TerraVizion Entertainment Network is a minority-owned and operated stage, film, television and video production company focused on equity, diversity and inclusion by chronicling the experience of people of color through dramatic, documentary and educational presentations. Our work includes feature-length and short-format films and documentaries, public service announcements and commercials, educational and historical productions, and a host of theatrical stage productions. The most recent award-winning product was the Telly Award winning docu-drama "THE BLACK WALNUT," highlighting the African-American prostate cancer disparity.