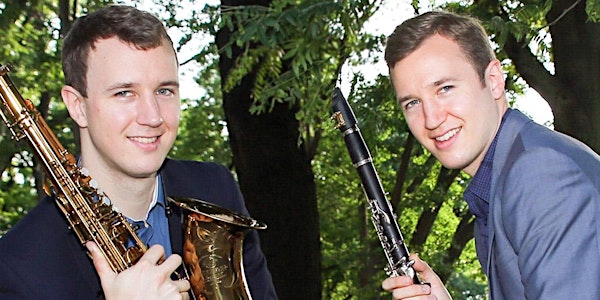 The Anderson Brothers Play Benny Goodman in the Theater
Join us as The Anderson Brothers headline our Tuesday Night Residency in the Birdland Theater through the month of September!
When and where
Location
Birdland Theater 315 West 44th St New York, NY 10036
About this event
With their quintet, reedmen Peter & Will Anderson present the work of the King of Swing, clarinetist Benny Goodman. Goodman's 60-year career is highlighted by sparking the swing era in 1935, bringing jazz into Carnegie Hall, and leading the top big band of the 1930s swing era. He also helped bridge the divide between the jazz and classical worlds. Goodman's small group with Gene Krupa, Lionel Hampton, and Teddy Wilson was groundbreaking for its blistering tempos and swinging classics.
Hailed as "virtuosos on clarinet and saxophone" by the New York Times, Peter & Will Anderson have performed concerts together since the age of 9. They're Juilliard graduates, and have performed on Broadway, Carnegie Hall, The Kennedy Center, and at the New Orleans Jazz Festival. The Andersons can be heard on the Grammy winning soundtrack to HBO's Boardwalk Empire with Vince Giordano's Nighthawks, and received a Drama Desk Nomination for their Off-Broadway Production Le Jazz Hot in 2012. They can be seen and heard as saxophonists in the upcoming Martin Scorsese film, "Killers of the Flower Moon." Aside from leading performances in over 45 U.S. States, Japan, Brazil, Canada, and the United Kingdom, they've lectured at over a dozen Universities across the country. For more information please visit their website at www.PeterAndWillAnderson.com.