Description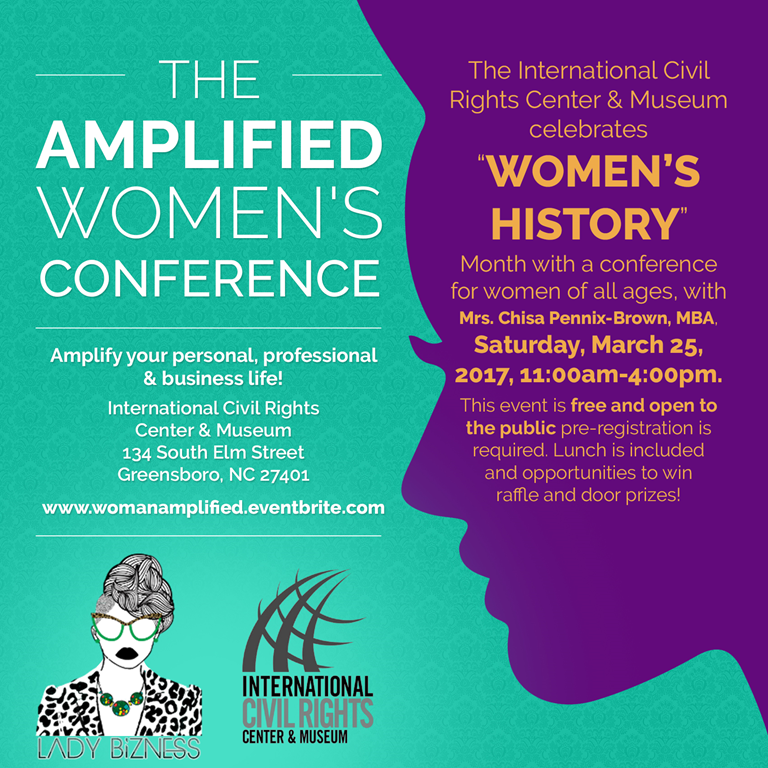 The International Civil Rights Center & Museum celebrates "Women's History" Month with "The Amplified Women's Conference", a conference for women of all ages, with Mrs. Chisa Pennix-Brown, MBA, Saturday, March 25, 2017, 11:00am-4:00pm. This event is free and open to the public; pre-registration is required. Lunch is included and opportunities to win raffle and door prizes!
Conference Includes:
10:30am Registration
11:00am-1:00pm 90 Day Focus Seminar with Mrs. Chisa Pennix-Brown, MBA
1:00pm-1:45pm Lunch
2:00pm-3:30pm Sisterhood Panel Discussion
3:30-4:00pm Networking Opportunity
*There will be an opportunity to purchase Mrs. Pennix-Brown's The 90 Day Focus: Your Action Plan for Succcess book!
*Vendors are welcomed, one first come, first serve basis. Please see Vendor's Registration!

Date and Time
Location
International Civil Rights Center & Museum
134 South Elm Street
Greensboro, NC 27401