About this Event
When you hear the term "All Star Band," one question comes to mind…who's in it?
The American Vinyl All Star Band is composed of the iconic members from your favorite classic rock bands.This dynamic line-up of musicians includes:
Jeffery "Skunk" Baxter founding member of Steely Dan and guitarist from the Doobie Brothers, Skunk unquestionably is one ofthe rock/pop world's most influential guitarist, having played on over 2500 recordings, Barry Goudreau guitarist formerly of the band Boston, who's record is still the fasting selling debut album of all time.The melodic sounds of Leroy "LSR" Romans keyboardist of the Wailers and Third World, with the beat of Robert "Mousey"Thompson drummer from the James Brown Band. and Danny Beissel lead singer from Fosterchild.
"They don't just play the music, they ARE the music"
The American Vinyl All Star Band will play hit after hit, of the legendary music from their original iconic bands.
Special Guests scheduled to appear include:
Mark McGrath (Sugar Ray)
Matt Sorum (Velvet Revolver / Guns N' Roses)
Wally Palmer (The Romantics)
The Uptown Horns (The Rolling Stones)
Conrad Korsch ( The Rod Stewart Band)
Brian Quinn (Candlebox)
Phil Stokes (Pure Prairie League)
Featuring a performance by Evelyn Cormier (American Idol)
Opening Act.....Woodstock, VT's very own Jim Yaeger
More to be announced.......American Vinyl All Star Band Website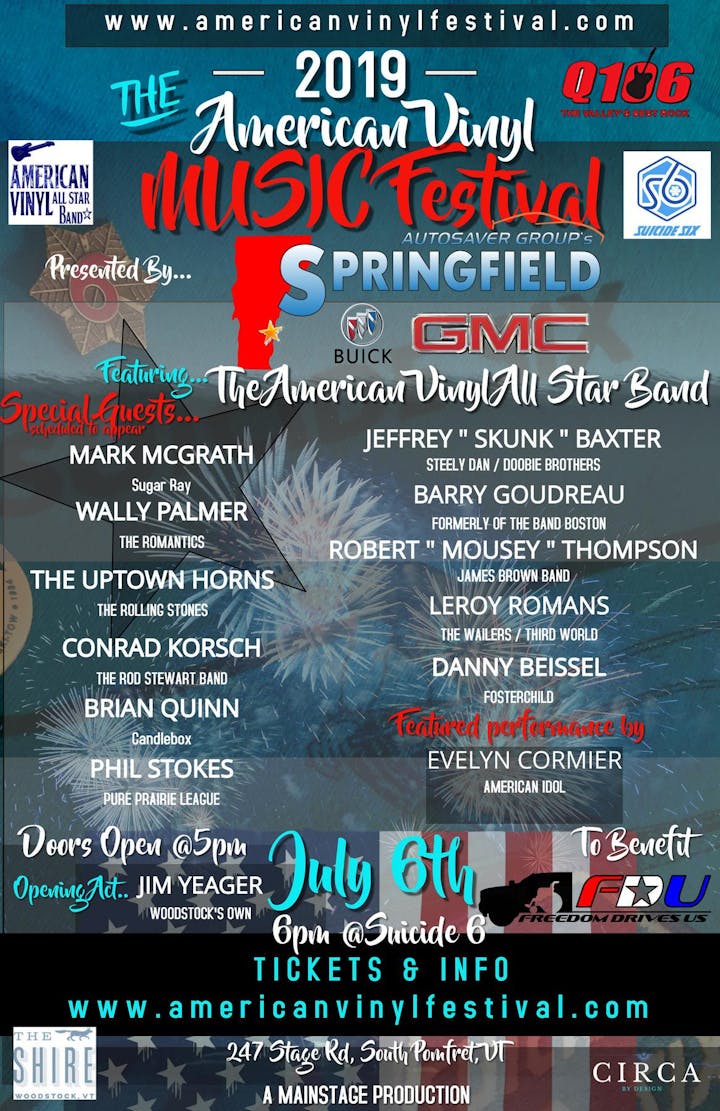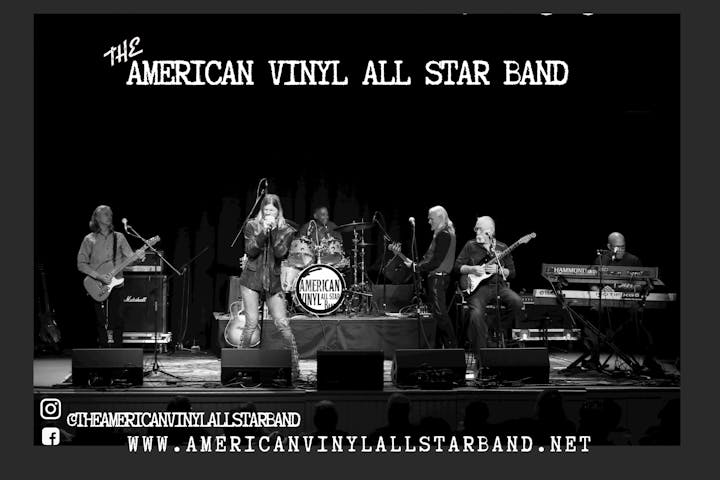 RULES OF THE FESTIVAL
The following items are prohibited at suicide 6 ski area
Pets of any kind (except service animals with current rabies vaccination)
Coolers not permitted
No outside liquids of any kind
Any item that can be used as a weapon
Drugs or drug paraphernalia of any kind
Glass containers of any kind
Open flame of any kind
Generators of any kind
Golf carts or other motorized conveyances
Drones, remote-operated, and/or autonomous vehicles of any kind
Heating appliances of any kind
Amplified sound systems (small ipod docks ok)
Tiki torches, fireworks, fuel, or incendiary devices of any kind
Focus light beam devices, including laser pointers
Any item that can be used as a means to disturb the peace, endanger the safety of the crowd, and/or inflict damage to people and goods
Flyers, stickers, and posters
Charcoal grills
Please note: Unauthorized vending of any kind is not permitted in at The American Vinyl music Festival