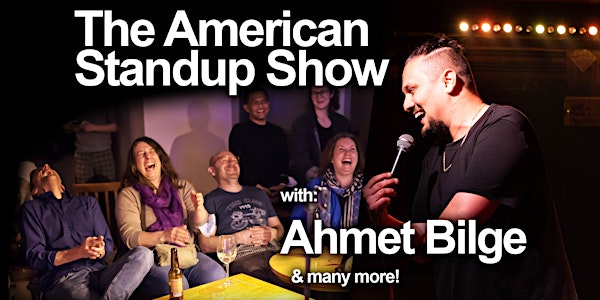 The American Standup Show Strasbourg
English Standup Comedy in Strasbourg! Ahmet Bilge Comedy & LAAB are proud to present an evening of English-language Standup Comedy
When and where
Location
LAAB Strasbourg 1 Rue du Bain Finkwiller 67000 Strasbourg France
About this event
The American Standup Show Strasbourg! Ahmet Bilge Comedy & LAAB Bar are proud to present an evening of English-language Standup Comedy!
With the incredibly funny Ahmet Bilge!
AHMET BILGE is a mess. He grew up in the US, matured in Turkey & now he's slowly decomposing in Switzerland. Despite being a "chubby young starving artist" in one of the world's most affluent countries, his outlook on life, witty jokes and embarrassing personal anecdotes is honest, silly & likeable. He loves to speak with the crowd & perform off the cuff while playing around with the audience. Rising to be one of the top players in Switzerland, he is branching out to the World Wide comedy scene with performances in Thailand, Germany, Austria, Slovakia, France, Portugal The Czech Republic & now back in Strasbourg!
And audience love him, here are some testimonials from his shows!
"One of the best I have seen it. Clever, funny and relaxed. Well done and please continue Ahmet 😀👍👍"
​"Ahmet Bilge is a really funny guy living his love to make people laugh. Ahmet's comedy shows deliver an overdose of humour amid an atmosphere ideal for meeting like-minded people."
"Ahmet really brought us to tears of laughter. I had such a blast. It was a first here and hopefully there will be many more to come... "
"Ahmet was HILARIOUS! He interacted with the audience a lot, which made the whole show feel even more intimate. He also had a great flow"
"Tonight was a really good one. Loved the show.. Ahmet is a natural at this and I really hope he'll remember that he owes me a Beer. "
Also Featuring: Ruben Garcia!
RUBEN GARCIA is a New Yorker by birth & Dominican by blood but he's feeling quite at home in Europe, charming crowds with his laid back natural Comedy stylings as well as his razor sharp observations about the idiosyncracies of European life. If you see him once you'll never forget his performance. A seasoned NYC comedian, he has already made his mark in Europe performing on some of the best stages in Germany, France & Switzerland!
More local acts to be confirmed!
We will be doing 2 shows!
First Early Show starts at 19:30
Second Late Show starts at 21:00
Prices:
Tickets are cheaper online!
Adults : 12 €
Students : 8 €
Tickets at the door!
Adults: 15 €
Students : 10 €
Doors open at 18:30 First show starts at 19:30
First show ends at 20:50 Second show starts at 21:00
Second show ends at 22:50