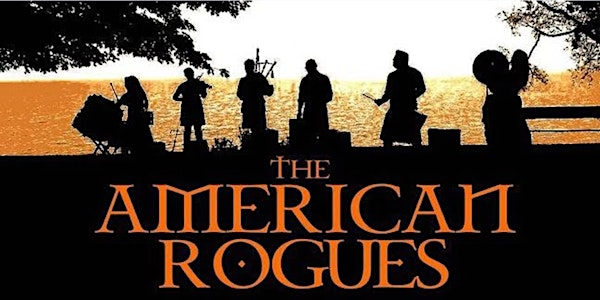 The American Rogues
This world-class American/Canadian group has electrified audiences on three continents for many years!
When and where
Location
The Milton Theatre 110 Union St Milton, DE 19968
About this event
Drawing favorable comparisons to Wolfstone, Afro Celt Sound System, Trans-Siberian Orchestra, symphonies, and Japanese taiko groups, and consistently providing performances from world-class musicians this American/Canadian group has electrified audiences on three continents for many years!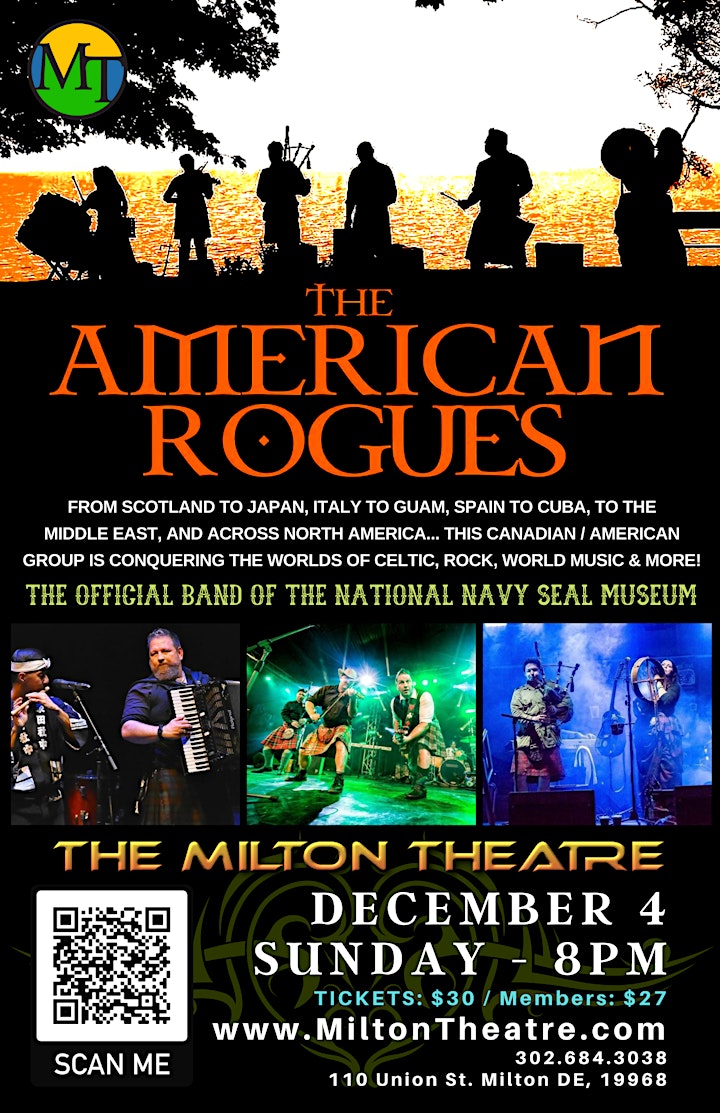 The American Rogues
If the 78th Fraser Pipe Band sat down with Wolfstone, Afro Celt Sound System, Trans-Siberian Orchestra, and the Waterboys and then asked some friends from a symphony and a Japanese taiko group to join them. The resulting sound might resemble the AMERICAN ROGUES.
For years, the performances of this American/Canadian group have electrified audiences on three continents. They have added to their ever-growing family of fans -- affectionately known as the Rogue Army -- at music festivals, theaters, Highland Games, military bases, renaissance festivals, clubs, weddings, memorial ceremonies, pubs, and corporate events -- anywhere that presents top-quality, high-energy music. This has even included airplay on TV and radio and shows at non-Celtic venues such as the World Music Festival in Quebec, Canada where they kicked off the 6 day event to widespread acclaim in 2015 (they've played this festival 5 years in a row and counting).
In 2017 they became the "St. Paddy's Band" of Rogers radio stations nationwide when they recorded Celtic versions of contemporary songs for airplay. Their hard-won road successes have established them as artists with bona fide international acclaim. Renowned for their musical skill, quick wit, compelling storytelling, and engaging stage show the AMERICAN ROGUES have mastered the art of creating an immediate connection with audiences who can't stay in their seats!
They are equally known for their epic, multi-instrumental sound that crosses the musical landscape to include jigs, reels, hornpipes, ballads, originals, covers, soundtracks, patriotic and military music, Irish foot-stompers and more. The AMERICAN ROGUES are fast becoming a household name with music lovers around the world, loved by young and old of all backgrounds.
In December of 2009, six members of the American Rogues competed as members of the Rogues against nearly 65 other bands from around the world to win Irish Brewing Company Strangford Lough's 1st Battle of the Celtic Bands. As a result those six members then appeared at the Monte Carlo Casino & Resort in Las Vegas on St. Paddy's Day, 2010. In October of 2012, the Rogues split. Nelson Stewart and other members of the band continued to perform as the American Rogues. Randy Wothke and other musicians continued as the Rogues. Following Wothke's departure as drummer, and the addition of his replacement, the incredibly gifted Catherine 'Hammer of God' Hauke, the AMERICAN ROGUES began playing higher profile shows than ever before, including tours of Japan, Guam, Italy, and Spain as well as the Royal Nova Scotia International Tattoo (billed as the largest annual indoor event in the world), Constitution Hall in Washington, National Tartan Day in New York City, Pebble Beach Golf Club, the Baltimore Golf & Country Club, the 150th Antigonish Highland Games, the Ohio Celtic Festival, the New Hampshire Highland Games, etc. They even kicked off the Maryland Music Awards. Many venues immediately rehire the American Rogues for the following year.
The AMERICAN ROGUES have released several recordings and a DVD. Ceili Magazine called 3 LBS. of RAGE, 'The best Celtic rock CD produced this year and one of the best Celtic music CDs... period!' Few bands provide both the highly polished instrumentals that only elite musicians can perform, and the rousing songs that inspire crowds to sing, laugh, and cry. Indeed, listen to the audio tracks provided on this site's music player and you will see that the American Rogues are several exceptional bands in one.
About the Milton Theatre
Official Website | Facebook | Twitter | Instagram
The historic Milton Theatre is a uniquely diverse venue where you will find the best local, regional, national, and international talent. Free municipal and on-street parking are available. Full bar and light food options available. This facility is fully accessible.