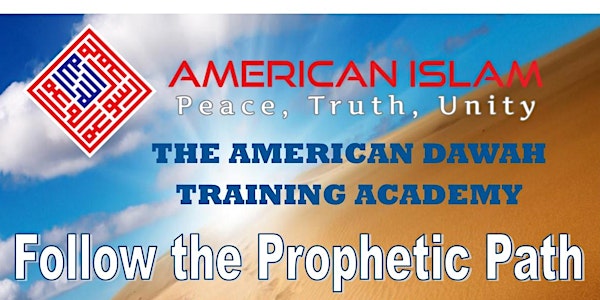 The American Islam Dawah Empowerment Training Academy
This program is open to individuals INTERESTED and COMMITTED to Peace and Development in the community by learning the skills for success.
About this event
2903 days 4 hours

Mobile eTicket
Time to Get Real, Get Islam by getting active in your community and making a REAL IMPACT.
Activities include educational seminars, volunteer projects and hands on training.  
Seminars will be held ONLINE.  
Opportunities to invite your friends and neighbors from other faiths:
For college students, earn volunteer hours for college scholarships.
Participants who complete the program will qualify for a $500 Scholarship with the World of Knowledge Tour to Spain and Turkey.
Learn more by visiting
About the organizer
MISSION
American Islam is a national organization representing and working to empower moderate American Muslims by providing them with religious, educational, social, financial, and advocacy services, and outreaching to the U.S. population, media, and government with the true peaceful message of Islam.
PHILOSOPHY
To reflect the true spirit of Islam based on the Qur'an and the Sunnah of Prophet Muhammad (Peace be upon him).
To incorporate a more accurate understanding of the original sources of Islam in a modern interpretation.
To liberate Islam from the ideology of extremism and return it to its moderation.
To refocus on the positive, optimistic, peaceful vision of Islam for the world.
To embrace all American Muslims without prejudice to race, color, or socio-economic status.