About this Event
At every destination, each team must complete a series of challenges, some mental and some physical, and only when the tasks are completed will they learn of their next location. Do you have what it takes?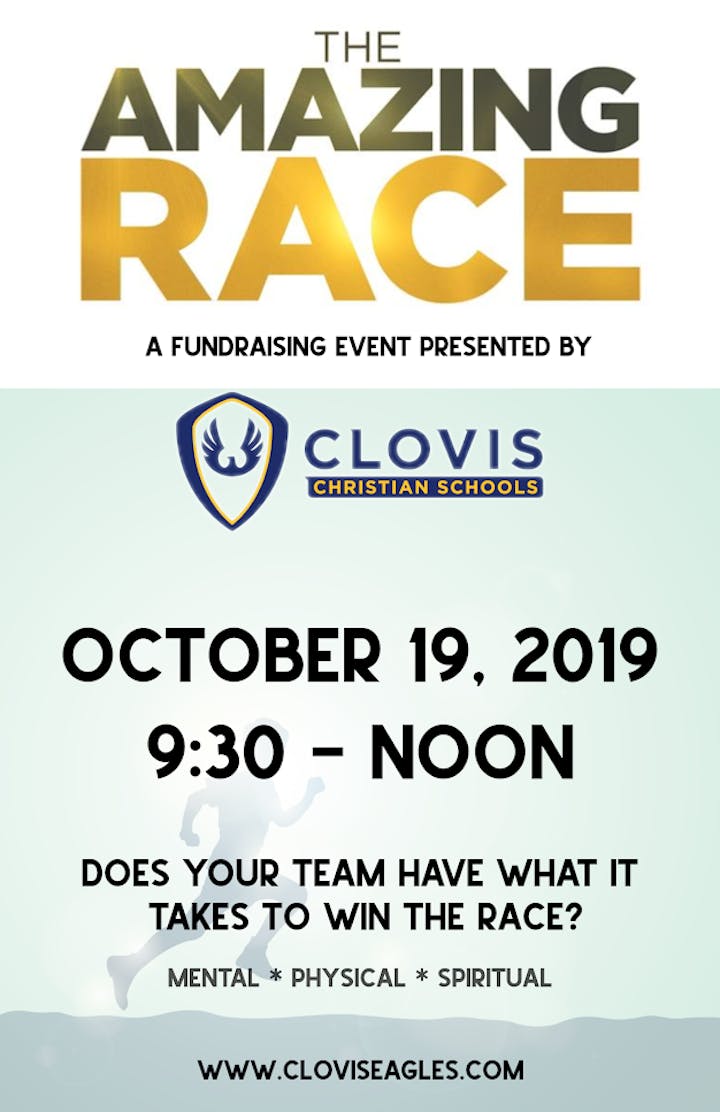 FAQs
Who is competing in the Amazing Race?
There will be 30 teams of 4 people.
How much does it cost to register?
$100 per team ($25 each)
Where will the race occur?
The Amazing Race CCS will occur throughout Clovis at undisclosed locations.
What exactly happens?
All teams will begin at Clovis Christian Schools at 2000 Humphrey Road at 9:30am on October 19, 2019.
Teams will be given instructions and directions for completing the race.
Race will officially begin at 10:00am following racers understanding of race plan.
When the teams begin at 10:00, they will initially select the taxi of their choice from the provided 30 taxis on site. Each team will ride in their selected taxi for the entire race.
Teams will then use the first clue they have received to locate the first Pit Stop. At the first Pit Stop they will be required to complete a challenge of one of either mental or physical in nature. Once the challenge is completed satisfactory according to a judging official, the team will be directed to receive their next clue from the Pit Stop Manager. This will continue for all 7 of the Pit Stops.
At the final Pit Stop, the teams will be given the final clue to direct them to the Finish Line.
All teams will wait at the finish line to watch all teams cross the finish line and then determine the winner.
How does a team win?
Teams have two primary mechanisms for winning the Amazing Race.
1- Teams who complete challenges at the Pit Stops quickest will make it to the finish line first and
of course be sitting in good position to win the Amazing Race.
2- Teams are encouraged to Crowd Fund in order to receive advantages in their final race time.
When teams sign up, they will be given a link in order to set up a personalized team fundraising page on the CCS MightyCause page where all teams will be given the opportunity to raise funds for CCS. For every $150 raised by a team, that team will receive a 2 second advantage. (Yes, that is a lot when seconds count!)
Why would I want to participate in the Amazing Race CCS?
The Amazing Race CCS is going to be an event to remember and so much fun that all of Clovis is going to ask themselves why the didn't participate.
The winning team takes home $1000!!!
All teams receive a goody at the end of the race and an awesome t-shirt.