Event Information
Location
various fun locations in Hyde Park and Oakley
Description
Calling all 3rd through 6th graders. Join your HPS friends and some of your favorite teachers for a day of adventure, competition, and Amazing Race fun!
Teams of four (2 sets of pairs) will compete against one another in a variety of challenges around Hyde Park and Oakley. The challenges will vary from showing gratitude, displaying fine motor skills, performing random acts of kindness and expressing creativity! Each team will have the opportunity to complete 12 challenges such as purchasing specific amounts of candy at the popcorn shop, racing teammates in a burlap sack, and getting smiles and laughs from strangers by performing a song, dance, or joke :)
After completing the challenges, everyone will meet up and have lunch together. This will be a great day of teamwork, fun, laughter, and memories!
Hope to see you at the Amazing Race ... ON YOUR MARK, GET SET, GO!
Hosted by these Amazing Teachers: Carmie Chambers, Lauren Martin, Roy Wright, Lindsay Wood, Will Gallup, Chris Barker, and Denielle Endres
** On the day of the event, students should wear comfortable shoes (preferably gym shoes), have a filled water bottle, and bring $10 cash. Specific drop-off location will be emailed to parents prior to race day.
** Each racer will need to choose a teammate and then register together with ONE sign-up. Cost is $40 per person ($80 for each teammate pair).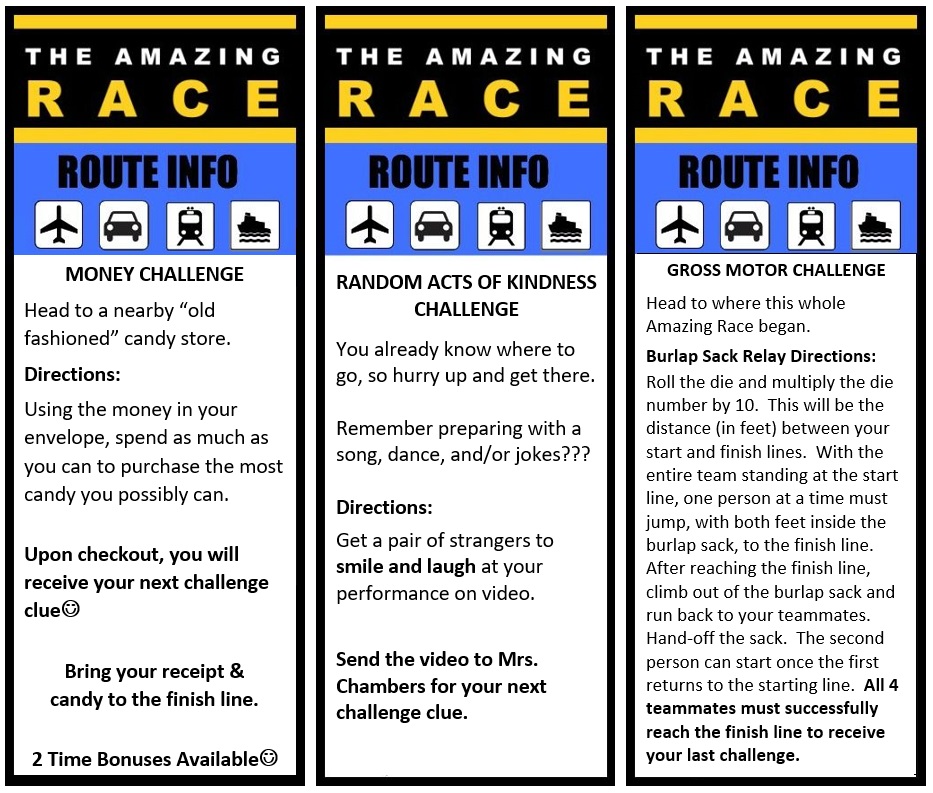 Date and time
Location
various fun locations in Hyde Park and Oakley