The Amazing Acro-Cats Sink Their Teeth into San Francisco!

Multiple Dates
Event Details
Boxcar Theatre Studios in San Francisco, CA (125A Hyde St) welcomes Samantha Martin and The Amazing Acro-Cats, one of only four performing house-cat troupes in the U.S., July 25th  – 29th as part of their 2012 Summer Tour.
 The Amazing Acro-Cats will perform their remarkable feats of agility (remarkable because they're …you know…house cats). They will be pushing carts, riding skateboards, rolling barrels, ringing bells, turning on lights, walking tight ropes, jumping through hoops, and much more! 
Come on out to meet little "JAX "! She's the newest rescue and has purr-trayed great skill as an Acro-Cat. You will be amazed by her unique balancing abilities. Also come meet our foster kittens! They will delight you with their sitting pretty ability while waiting for that special someone to adopt them into their furr-ever home!
 The all cat combo, "The Rock-Cats" have grown in size, style and diversity! Two band members have been added! In addition to Pinky on guitar, Dakota on drums and Nue on keyboards, Hen-diana Jones (who happens to be a chicken) can really peck a tambourine. Band manager, Tuna, decided that every song needs more cowbell so instead of just a jazz ensemble these cats are now into Latin grooves and have an island rhythm section!

Under the careful direction of Master Trainer Samantha Martin, the "greatest show in cat history"  (as Tuna references it) offers a unique blend of spectacle, entertainment and public awareness.  As a pioneering feline behavioral expert and whisperer, Martin has devoted her life to animal welfare and public education helping people better understand their animal counterparts.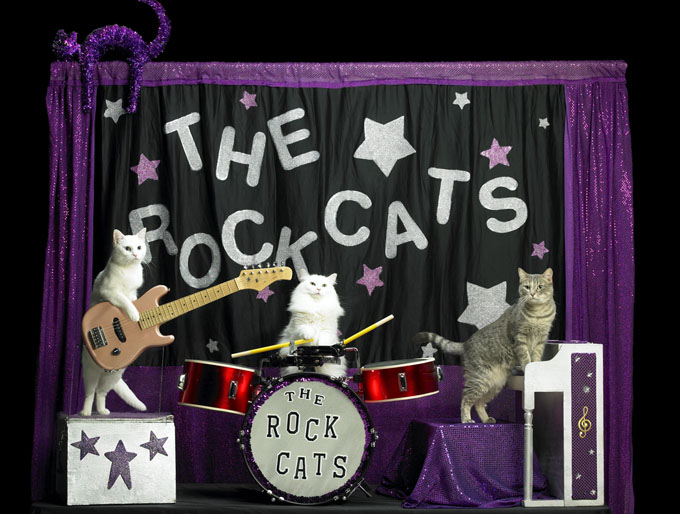 Where

Boxcar Theatre Studios
125 Hyde St
San Francisco, CA 94102


Multiple Dates
Add to my calendar
The Amazing Acro-Cats Sink Their Teeth into San Francisco!