The Alumni of the "SHO" North Shore Senior High 2nd Annual Alumni Picnic
Description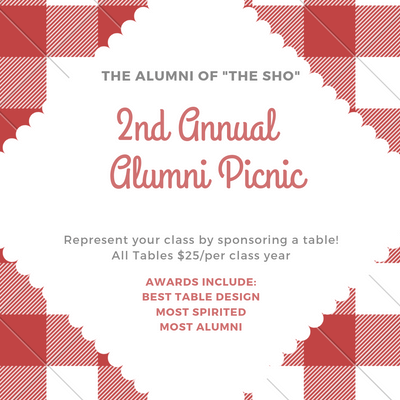 Calling All Alumni Classes of the "Sho"
Come join us for a day of family fun!
2nd Annual NS Alumni Picnic

2018 Host: Class of '92

Target Audience: All NS Alumni from the Class of '65 - present, family & friends


Date: May 4th 2019 Time: 11am until 6pm
Clean up: 6pm - 9pm Theme: Bring your own Food & Drinks
A BBQ pit will be provided if needed plus the park has plenty.
Awwwh Yeeaaah!
Who's ready for "The SHO's" alumni picnic? Good luck!
Let's see who's got the hypest Mustang spirit, creativity, and most alumni in attendance.
Each class may email us for registration form 9deuce.6@gmail.com
All payments excepted through paypal.me/shoalumni
This shall be a day of fun and reuniting. There will be play area for the children. We will have DJ, Volleyball, and game tables (Spades, Domino's, etc)

This is a family affair, please feel free to bring your spouse, children, family member or friends. Be sure to bring all of your favorite food/drinks/snacks, so come prepared for you and your guests.

Small list of items to consider:
Food (buns, meat, chips, favorite snacks.)
Drinks (water, soda, Powerade, Gatorade)
Chairs
Tents
Cash (adult games, and snow cones)
A. Game tables will be provided under tents
B. Music will be provided but feel free to bring your own. All genres will be covered, so don't be shy to show off you dancing skills!

C. No one should use/or possess glass containers in the park, so be prepared to use insulated tumblers/or cups.
D. Please practice safety at all costs:
Remember water is within park, secure yourself with life vests, and other water safety items.if you ***PLEASE KEEP AN EYE ON YOUR CHILDREN IN/OR NEAR THEWATER.
Please secure all belongings, bikes, boats, jet skis, etc. from theft and damage. Again, take into consideration that the park will be packed, and we all are still getting to know each other.