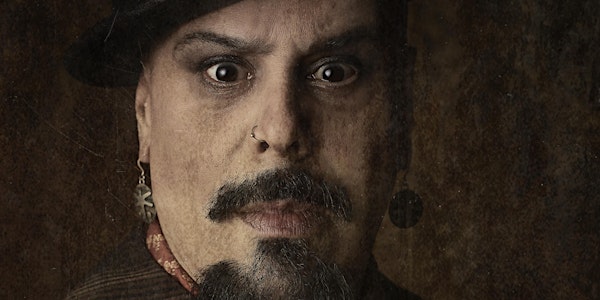 The Alliance Outdoor Music Series with Nicholas Tremulis
The Beverly Area Arts Alliance presents a performance by Nicholas Tremulis
About this event
The performance will take place in one of the most artistic gardens in Beverly-complete event location details provided upon purchase of tickets. Doors open at 6:00pm, with Nicholas Tremulis performing at 7:00pm.
Proceeds from this show will be donated to the Chicago Independent Venue League (CIVL) SAVE Emergency Relief Fund to help furloughed Staff, local Artists and Venues.
A prolific guitarist, singer/songwriter and arranger Nicholas Tremulis has returned to a post-COVID world with a groundbreaking new album Rarified World (Immediate Family Records, September 2021). The limited-edition record is available now for pre-sale on here.
The raw honesty and triumphant arrangements are a direct result of a year of devastating loss. Tremulis narrowly overcame his battle with COVID-19 virus only to be blindsided by the death of his son Stephanos, to whom the album is dedicated. He submerged himself deep into a concentrated writing and recording engagement with an astounding collection of historic session musicians, together with the original members of the Nicholas Tremulis Orchestra, he calls The Prodigals; helmed by longtime friends and collaborators Rob Fraboni (producer, The Last Waltz, Keith Richards, Eric Clapton) and Rick Barnes (owner, Rax Trax Recording and guitarist, Nicholas Tremulis Orchestra) On this release the genre-bending troubadour finds himself pulling the curtain back to reveal a daring and timeless new album featuring a number of original compositions along with the inspired cover, the album's first single, "I Wanna Be Your Dog", a brilliant reimagination of the Iggy Pop &The Stooges' classic. A second single, "J Paul Getty" released in June 2021.
Tremulis is a classic Chicago product, born to a jazz piano-playing father and a blues-singing mother, and raised in Greektown and Northbrook, dubbed "the music mayor of Chicago" by radio veteran Norm Winer (retired WXRT program director). His household full of visiting musicians inspired Tremulis to pick up a guitar as a teenager. After an apprenticeship playing clubs, he formed the 13-piece Nicholas Tremulis Band to play his personalized energetic combination of rock, R&B, free jazz and soul, quickly becoming a top band in Chicago, signed by Chris Blackwell to Island Records, along with U2 and Melissa Etheridge. After two records on Island, Tremulis created a smaller band, and kept right on his creative jag with more EP and LP releases spanning over 30 years. Tremulis became an in-demand artist worldwide, touring in Europe on his own, backing and recording with Keith Richards, Rick Danko, Bonnie Raitt, Mavis Staples, Ivan Neville; formed side projects like Candy Golde with Wilco's John Stirratt, Rick Rizzo (Eleventh Dream Day), and Cheap Trick's Bun E. Carlos and The Fauntleroys with troubadour legend Alejandro Escovedo, punk architect Ivan Julian and Linda Pitmon (The Minus 5, Baseball Project) and Chi-Town Social Club with Darryl Jones (Rolling Stones, Miles, Davis, Sting), Vince Wilburn Jr (nephew /executor of Miles Davis) and Shawn Christopher (Sonia Dada, Chaka Khan). He also serves as musical director for Jones' solo work.
Tremulis co-hosted XRT's "Eclectic Company" with Jon Langford; hosts a series at the Ed Paschke Center; and he also is an accomplished producer and composer, teaming regularly with long-time friend and film documentary producer Dan Andries (WTTW), racking up multiple Emmy awards over the years.
Rarified World is presented in a beautiful and thoughtful package, a deluxe color-vinyl LP release featuring photography by international award winning photographer Sandro Miller; with a bonus download card of never-before-heard recordings, including his jazz-infused piano record, "For Homer", an ode to his musician father.
*Applicable local, state and federal COVID-19 guidelines will be observed at the event.
*Distance should be maintained from the artist during set-up and tear down.
*Guest(s) should bring their own lawn chair or blanket. Designated lawn spots can be claimed on a first come basis.
*To limit contact, please dispose of your own food and drink prior to exiting the host's premises.
*Please use good personal judgment regarding your health leading up to the show date and remain home if you have developed mild to severe respiratory illness with symptoms including fever, cough, shortness of breath, and potentially respiratory distress.
*Tickets are non-refundable. In the event of bad weather, ticket holders will be notified of a rescheduled date.