Description
A Party Life, Kwagi Heath, & Floyd Hodge would like to announce we bringing back "The All Black Attire Affair" at Hilton Center City Uptown Charlotte Saturday November 24th 10pm-2am. We are definitely going to bring out the best so keep it Trendy,Sexy,Classy. Get a VIP experience with a club like vibe with Lights, Sound, DJ, Tables/Booths, Bottle Service & Complimentary Horderves for our VIP guest. It's always a party so let us help make your celebration a night to remember! Hotel room packages are also available to meet your needs.
IF YOU ARE INTERESTED IN GROUP TICKETS/BOOTHS/TABLES, OR BOTTLE REQUEST PLEASE CALL 336.565.6259
FOR HOTEL PACKAGES CONTACT 919.961.5372
IF YOU WOULD LIKE TO ORDER TICKETS DIRECT TO AVOID ANY FEES PLEASE EMAIL EUSTWILLIAMS@GMAIL.COM OR TEXT (910) 297-4457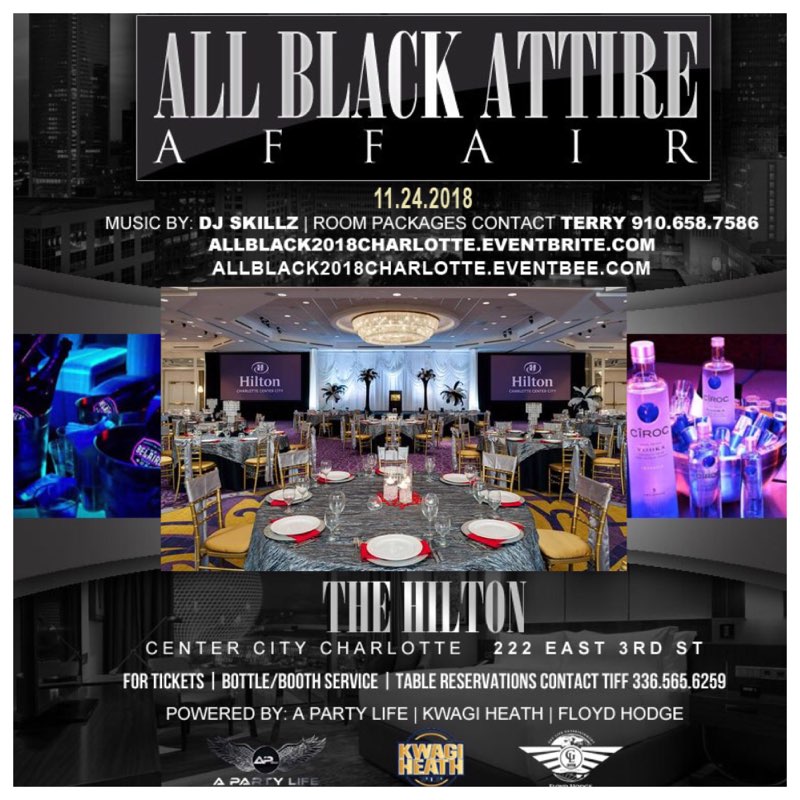 For your hotel reservations, you will receive an email confirmation before the event. Upon check in a card credit may be required for hotel incidentals. Please contact an event representative at eustwilliams@gmail.com and NOT the hotel if you have any questions or concern about your room reservation.
TICKETS ARE NON-REFUNDABLE