The Alhambra in Granada, Spain Walking Tour (Livestream)
Join us for a livestream walking tour of the Alhambra in Granada, Spain! Follow a local guide to see the Alhambra from the outside.
About this event
This Bold Spirit Travel event is 75-minutes long.
Explore the Alhambra, Granada's greatest attraction. Follow your Spanish guide, Asier, and discover the historical and public areas around the Alhambra. You will feel transported back in time as you take a virtual stroll through this magical place.
The Alhambra is not just a palace, but a multi-functional complex that survived through the centuries as the last Islamic stronghold in Europe. We will unveil the meaning of the Alhambra and its connection with Granada.
The Alhambra is one of the most visited monuments in Spain. This means you need to plan ahead if you want to see it. You will learn about when the best season to visit is and how to organize your itinerary.
Note: Our guide cannot enter into the Alhambra. That is only allowed in-person. But you will explore the outer area and learn about the history of the place. This way, when you do visit the Alhambra in person, you will know more about it and its history.
HIGHLIGHTS
+Explore the fascinating Alhambra fortress complex and its surroundings
+Understand how the Alhambra is connected to Granada
+Learn about the different spaces in the palace and how they were used
+Ask our guide questions about the Alhambra and get help with travel planning
Join us for this special Virtual Visit and a chance to see Granada in the fall.
Our Virtual Visit is followed by Q&A and a Bold Spirit Travel giveaway!
Virtual Visit FAQ
Date: October 23, 2021(Saturday)
Order Contact info@boldspirittravel.com
Social Media: https://www.facebook.com/boldspirittravel/
When do I receive class details? Webinar link to watch?
You will receive the link two days before the Virtual Visit. You will also receive reminder links on the day of the event. All of our Virtual Visits are 75 minuts long. Because we host our visits over Zoom, you can join us from anywhere in the world.
Am I able to ask questions or interact with the class?
Yes! Our Virtual Visits are interactive. We want you to participate in the chat, during our polls, and with your own voice. There is always a Q&A portion of the visit.
What is the cost?
These are donation-based events. Please donate any amount to support our guides and work.
Will the class be recorded?
Not at the moment. Because our events are interactive, we don't record them in order to protect our guests' privacy.
Where can I learn more about your Virtual Visits?
https://www.boldspirittravel.com/
Virtual Visits are an opportunity for you to learn more about a destination and plan future trips.
They are also a place to connect with savvy guides as well as other travelers who adore exploring as much as you do.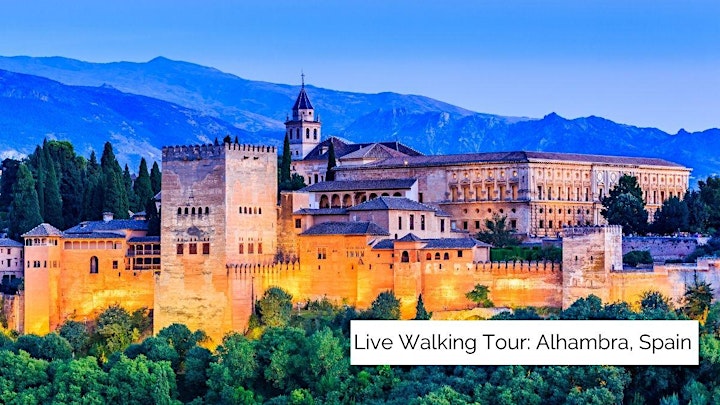 Organizer of The Alhambra in Granada, Spain Walking Tour (Livestream)