Excited to announce the screening of our upcoming film, 'The Algorithm'. Join us on this special night to celebrate a fun thrilling movie.
About this event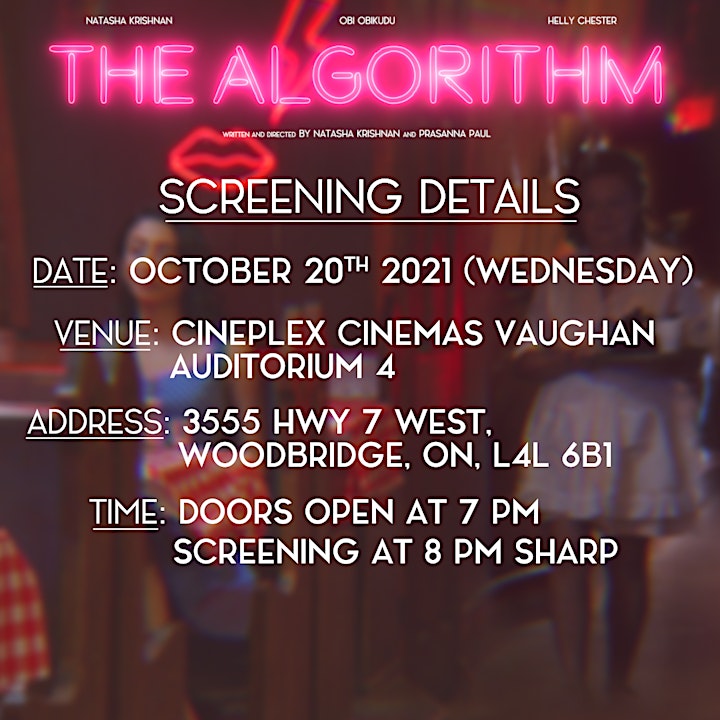 An idea is like a seed and when planted can turn into something magical. Prasanna Paul and myself discussed the concept for this film one very cold winter night which I believe was just a week before Christmas 2020. I remember we were so excited about the concept for the film and we kept building on each others ideas. We felt so strong and sure about our vision. And 7 months later, we were rolling cameras for 'The Algorithm' and now bringing it to the silver screens at cineplex to celebrate this wonderful journey with you all. We are really looking forward to sharing this experience with everyone.
Our event will kick off at 7:00pm with a mix and mingle and then the screening will begin at 8:00pm sharp with the running time of 20 minutes. The night will end off with a small Q & A with the entire cast and crew of 'The Algorithm'. See you at the theatre on October 20th!
CONFIDENTIALITY DURING THE PREMIER:
Any recording devices for capturing the video or audio of the film titled 'The Algorithm' is strictly prohibited. Audiences present during the screening are allowed to capture photographs and bite-sized content for social media promotions but any recording of the entirety of the film and it's audio will not be tolerated and may be asked to leave the venue.
Thank you for your cooperation and understanding.
ONTARIO COVID GUIDELINES:
Masks are mandatory to enter the theatre.
Also, as per Government mandate, as of September 22nd, 2021, proof of vaccination will be required for attending a movie theatre.