Description
Welcome to the first annual Alberta Classic Gaming Convention.
The classic is more than just a regular weekend tournament. This is a social engagement that brings together all of our communities, regardless of game system. It's an opportunity to showcase your community and meet and interact with people who play other games.

Not interested in interacting? No biggie! There's events for several systems including one and two day tournaments. Come out, roll some dice, flip some cards, whatever it is you do, just have fun!
This event is split over two weekends - May 3-5 and May 17-19. Check the schedule below for specific systems: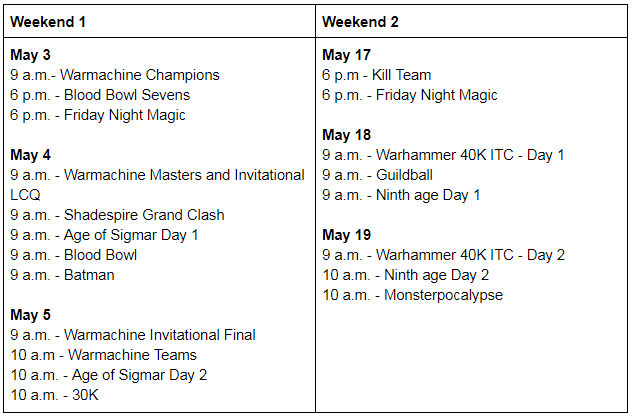 Wrap up times:
Sunday, May 5 - 7 p.m.
Sunday, May 19 - 7:30 p.m.
Details on specific systems are available on the Grotscon (Alberta Classic) Facebook page.
The Alberta Classic is being hosted by The Ogre's Den in Calgary, Alberta. The Ogre's Den is Calgary's roomiest destination for table top games and Magic the Gathering. With over 5000 square feet of gaming space available, this is a fantastic venue and we're very excited to be partnering with the Den!
If you have any questions about the convention or the events included, please contact Chris Dancocks at ChrisDancocks@Hotmail.com or via Facebook message.