The Albanie Falletta Band -- New Orleans Jazz and Blues

Saturday, September 14, 2019 from 7:00 PM to 9:30 PM (PDT)
Event Details
The Albanie Falletta Band will mark its first visit to Bandon with a rousing performance of soulful jazz and blues, bringing the unique rhythms and sounds of New Orleans to local music fans. The concert, a special event of Bandon's 2019 Cranberry Festival, is scheduled for Saturday evening, September 14, at 7 pm at the Sprague Community Theater.
A rising star on the jazz and blues scene, Albanie Falletta has an irresistible voice reminiscent of early jazz singers. As a guitarist, she has the panache and technical mastery to establish her place among the "elders," and as a natural heir to some of the greats. With an uncanny ability to keep the groove rock solid, she weaves her melodic lines with consummate skill – some say "Louis" and "Billy" would be proud and smiling.
A prolific and versatile composer in the NOLA [New Orleans] tradition, Albanie is quick to pay homage to her early musical influences: "Growing up in Monroe, Louisiana -- Cajun, zydeco, blues, jazz and funk were all around me…my first love as a guitarist was the blues. My Uncle Joe gave me my first records – John Lee Hooker, Son House and Lightening Hopkins." "As a singer," she added, "the voices of Billie [Holiday] and Louis [Armstrong] are undeniably embedded in my ear, while, on the guitar, Django Reinhardt has been an inescapable influence." Albanie was recently featured in Acoustic Guitar Magazine.

Joining Albanie on stage will be a trio of highly accomplished musicians. Cindy McDermott, from Asheville, North Carolina, brings her soft and sultry voice, as well as some impeccable mandolin playing to the musical mix. Her vocals can lull the listener into a false sense of security, then shake things up with a wicked turn of phrase, while her mandolin playing ranges from blistering hot to heart achingly sweet.
Ronnie Ontiveros and Ben Bonham, from Hood River, Oregon, form a tight musical team that has worked together for many years. Ben is a masterful guitar and steel guitar player, while Ronnie holds down the bass duties with a rare skill and delight. Together, they create the backdrop for the band's enticing blend of traditional NOLA rhythms, intricate melodies and fresh phrasing that inspire with their punch and pizazz.
The concert is sponsored by Coastal Sotheby's International Realty, with additional sponsorship support from Banner Bank, the Coos County Cultural Coalition, and Sweet Insurance Agency.

 Excerpts from a recent  interview with Albanie Falletta

What are your deepest musical roots?

The local music I heard people playing while growing up in Louisiana is always with me. Cajun Fiddle is a sound that cries home to me, and I think there were fiddlers in my family dating back a few generations. In Monroe, we used to attend the Louisiana Folklife Festival every year, and heard excellent blues, gospel, Cajun and zydeco. I loved the blues men guitar players in their blue sequin suits, and wanted to be that cool, too, when I grew up.
What drew you to New Orleans and its particular sound?

The allure of New Orleans music was its rhythm. There's a beat and a pocket that lives in that city that lives in no other place on the planet. It's an amalgamation of a thousand stories, all smooshed together in the great, cultural gumbo pot, seasoned with the local weather and nature, the humidity, the summer afternoon deluges, and the many-colored stories of American immigrants. It's all in that beat, and that beat is an irresistible force.
What do you feel is the essence of the New Orleans scene today?

It's hard to boil down the essence of the New Orleans scene, as it's a city of music. There are hundreds of musicians, and so many vibrant micro-scenes within the greater scene. I'll just say that we are alive and well, and making a lot of noise.
What is the most exciting thing in music for you now?

Developing my solo repertoire. I love that the guitar can be so pianistic, and I've been having a ball exploring those possibilities and layering my singing on top. I've always been a very independent person, so being a one-human band is super fun for me.

Albanie Falletta links:
Albanie, Ben & Ronnie in 2017 Seattle House Concert
Albanie Jamming with JD Pendley
Albanie Falletta: Acoustic Guitar Session
Albanie Sings 'I Can't Give You Anything But Love'


For additional information: cynthiak.stone@gmail.com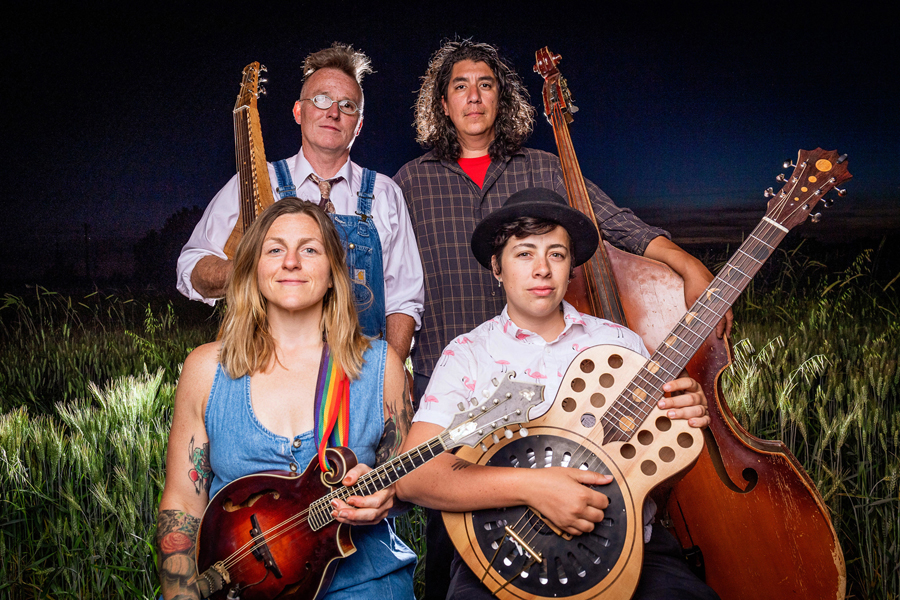 Save This Event
When & Where

The Sprague Community Theater
1202 11th Street SW
Bandon, OR 97411


Saturday, September 14, 2019 from 7:00 PM to 9:30 PM (PDT)
Add to my calendar