Actions and Detail Panel
The Alabaster Box Experience: You Don't Know
Fri, May 19, 2017, 7:00 PM – Sun, May 21, 2017, 1:00 PM CDT
Description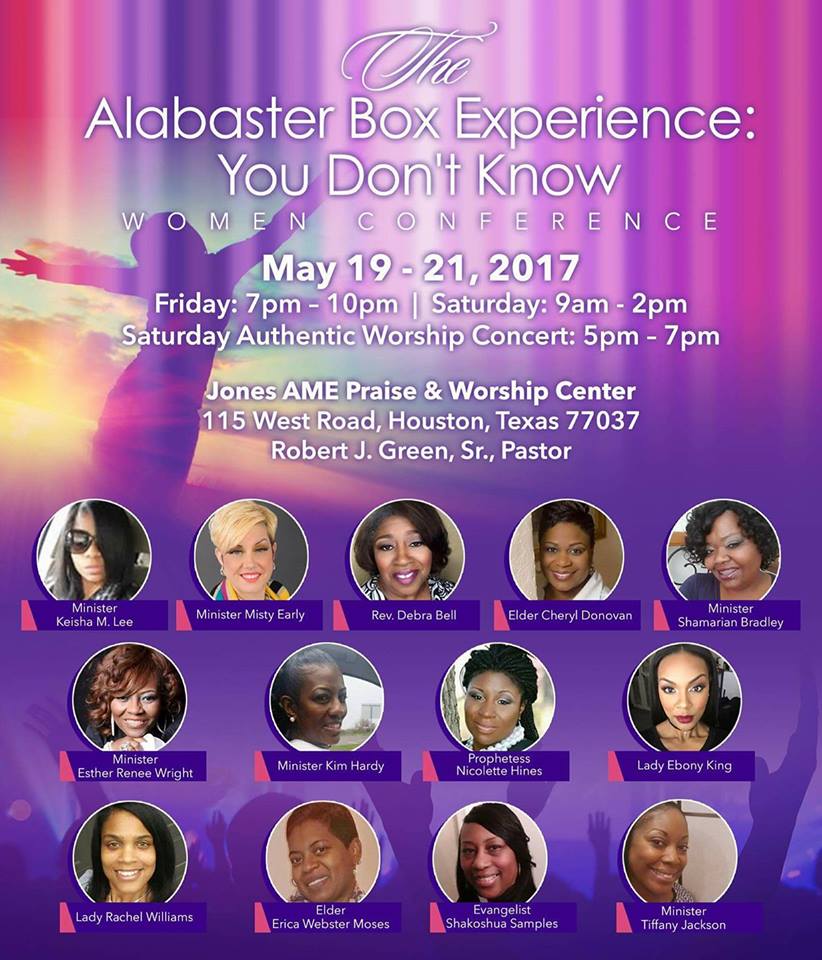 Conference Scripture:
37 And, behold, a woman in the city, which was a sinner, when she knew that Jesus sat at meat in the Pharisee's house, brought an alabaster box of ointment,
38 And stood at his feet behind him weeping, and began to wash his feet with tears, and did wipe them with the hairs of her head, and kissed his feet, and anointed them with the ointment.
39 Now when the Pharisee which had bidden him saw it, he spake within himself, saying, This man, if he were a prophet, would have known who and what manner of woman this is that toucheth him: for she is a sinner.
40 And Jesus answering said unto him, Simon, I have somewhat to say unto thee. And he saith, Master, say on.
41 There was a certain creditor which had two debtors: the one owed five hundred pence, and the other fifty.
42 And when they had nothing to pay, he frankly forgave them both. Tell me therefore, which of them will love him most?
43 Simon answered and said, I suppose that he, to whom he forgave most. And he said unto him, Thou hast rightly judged.
44 And he turned to the woman, and said unto Simon, Seest thou this woman? I entered into thine house, thou gavest me no water for my feet: but she hath washed my feet with tears, and wiped them with the hairs of her head.
45 Thou gavest me no kiss: but this woman since the time I came in hath not ceased to kiss my feet.
46 My head with oil thou didst not anoint: but this woman hath anointed my feet with ointment.
47 Wherefore I say unto thee, Her sins, which are many, are forgiven; for she loved much: but to whom little is forgiven, the same loveth little.
48 And he said unto her, Thy sins are forgiven.
49 And they that sat at meat with him began to say within themselves, Who is this that forgiveth sins also?
50 And he said to the woman, Thy faith hath saved thee; go in peace. Luke 7:37-50
Hear personal testimonies and discusstions of triumph over rape, incest, molestation, domestic violence, drug addition and more, receive personal prayer, and hear messages of hope inspiration and encouragement during the Alabaster Box: You Don't Know Conference.
Friday Night: 7pm -10pm
Saturday: 9am - 2pm
Saturday Evening Worship Experience: 5pm - 7pm
Sunday 11am Worship Service.
Cheryl Lacey Donovan

Cheryl Lacey Donovan Ministries

Elder

Debra Bell

The Church Without Walls

Reverend

Shamarian Bradley

Shamarian Bradley Ministries

Minister

Misty Early

The Lighthouse Church

Minister

Kim Hardy

Antioch Baptist Church Beaumont

Minister

Tiffany Jackson

Faith Temple Worship Center

Minister

Ebony King

Christ the Living King Church

Lady

Keisha M. Lee

Greater Love Community Church

Minister

Erica Webster Moses

The Mouth of God Ministries

Elder

Shakoshua Samples

The House Church

Evangelist

Rachel Williams




Lady

Esther Renee Wright

Titus Works Ministries

Minister