We Look Forward To Hosting You
About this event
Thought Leaders and Innovators Are Coming Together To Share Their Knowledge, Experience, Research, and Insights about Aging & Innovation.
PRESENTED BY

Haynes Boone is an American Lawyer top 100 law firm, with more than 600 lawyers in 18 offices around the world, providing services for more than 40 major legal practices. We are among the largest firms based in the United States. Our growth has been driven by our client service strengths, especially our problem-solving acumen and our ability to collaborate with clients.
We have a client-first philosophy, defining success as providing exceptional value to our clients and making real, tangible, and often remarkable contributions to their businesses.
THE AGENDA
11::00 am     WELCOME & INTRODUCTIONS
                      Ann Al-Bahish
                      Partner
                      Haynes Boone
OPENING REMARKS
The Honorable Senfronia Thompson
State Representative - District 141
STATE OF TEXAS
WHY AGING TECH LURES INVESTORS
As the senior population booms, venture capitalists are taking notice. They are especially interested in funding companies that use digital health and emerging technologies, such as AI, to help older people stay in their homes and age with greater independence.  Accomplished investors, Max Zamkow and Mike Marcantonio will discuss investment trends in healthy aging.
Moderator, Randy Peak, Partner @ Haynes Boone
HEALTHY AGING & THE ELUSIVE ALZHEIMER'S DRUG
The discovery of drugs that can prevent and successfully treat Alzheimer's disease remains frustratingly difficult, but that hasn't been for lack of trying. At the same time, research is pointing to healthy aging behaviors that can forestall dementia and help older adults live their best lives. Barry Greenberg, PhD, is the Director of the Alzheimer's Disease Translational Center at the Johns Hopkins University School of Medicine. He has been involved in Alzheimer's disease research and drug discovery since 1985 and will discuss the current state of Alzheimer's drug discovery and provide insights on where the field is headed. Marcia Ory, PhD, MPH, founding director of the Texas A&M Center for Population Health and Aging, is an international leader in the translation of research to practice and promoting healthy lifestyle changes as we age.
Moderator | Jacqueline Angel, PhD Professor @ UT - Austin
THE CAREGIVER SOLUTION                    
Caregiving is difficult, challenging work, whether the caregiver is a family member or a poorly compensated health worker. It's not surprising paid caregivers are in short supply, and more caregiving is falling to family and friends. Advances in technology are helping to ease the burden and improve patient outcomes. Lawyer C. Grace Whiting, CEO of the National Alliance for Caregiving, one of the nation's leading public policy and advocacy organizations for friend and family caregivers, will discuss the caregiving landscape from a national perspective. Dr. Wendy Whittington, Chief Care Officer at Cariloop, an innovative caregiver support platform, will discuss trends and solutions, and how economic outlays relate to patient outcomes.
Moderator | Jennifer Kreick, Associate @ Haynes Boone
THE STARTUP SPOTLIGHT
Moderator | Sean Brindley, Director, Partnerships @ Olive AI
2:00 pm      FINISHED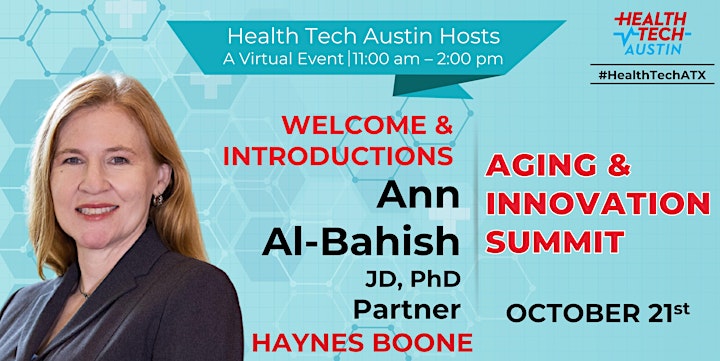 Ann Al-Bahish, JD, PhD is a partner at Haynes Boone.  She has litigated environmental, health claims and other commercial matters across the country.  Her clients have included railroads, energy companies, manufacturers, healthcare entities, technology companies, state governments, and nonprofit organizations, among others. 
With a focus on environmental law, Ann has assisted clients with environmental solutions, implementation of cleanup agreements/programs and public health communications related to environmental human health issues. Dr. Al-Bahish has also advised clients on emerging legal issues related to environmental, medical technology and consumer products.
Dr. Al-Bahish has researched, spoken, and written on laws and technologies related to residential indoor air quality, with a special emphasis on impacts to those aging in place.  Her latest research on these topics will be presented at the annual meeting of the American Public Health Association (APHA).   Dr. Al-Bahish is a member of the Law, Environment, and Aging and Public Health Sections of the APHA.  She also serves on the boards of several health-related nonprofit boards. 
Dr. Al-Bahish earned a BA from Trinity University, a JD from Harvard Law School, and a PhD from the University of Texas Health Science Center at Houston.
Rep. Senfronia Thompson's legacy is one built from a strong principle of faith, an unwavering defense of freedom, and a staunch belief in fairness. She exemplifies the American ideal that one person can make a difference.
Texas native Senfronia Thompson was born in Booth, Texas and raised in Houston. She represents District 141, which includes Northeast Houston and Humble.
Rep. Thompson has the distinct honor of being the longest-serving woman and African-American in Texas history. She is Dean of the Texas House of Representatives and is currently serving her 25th term.
She received her high school diploma from Booker T. Washington High School in Houston. She has a Bachelor of Science in Biology from Texas Southern University; a Master of Education from Prairie View A&M University; a JD degree from Thurgood Marshall School of Law and a Master of Law in International Law from the University of Houston.
Rep. Thompson is a proud member of the Alpha Kappa Alpha Sorority.
A Houston attorney and award-winning legislator, Rep. Thompson, affectionately known by her colleagues as "Ms. T", was inducted into the Texas Women's Hall of Fame on May 6, 2014.
Rep. Thompson currently chairs the Texas House Committee on Licensing & Administrative Procedures and is the Vice-Chair of the Select Committee on Constitutional Rights and Remedies. She is a member of the House Committee on Business & Industry and the House Committee on Redistricting.
Throughout her illustrious career, Rep. Thompson has proven her commitment to those less fortunate with her tireless fight for justice, equality and opportunity for all. Rep. Thompson has led the fight against human trafficking long before people even recognized what human trafficking was and how these traumatic experiences damage people's lives. She has put Texas first in having some of the best anti-human trafficking laws compared to other states.
She worked passionately for the passage of Texas' Equal Pay Act in both the house and senate. Although the bill was vetoed, Rep. Thompson remains committed to ensuring Texans receive equal pay for equal work.
Rep. Thompson is the author of the James Byrd, Jr. Hate Crimes Act; the Sexual Assault Program Fund; the Model School Records Flagging Act to assist in the location of abducted children; the state's current minimum wage law; Texas' first and only alimony law; laws creating drug courts; laws providing insurance coverage for anti-cancer oral medication, 3D mammograms; HPV & cervical cancer screening tests and contraceptives, like the IUD and diaphragms. She has also passed laws protecting unpaid interns from sexual harassment; allow Medicaid nursing home residents to keep more of their retirement or social security money for their personal use; allow homeowners over the age of 65 to make quarterly property tax payments without penalty; law allowing parents to request a camera in the classroom of special need students, and scores of other reforms benefitting women, children and the elderly.
She sponsored laws banning racial profiling, secured state funding to install video cameras and audio equipment in every police car to be used at all stops; ended "debtor's prison" to prevent people from ending in a cycle of debt, jail time and license suspension simply because they can not afford to pay their traffic tickets or other fine-only offenses.
She also authored the Chief Justice Jack Pope Act which increases funding for legal aid to help low-income Texans with their civil cases and the Michael Morton Act, to create a fairer criminal justice system in Texas.
She has passed legislation aimed at protecting women and children against domestic violence, extending protective orders to last longer and enforceable within the entire state of Texas, increasing the penalty of sex offenders, giving rape victims a voice in the processing of their rape kits and fought to end sexual discrimination in the work place.
Her commitment to social, economic and criminal justice reform has earned her the respect and admiration of many people from Texas and beyond. She is a true Texas Treasure and has become one of the best symbols of all that is possible.
Rep. Thompson is the only recipient of the Rosa Parks Award from the Texas Legislative Black Caucus, and has been named one of Texas Monthly's Top Ten Best Legislators.
MODERATORS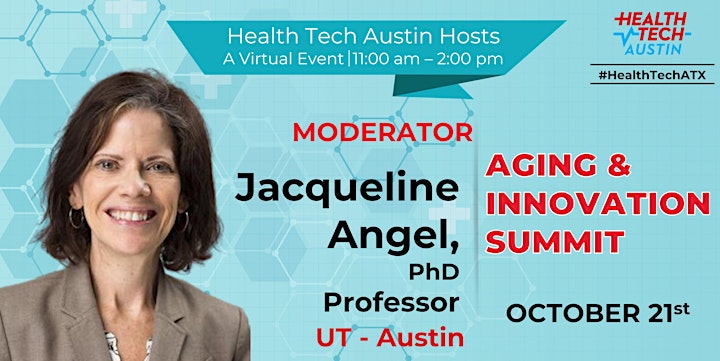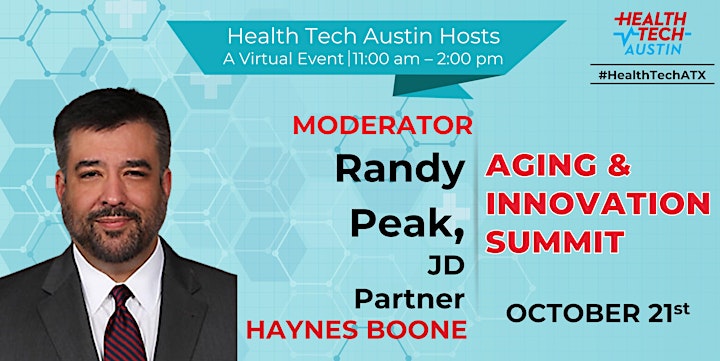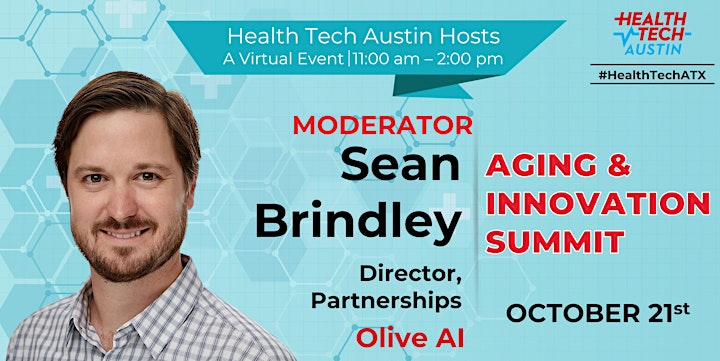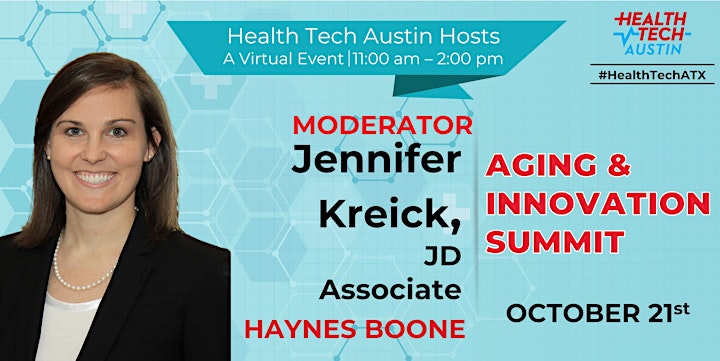 FEATURED SPEAKERS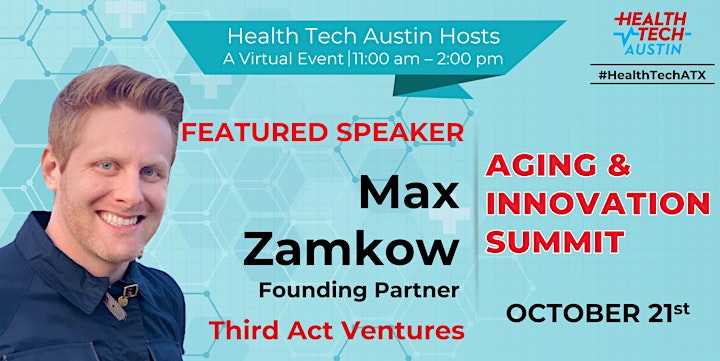 Max Zamkow is the Founding Partner of Third Act Ventures, a seed-stage Venture Capital firm investing specifically in Agetech. Since 2016 he's made more than 22 investments across the spectrum of Agetech - from technology that helps people age-in-place, apps that help home care aides, devices that improve the quality of life in senior living, and platforms that help families deal with the loss of a loved one.
Max received a BS & MS in Bioinformatics from Stanford University and before moving to the other side of the table was an integral part of Mobclix (acquired by Velti), NoiseToys (acquired by Jawbone), and Fav.tv (acquired by TVGuide.com).
Max is known for his AgeTech deals newsletters, co-leading Aging2.0 New York, and for successfully pitching DCM during a blackout.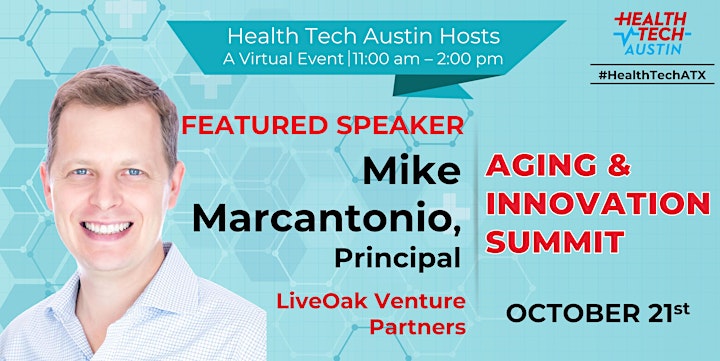 Mike Marcantonio is a Principal at LiveOak Venture Partners, an early-stage venture capital firm based in Austin. He has been investing in high growth businesses for more than a decade.
Prior to joining LiveOak, Mike was a Principal with Blue Heron Capital, where he invested in early & growth-stage companies in the tech-enabled business services and healthcare industries. Earlier in his career Mike was with American Capital, a middle-market private equity firm, where he focused on pre-investment due diligence, valuation, and portfolio company management. He also spent time with the Healthcare group at Harris Williams, a sell-side M&A advisory firm. Mike started his career with PricewaterhouseCoopers.
Mike received his MBA from the Fuqua School of Business at Duke University. He also has a BS in Finance and Accounting from James Madison University.  Mike lives in Austin with his wife, Cara, and three boys.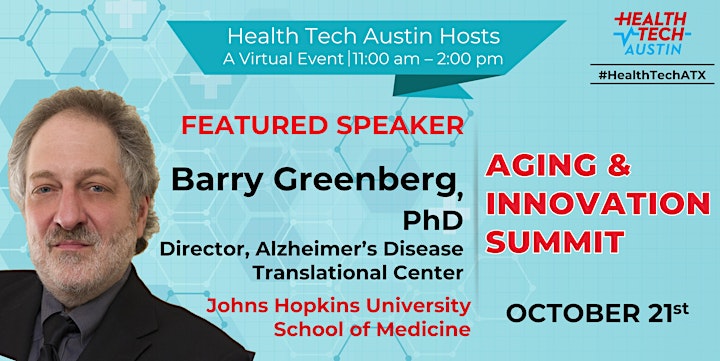 Barry Greenberg is an Associate Professor in the Department of Neurology and Director of a nascent Alzheimer's Disease Translational Center at the Johns Hopkins University School of Medicine. Dr. Greenberg has been involved in Alzheimer's disease (AD) research and drug discovery since 1985, holding a series of positions internationally in the US, Sweden and Canada.
He was the leader of a drug discovery team at AstraZeneca that ultimately involved over 50 individuals from eight departments. He later led the preclinical biology research program at Neurochem, Inc. in Québec as Senior Director of Pharmacology, where he also interacted closely with its medical research department, participating in retrospective analyses of the phase 3 clinical trial of the investigative drug tramiprosate (homotaurine; Alzhemed®).
Dr. Greenberg subsequently moved to academia in 2008 at the University Health Network in Toronto as Director, Neuroscience Drug Discovery and Development, where he was responsible for the conceptualization and leadership as Strategy Director of the Toronto Dementia Research Alliance, a collaborative alliance across five research institutes focused on observational and interventional clinical studies embedding research in clinical care.
He was also a member of the Executive Committee of the province-wide Ontario Neurodegenerative Disease Research Initiative (ONDRI) under the auspices of the Ontario Brain Institute (OBI). Prior to moving back to the U.S from Canada, he served as Chair of the National Institute on Aging's (NIA's) international committee that was charged with strategizing the future structure of the Alzheimer's Disease Research Center (ADRC) network to augment its capacity to contribute towards the development of effective prevention and treatment modalities for individuals with AD and related disorders by 2025, a primary goal of the National Alzheimer's Project Act (NAPA) in the US.
Dr. Greenberg joined the faculty in the Department of Neurology at Johns Hopkins in July 2018 to lead the development of an Alzheimer's Disease Translational Center, with the objective of integrating basic and clinical research to enable the development of effective therapies that will delay or prevent AD at its earliest stages. He has been involved with the Johns Hopkins ADRC since that time, as a member of its Executive Committee and Co-Leader of its Research Education Component (REC).
He serves on several committees and advisory boards for NIA-funded initiatives focused on genetics, model development and clinical trials in AD, and has recently been selected as the incoming Editor-in-Chief of the journal "Alzheimer's & Dementia: Translational Research and Clinical Interventions." Dr. Greenberg brings a multi-faceted perspective on AD, and an international reputation drawn from hands-on experience ranging from basic research through human studies.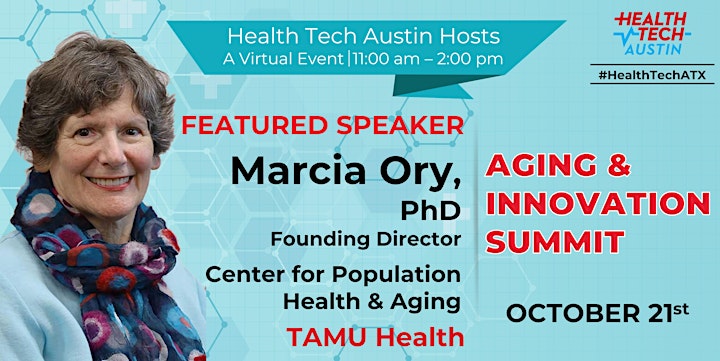 Marcia G. Ory, PhD, MPH, is Regents and Distinguished Professor, Department of Environmental and Occupational Health, Texas A&M School of Public Health (SPH) in College Station, Texas. Additionally, Dr. Ory serves as Founding Director of the Texas A&M Center for Population Health and Aging established in 2016. Working with interdisciplinary teams, her primary goal is to reframe healthy aging as the new normal through innovative research, education, and service.
Dr. Ory is an international leader in the translation of research to practice through investigations of behavioral, social, environmental, policy, and/or technological solutions to enhance health and quality of life for all. With broad research expertise, she has been a primary investigator on multiple local, state, and federally funded grants to implement and evaluate evidence-based interventions for promoting healthy lifestyle changes in midlife and older ages. As the National Program Director for Active for Life®, she documented the success of behaviorally-based exercise programs to increase physical activity in Americans 50 and older.
She has overseen the Texas Department of Aging and Disability Services adaptation and evaluation of the Texercise Select program to help Texans engage in healthier lifestyle behaviors. She has also served as the national evaluator for the National Study of Chronic Disease Self-Management Program and has directed prevention and management research programs for persons with specific conditions (e.g., Alzheimer's disease, cancer, diabetes, and mobility problems) providing evidence for the effectiveness of how these programs can result in better health, better healthcare, and better value. Drawing upon a life-course perspective, she has also been a primary investigator on several research studies exploring policy and environmental interventions for reducing obesity in younger populations. In these roles, she is examining how evidence-based programs for individuals at different life transitions can be translated to clinical, community, or workplace settings through transformational partnerships.
Instrumental in the roll-out of Healthy South Texas, she has addressed the most pressing public health issues in Texas, with an emphasis on underserved populations. Currently, she is leading a Rural Health Care Moonshot initiative to examine innovative diabetes education programs that can be scaled up and sustained over time to improve the health and well-being of vulnerable populations. Another recent activity is leading public health efforts to advance research and practice about emergent public health crises such as the opioid overdose epidemic or the COVID-19 pandemic. Before coming to Texas A&M University in 2001.
Dr. Ory spent twenty years in federal service as Chief of Social Science Research on Aging in the Behavioral and Social Research Program, National Institute on Aging, National Institutes of Health. She holds a doctorate from Purdue University and a Masters of Public Health and Post-Doctoral Fellowship from The Johns Hopkins University. She has been the author of more than 500 publications on a variety of topics including lifestyle behaviors and social determinants of health, falls and injury prevention; doctor-patient interactions; chronic disease management; dementia care; opioid crisis and COVID-19 pandemic; and translational research. Dr. Ory is a distinguished alumna of Purdue University, Fellow of several professional organizations (e.g., American Academy of Behavioral Research, American Academy of Health Behavior, Society for Behavioral Medicine, and Gerontological Society of America), and a recipient of numerous state and national awards.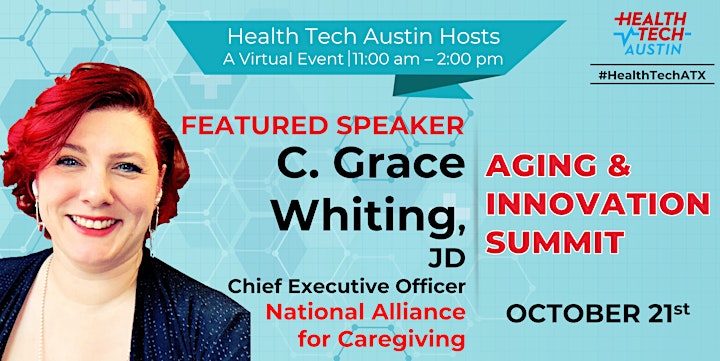 At thirty-two, Grace followed in the footsteps of National Association of Caregiving Founder Gail Gibson Hunt to helm one of the nation's leading public policy and advocacy organizations for friend and family caregivers. With previous experience as COO and the Director of Strategic Partnerships, Grace has doubled the budget of the organization in her tenure to date and created the Hunt Research Program.
Grace led the nation's first national policy study of 1,400+ rare disease caregivers with Global Genes. She has led other original NAC research including Sandwich Generation in the U.S. with Caring Across Generations; A National Study of Caregivers of Individuals with Crohn's Disease or Ulcerative Colitis with the Crohn's and Colitis Foundation and ImproveCareNow; Cancer Caregiving in the U.S. with the National Cancer Institute and Cancer Support Community; and Dementia Caregiving in the U.S. with the Alzheimer's Association, among others.
Grace has spoken on caregiving at national and international conferences, including the 7th International Carers Conference in Adelaide, Australia, and at multiple national summits at the National Institutes of Health. Grace has also served as a resource to major media on the topic of caregiving and aging, including C-SPAN, The Wall Street Journal, Time Magazine, Oprah Magazine, Women's Health Magazine, and Kiplinger's Retirement Report. Grace was chosen as one of twenty PBS Next Avenue 2020 Influencers in Aging.
A licensed attorney with the D.C. Bar, Grace was named an "Outstanding Law Student" by the National Association of Women Lawyers after earning her law degree from the University of Memphis. She is a proud graduate of the Louisiana State University Honors College in communication studies and philosophy. Grace lives in Silver Spring, Maryland with her husband, writer Geoffrey Whiting, and their distinguished pug, Chief Justice.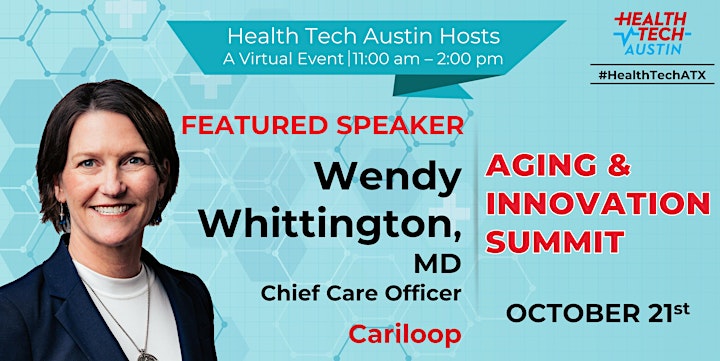 Dr. Wendy Whittington has spent 30+ years in healthcare in clinical, administrative, and consulting roles. Throughout her career, she has been passionate about changing healthcare for the better. That desire to make a difference led her to Cariloop as a board member in 2018 and now as their first Chief Care Officer.
Cariloop is a caregiver support platform and service with a mission to relieve the stress and anxiety felt by all caregivers. Dr. Whittington is a board-certified pediatrician and practiced in both the inpatient and outpatient settings. She began the transition into the information technology and business sides of healthcare as a physician champion for EHR adoption in the 1990's and has held various positions in the acute care and industry settings including CMIO, CIO and CMO.
She brings her broad healthcare, information technology and teaching background to Cariloop knowing that family caregivers are integral to the health and wellbeing of their loved ones and deserve our recognition and support. A long-time student of healthcare policy and process, she is thrilled to help articulate how supporting family caregivers is not only the right thing to do but solves some of our healthcare system's biggest problems, particularly over-spending while seeing suboptimal outcomes.
Dr. Whittington completed the Masters of Medical Management degree program at Carnegie Mellon University in 2009.  She received her MD degree in 1990 from Rutgers New Jersey Medical School.
Having experience in healthcare delivery, administration, revenue cycle, consulting and academia, she brings a diverse point of view to the national discussion around how we best support caregivers. Recent roles include telehealth strategy, clinical effectiveness, healthcare process optimization and clinical decision support consulting.