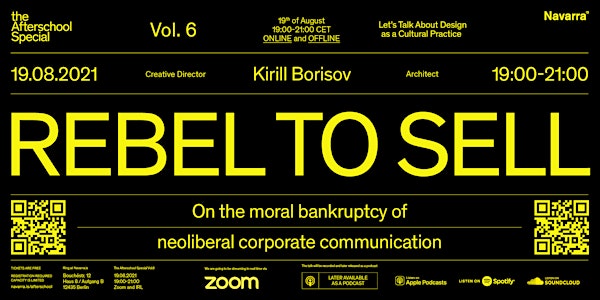 The Afterschool Special Vol. 6
We welcome you to the sixth talk in the Afterschool Special series with Kirill Borisov, Creative Director and Architect
When and where
Location
Navarra.is Bouchéstraße 12 Navarra.is GmbH 12435 Berlin Germany
About this event
19:00 Doors open
19:30 Talk begins
20:00 Q&A
20:30 Drinks and chat
We welcome you to the 6th talk in the Afterschool Special series with Kirill Borisov, Creative Director and Architect.
In this talk, Kirill will talk about the moral bankruptcy of neoliberial corporate communication.
How did we miss the moment when counterculture and identity politics became an efficient sales tool most corporations gladly use?
Where does the line lie between media representation and cooption followed by commodification. Are we creating a society of equality and inclusion or it's all but a veneer under which a dystopian neoliberal horror is hidden? Did we entrust the culprit with jury duty? Is any of this new or are we dealing with an uninterrupted process reaching as far back as industrialization or even enlightenment? These and other uplifting questions will occupy us on a balmy summer evening of contemplation, deconstruction and self-reflection. Theory is our praxis.
Given current restrictions, limited tickets are available in-person. This talk will also be streamed live on our IG and will be later available as a podcast.
As we can only relate to things through consumption, a limited run of merchandise will be available at the event. And if there is anything left we will put online via ass_talks.
Link to Zoom: https://us02web.zoom.us/j/82978446369
For more information: https://navarra.is/afterschool/