Sales Have Ended
Ticket sales have ended
Pre-Sales have ended for this event. VIP Tickets available fora Bottle Service only. Bottle Service/VIP Inquiries: BottleService@1015.com
Sales Have Ended
Ticket sales have ended
Pre-Sales have ended for this event. VIP Tickets available fora Bottle Service only. Bottle Service/VIP Inquiries: BottleService@1015.com
Before 11PM Tickets = +90% Sold Out All Night Tier 1 Tickets = +95% Sold Out Table Reservations: BottleService@1015.com // 415-988-3099
About this Event
DJ Dials, SET, + 1015 Folsom present
THE AFTERBURN 2019
A Decompression Party featuring (8x) hours of non-stop music in over (4x) unique environments & vibes throughout our venue!
Performances from:
JAN BLOMQVIST (live)
GOLDCAP
VIKEN ARMAN
AMINE K
All Night Bass Room:
IVY LAB
Kowta | Jalala | Leland | Suds
++ local support from ++
ICARUS Art Car Residents
N2N | Tosh | HWIN
Devo | Desertpillar
Friday September 6th -- 10pm-4am -- Ages 21+
Table Reservations: BottleService@1015.com // 415-988-3099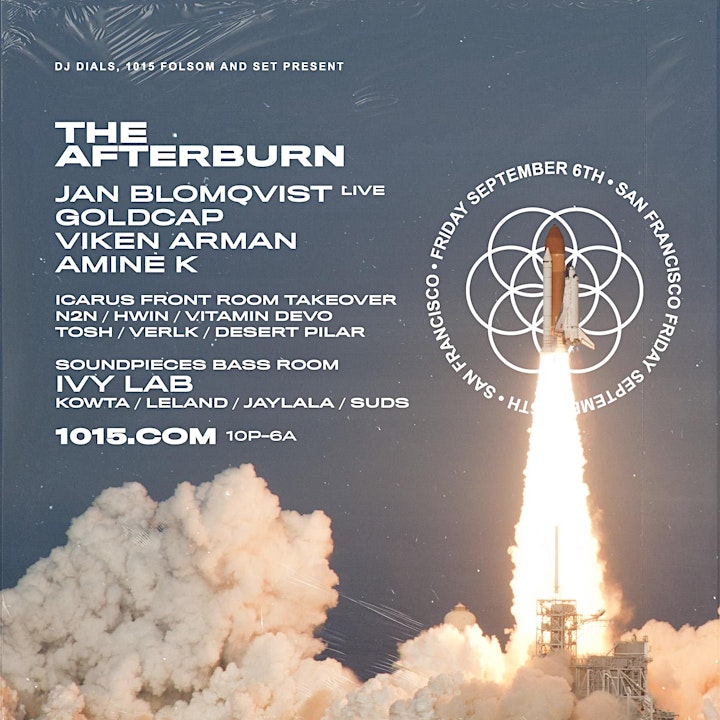 JAN BLOMQVIST
Jan's early live concert performances in the 90's were a fusion of punk, hardcore, britpop and rock and roll. But his music was growing with the times as he was inspired by the increasing and diverse use and experimentation of electronic instruments and noise in the then-modern radio and club music.
Still a teenager then he broke up the band and moved to Berlin where he immersed himself in the electro movement, studying every artist, dj, and character he encountered. Jan folded in with inspiring crews like those at the Bar25 who not only exposed him to their forward thinking politic, but were inspired by Jan's passion and unique worldview and signed him to their booking agency. He reformed his old band and began perfecting a machine-like super tight sound that would bring a rock and roll stage presence to the clubs and resulted in an amazing live show. Key gigs at the Fusion Festival, viral music videos, a very big jet plane cover and a debut EP on Stil vor Talent launched him directly into the center of the game to reinvent deep house music. The following cornerstone performances at Burning Man in 2016 and the legendary Zero Parties (from 2013-2018) in New York catapulted his sound into the North American scene and set a clean and mature example of the second wave of the electronic music movement, as you can hear on his spectacular debut album Remote Control from 2016 and his newest œuvre Disconnected
IVY LAB
Originally starting life as a trio, North London outfit Ivy Lab were brought together out of a shared enthusiasm for experimentations on the fringes of the UK bass music scene. The years that followed saw them go from strength to strength, earning a place in 'The top 10 DJ's of 2015' (Mixmag) and propagating a new generation of hip-hop inspired abstractions housed within the framework of their '20/20 LDN' project.
The duo now find themselves at the apex of the 'Halftime' / 'Future Beats' / movement - A motley assortment of actors from across the bass music landscape applying their sonic-heritage to experiments with hip-hop and drum machine electronica.
Ivy Lab invested further in the exploration of this sound with the creation of their '20/20 LDN' clubnight. Housed primarily at Brixton's Phonox nightclub, it earned the characterisation of "ultra innovative" (Timeout Magazine) and a "London standout" (Mixmag).
Minted in late 2015, and borrowing the same raison d'être as its elder sibling nightlife brand; 20/20 LDN Recordings was unveiled with the pseudo-mixtape/compilation LP "Ivy Lab presents 20/20 Volume.1" - described as "uncompromising, insightful and rather awesome : 9/10" (Mixmag) and "impossible to categorise : 9/10" (DJ Mag) . Little over a year (and only 5 releases deep) the label was awarded the title of 'Best Breakthrough Label 2016' in the DJ Mag 'Best of British Awards 2016'.
Now a galvanising presence in the 'Future Beats' movement, Ivy Lab's' "20/20 Volume.1" release and the subsequent follow up E.P's were benchmark moments in forging the genre into a pillar of the electronic music landscape. Tracks such as "Spooky Dub", "Can't Say No" & "Peninsula" all garnered incredible currency, supplemented by showpiece remixes for Banks ("Fuck with myself") and Noisia ("Tentacles").
That same currency as bass music figureheads has been embraced by festivals as varied as Glastonbury, EDC Vegas, SXSW, Sonar (Barcleona + HK), CTM Berlin, Dour, ADE, Woo Hah!, Shambhala, Lightning In A Bottle, Lowlands, Origin NYE, Exit & Outlook.
Ivy Lab head into the horizon not only with an anchored presence at the cutting edge of the bass-music landscape, but also a secured reputation as pioneering label bosses & event promoters in ownership of one of the UK's most exciting contemporary music brands.
Performers
Date and Time
Location
Refund Policy