Description
2nd Annual Charity & Costume Ball
Presents: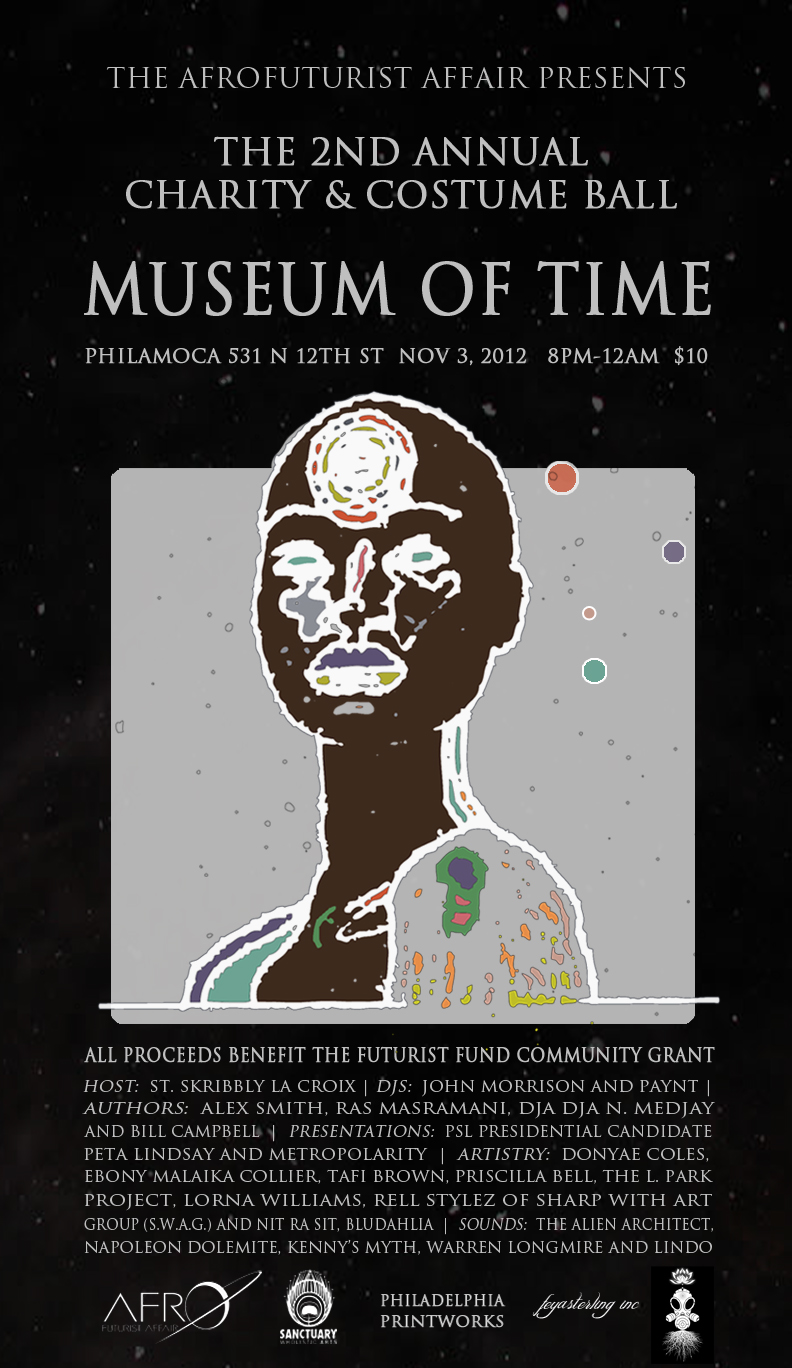 The AfroFuturist Affair presents THE MUSEUM OF TIME
In the spirit of Halloween and all things awesome about Autumn, the AfroFuturist Affair is throwing its annual Afrofuturist-themed COSTUME BALL! Last year's Affair was legendary, with feature artists, authors, and performers who presented creations using Afrofuturism and Sci-Fi as vehicles for expression and agency. This year's Ball promises to vibrate even more intensely as we emanate from our new venue @PhilaMOCA at 12th and Spring Garden in Philly, PA.
$10 admission donation includes refreshments gathered from the future and punch to put you out of this world...Advanced tickets can be purchased on EventBrite for a special discount rate until October 15th. The FB invite is here for up-to-date info on the event! Afrofuturist and Sci-fi Costumes are rabidly ENCOURAGED!!!
HOSTED by SxLx
There is much, much more ahead.... please stayed tuned as we release daily information on performers, and other surprises the closer we get to NOVEMBER 3rd!
To stay in step with the MUSEUM OF TIME, all of the pertinent portals are here:
All proceeds from the MUSEUM OF TIME will be donated to The Futurist Fund community grant. More details about the scholarship fund, who it helps, and how you may donate, as well as application details, will be available on the AfroFuturist Affair website shortly and in the IndieGoGo Campaign reveal.
Photos from last year's Charity & Costume Ball by the L.ParK ProJecT can be found here.
SPONSORS AND VOLUNTEERS: If you or your organization would like to volunteer and/or sponsor the MUSEUM OF TIME please contact afrofuturistaffair@gmail.com.
Organizer of The AfroFuturist Affair: 2nd Annual Charity & Costume Ball