Description
RSVP with your deposit of only $500!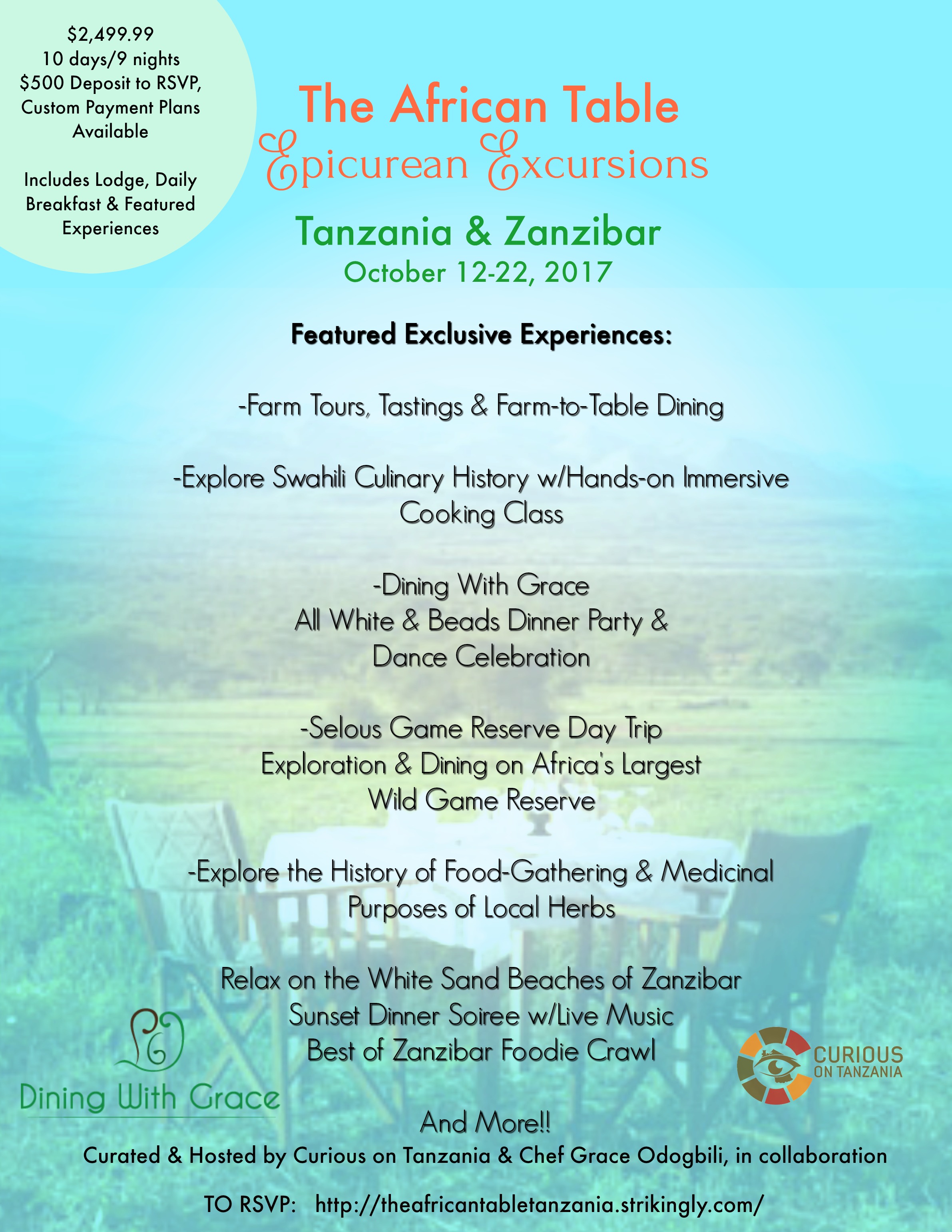 The African Table is on the road again and this time we are heading to the glorious land of Tanzania, the home of the great Kilimanjaro and the beautiful white sand beaches of Zanzibar!
Last year we had a wonderful time on The African Table Epicurean Excursions, exploring the culture, cuisine and craftsmanship of Martinique and we are so happy to continue our Pan-African culinary adventure to the motherland to discover the agriculture, lifestyle and cuisine of Tanzania.
For this exclusive experience, we have joined forces with Curious on Tanzania, a leader in customized Tanzanian travel experiences, to bring you an exciting and uniquely curated Tanzania Foodie Adventure. This is not to be missed! Bring a partner, a group, or come alone and make new lifelong friends!
Check out all that our trip includes, below:
All rates are based on double occupancy. | Travel dates are Thursday, October 12, 2017 to Sunday, October 22, 2017- 10 days and 9 nights. | Flights are priced separately and vary depending on home airport. We assist in securing best priced flights, est. $800 | Payment plans available| Vegan/Vegetarian/Gluten-Free Options Available | Call 347-933-0196 (Chef Grace) or 917-416-7471(Justa, Curious on Tanzania) with any questions or e-mail us, today
Tickets are only $2,499.99 and include:
Full Daily Lodge and Accommodations
Transportation within Tanzania
Daily Breakfast
Hands-on Immersive Cooking Class on Swahili Cuisine
The African Table: "All White & Beads" Dinner & Dance Party
Selous Game Reserve/Safari Day Trip
Culinary History Talk & Food Gathering Tour
Zanzibar Sunset Soiree w/ Live Music
Best of Zanzibar Foodie Crawl
Sunday Classic: Morning Church & "Movers & Shakers" Brunch to connect with influential locals.
Connect & Inspire- Visit a local school and inspire youth
Don't Miss Out! RSVP and Join the Adventure this October!
Any questions contact us at 347-933-0196 (Chef Grace) or 917-416-7471 (Justa, Curious on Tanzania)
Perfect for Anytime Adventurers, Birthday Celebrations, Girlfriend's Getaway, Anniversaries and Solo Travelers!
www.theafricantabletanzania.strikingly.com
Date and Time
Location
Refund Policy