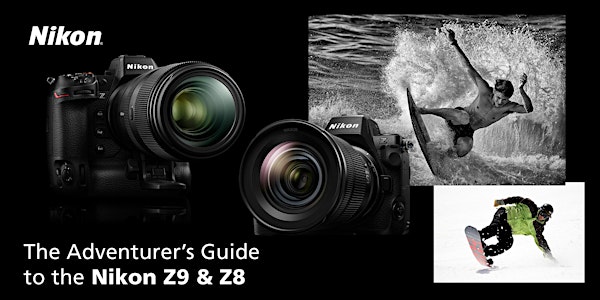 The Adventurer's Guide to Z9 and Z8 - LIVE w/Nikon
Adventurer's guide to the amazing features in the Nikon Z9 & Z8
Date and time
Saturday, June 10 · 2 - 3pm PDT
Location
Kenmore Camera 6708 Northeast 181st Street Kenmore, WA 98028
About this event
The Adventurer's Guide to the Z9 & Z8 - LIVE w/ Nikon
When launched last year, the Z 9 was already packed with more riches than many of us had dared to dream. Since then, Nikon has continued making this powerhouse better and better with a treasure trove of more tools, more options and more capabilities. Updates like Firmware 3.0 have added an astounding 20+ new features and enhancements to the already incredible amount of tech built into the Z 9. It's no wonder you might need a treasure map to access all these valuable features! Now with the launch of the new Z 8, many of the features from the Z 9 are mimicked in the Z 8 but in a smaller more compact body. Come learn more!
But where to start? Why… Kenmore Camera of course!! Kenmore Camera is pleased to welcome Paul Van Allen from Nikon Professional Services. Join Paul as he guides you through some of the settings, set-up and secrets that make the Z 9 & Z8 so powerful!
Meet your Instructor: Learn from Professional Photographer Paul Van Allen. Paul has 30+ years of experience as a professional photographer and 25+ years with Nikon. Paul works with Nikon's renowned Professional Services division and has an unusual ability to take extremely complex technologies and distill them down so that they are easily understandable.
Presented by Kenmore Camera's Summer Sale
June 9th-11th IN-STORE SALE
ONLINE and LIVE In-Store Classes - Register Here
When registering for this presentation you agree to receiving emails regarding specials, upcoming classes and events. You can unsubscribe at any time, and we will never share your email.
About the organizer
Family owned and operated since 1974, Kenmore Camera is here to serve all your photo & video needs. Our knowledgeable and friendly staff are here to help you. Located just 15 minutes north of Seattle in the lakeside community of Kenmore WA.