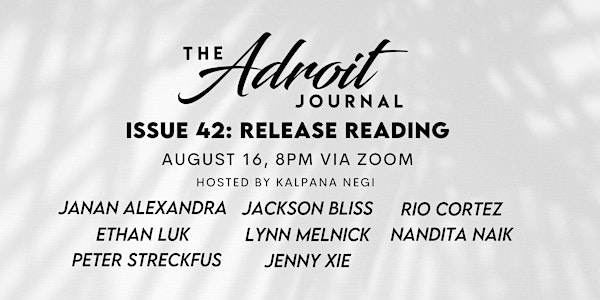 The Adroit Journal Issue 42 Release Reading
Join us 8/16 at 8PM to celebrate Adroit's 42nd issue with a reading featuring some of this issue's contributors! Hosted by Kalpana Negi.
About this event
The editors of The Adroit Journal are thrilled to welcome you to a reading celebrating the release of our forty-second issue!
Readers will include:
Janan Alexandra
Jackson Bliss
Rio Cortez
Ethan Luk
Lynn Melnick
Nandita Naik
Peter Streckfus
The reading will be hosted on Zoom by Kalpana Negi.
Janan Alexandra is a Lebanese American poet currently based in Nicosia, Cyprus. Her poems have appeared in Beloit Poetry Journal, Ninth Letter, Gulf Coast, Ploughshares, Mizna, and elsewhere.
Jackson Bliss is the winner of the 2020 Noemi Press Book Award (in Prose) and the mixed-race/hapa author of COUNTERFACTUAL LOVE STORIES & OTHER EXPERIMENTS (Noemi Press, 2021), AMNESIA OF JUNE BUGS (7.13 Books, 2022), DREAM POP ORIGAMI (Unsolicited Press, 2022), and the speculative hypertext, DUKKHA, MY LOVE (2017). His short stories and essays have appeared in the New York Times, Tin House, Ploughshares, Guernica, Columbia Journal, ZYZZYVA, Antioch Review, Longreads, Kenyon Review, Witness, Fiction, TriQuarterly, Santa Monica Review, Boston Review, Vol. 1 Brooklyn, Quarterly West, Juked, Arts & Letters, Joyland, Notre Dame Review, Fiction International, Pleiades, Hobart, African American Review, Stand (UK), 3:am Magazine, The Good Men Project, The Daily Dot, and the Huffington Post UK, among others. He has an MFA from the University of Notre Dame where he was the Fiction Fellow and the 2007 Sparks Prize Winner. He also has a PhD in Literature and Creative Writing from USC. He is the prior Distinguished Visiting Writer at Bowling Green State University and lives in Los Angeles with his wife and two little dogs.
Rio Cortez is the New York Times bestselling author of The ABCs of Black History (2020) and Golden Ax (2022), recently released from Penguin Books. Her chapbook, I Have Learned to Define a Field As a Space Between Mountains, was published in 2016.
Ethan Luk was born and raised in Hong Kong. His work has been recognized by 92Y, The Kennedy Center, One Teen Story, Sine Theta Magazine, and Cosmonauts Avenue among others. He is currently a sophomore at Princeton University.
Lynn Melnick is the author of the memoir, I've Had to Think Up a Way to Survive: On Trauma, Persistence, and Dolly Parton, forthcoming from University of Texas Press's American Music Series in October 2022. Her work has appeared in APR, LA Review of Books, The New Republic, The New Yorker, The Paris Review, Poetry, A Public Space, and the anthology Not That Bad: Dispatches from Rape Culture.
Nandita Naik is a student at Stanford. Her writing has been nominated for Best of the Net and published in Black Warrior Review, Four Way Review, Waxwing, and other venues.
Peter Streckfus is the author of two poetry books: Errings, winner of Fordham University Press's 2013 POL Editor's Prize, and The Cuckoo, which won the Yale Series of Younger Poets competition in 2003. He lives in the Washington DC area and is on the faculties of the Creative Writing Program at George Mason University and the Low-Residency Pan-European MFA in Creative Writing at Cedar Crest College. He is an editorial co-director of Poetry Daily.
Kalpana Negi studied Creative Writing at the University of Edinburgh and has an MFA from the University of Memphis, where she taught fiction, and read for the literary magazine The Pinch. Her short stories have been chosen as finalists for several literary magazine contests, and her work is published or forthcoming in TriQuarterly magazine, Five Points, EVENT Poetry and Prose and the University of Memphis Magazine among other journals. She has attended the Tin House Summer Workshop and the Lighthouse Writers Workshop. She's currently the Prose Editor at The Adroit Journal and lives in Indianapolis.