About this Event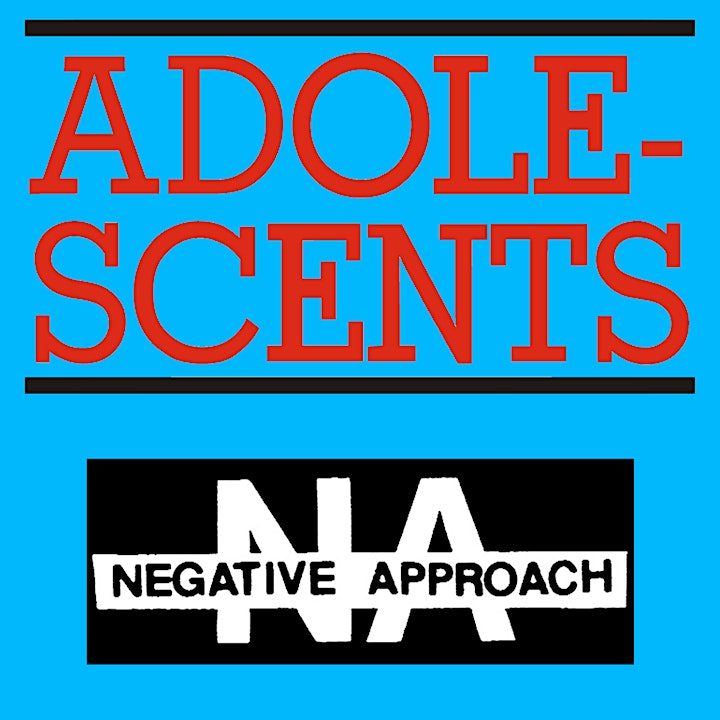 About The Adolescents
Facebook I Instagram I Twitter I Website
The Adolescents formed in January 1980 in Fullerton, CA by Steve Soto after he was booted from Agent Orange in December 1979. Original members were: Tony Cadena (vocals), Steve Soto (Bass), Frank Agnew (Guitar), John O'Donovan (Guitar), and Peter Pan (Drums). Both John & Peter left in June and were replaced by Rikk Agnew (Guitar) and Casey Royer (Drums), both formerly of Social Distortion & The Detours.
The Adolescents signed with Frontier Records in January 1981 and recorded the Blue Album the following month. From start to master, the album was done in four days. The album started hitting the stores in April. Rikk was relieved from the band just as the album was being released, and was replaced by Pat Smear (formerly of the Germs and destined for Nirvana & Foo Fighters). This line up lasted until the end of June when Pat left.
We were planning our first tour for late summer through the fall and Pat couldn't tour. He was replaced by Casey's roommate Steve Roberts. This line up recorded the "Welcome to Reality" EP in July, which was eventually released in October 1981.
Unfortunately the "Classic" Adolescents broke up in August 1981 just before our first ever tour was getting under way (oddly enough, we'd never made it out of California). Not too bad for a band that was only together a year and 8 months! After the break up, Tony formed the Abandoned, Steve & I joined Legal Weapon, Casey formed D.I. and Rikk joined Christian Death after his departure.
After the break up in August 1981 we all did various things, D.I. being the most consistent of all our individual endeavors. After he did his solo album in '83, Rikk joined D.I along with our younger brother Alfie Agnew of Almost 21. This was in my opinion the best version of D.I., the "Ancient Artifacts, Horse Bites, Team Goon" era. That line up ended when the Adolescents reformed in April 1986.
The reformed Adolescents started out with the original "Blue Album" line up. Shows were plentiful and we started working on a new album. By the time the recording of the album was coming up Casey and I left the band. Casey wanted to keep D.I. going, and I lost interest. Sandy Hansen took Casey's place and my younger brother Alfie took mine. They recorded the "Brats in Battalions" album in the late summer, a couple of weeks after me and Casey split.
It took a whole year for the record to come out, finally hitting the stores in August 1987. This was due to numerous bad decisions made on the bands' part (we were never known for our business acumen). First off, they decided to put the album out themselves (real bad advice from their manager at the time), with little cash and backing, it's not surprising that it took so long to come out. Hurts even more considering that a young Epitaph Records wanted the Adolescents at the time!
Second bad move, they decided to produce it themselves. The quality of the recording is not very good, sounds like it was done on a ghetto blaster. Also, I think the choice of some of the songs was wrong. When I was still in the band and we were rehearsing for the "Brats" album, there were some good new songs that never made it on the record, I'm not sure why. Instead they re-recorded the three songs from the "Welcome to Reality" EP… dumb idea. I think there are a few good songs on the record but not much else, Steve Soto won't even talk about that album! The only songs we do live from Brats these days is "Brats in Battalions" and "Peasant Song".
At the end of 1986 Alfie went off to college and his place taken by Dan Coburn. This line up toured for most of '87 and by the end of the year Tony and Dan burned out and left. Tony went on to finish his teaching degree and started the "Flower Leopards". The band should have broken up then. With no money, bad record distribution and no tour support, it wasn't going anywhere.
New year… 1988. Rikk and Steve decide to keep the ball rolling. They replace Dan with a fellow named Paul Casey and decide NOT to replace Tony and sing themselves, a good and bad decision. Good in that Tony was irreplaceable, bad in that Tony was irreplaceable! Anyway, Paul lasted only four months and quit while they were on tour after a violent feud with Rikk (Rikk is notoriously difficult to get along with at times). So, mid April I get a call from Steve Soto saying they're in Salt Lake City with no guitar player. I fly out the next day and join the Adolescents once again! After we finished the tour, we finished the "Balboa Fun Zone" album. Rikk, Steve and Sandy recorded most of the album before they left on the aforementioned tour.
My thoughts on the "Balboa Fun Zone" album. It was wrong for the Adolescents. I think it's a good album, recorded and performed well (especially Soto's vocals) but it wasn't the Adolescents. At the time we finished it I'd suggested we put out the album as new band but that didn't happen.
We stuck it out for another year and even had new material for a follow up album to "Fun Zone" but our record label at the time (Triple X) decided the new stuff didn't sound enough like the Adolescents, they were right.
We broke up for good in April 1989. Soto, Sandy and I started "Joyride" which they stayed with for the next several years and a couple of good albums. Rikk did a couple of solo albums, and I after leaving Joyride just after starting did many different projects, mainly raising a family.
So there it is, The Adolescents history in a nutshell.
About Negative Approach
Negative Approach is an American hardcore punk band, formed in Detroit, Michigan in 1981. The band is considered among of the pioneers of hardcore punk, particularly in the Midwest region. Like most hardcore bands, Negative Approach was little known in its day outside of its hometown. It is now idolized in the Detroit rock underground and the punk subculture, considered to be one of the elite bands of the "old school" era, and continues to be influential
Negative Approach initially broke up in 1984 with singer John Brannon moving onto Laughing Hyenas, and later Easy Action, but the band has reformed as of 2006 and continues to tour sporadically
Negative Approach was formed in August 1981 in Detroit, Michigan by John Brannon and Pete Zelewski, supposedly after seeing a Black Flag/Necros show. The first NA lineup consisted of Brannon on vocals, Rob McCulloch on guitar, Pete Zelewski on bass and Zuheir on drums. Not long after, Zelewski left the band to form the Allied and was replaced by Rob McCulloch's brother Graham. Zuheir Fakhoury was later replaced by Chris "Opie" Moore. The lineup of Brannon/McCulloch/McCulloch/Moore would remain unchanged until NA disbanded.
NA's first gig was in the basement of Necros drummer Todd Swalla's mother's home. Soon after, they recorded a demo, and followed that up with an appearance on the Process of Elimination compilation 7" EP, released on Meatmen frontman Tesco Vee's fledgling Touch & Go label, named after his fanzine of the same name. The comp also featured the Necros and the Meatmen, among others. NA, the Necros and the Meatmen then embarked on the Process of Elimination tour. Though this "tour" consisted of a mere three shows (Boston, New York City and Washington, DC), it is cited as being a key event in the early spread of hardcore.
The first proper Negative Approach studio release came in 1982 with their self-titled 7" EP, also on Touch & Go. It contained "Can't Tell No One," "Ready To Fight" and "Nothing," which is considered by many to be the quintessential NA song.
The following year saw the release of the Tied Down LP, also venerated as a hardcore classic.
The classic line-up fell apart in 1983. Rob McCulloch claims that the band had grown weary of the group's reputation for writing negative lyrics but that John Brannon was not comfortable writing differently. Also, Rob has stated that John's involvement with Larissa Stolarchuk from L-Seven was another source of tension for the group. The band re-grouped long enough to record the Tied Down LP, then split for good.
Afterwards, Brannon assembled a new line-up with members Kelly Dermody (guitar), Dave (bass) and Mike McCabe (drums). This version of Negative Approach played a series of live shows throughout 1984 which featured some new songs, such as "Obsession," "Tunnel Vision," "Kiss Me Kill Me" and a cover of "I Got A Right" by the Stooges. This line-up can be heard on the Live at the Newtown Theater bootleg 7" and some live tracks recorded at Boston's Paradise club that appear on the Total Recall. discography CD. The new line-up of the band split during the first week of their tour in support of Tied Down, playing their last show in Memphis.
Post-break up (1983-2006)
John Brannon with Easy Action. Mac's Bar, Lansing 11/8/08.
John Brannon went on to front the punk blues band Laughing Hyenas with his girlfriend Larissa Stolarchuk (then calling herself "Larissa Strickland") from L-Seven, and currently sings for Easy Action. In 2008 John Brannon sings 2 songs on Vitamin X's album Full Scale Assault produced by Steve Albini.
Opie Moore moved out from behind the drums to front '80s/'90s alt-rock act Crossed Wire along with Rob McCulloch. After Crossed Wire, Rob McCulloch attended college and has not pursued a career in music, although he maintains a home recording studio. Currently, Moore enjoys a respected solo career as an edgy roots-oriented singer and songwriter. His current band, Moore & Sons on the UK's Triumphant Sounds/Drawing Room label, features Lambchop member Dennis Cronin.
Graham McCulloch moved to Washington, DC and joined the Meatmen before forming Earth 18 with John "Bubba" Dupree (formerly of Void). Earth 18 released several albums and toured the US, opening for Nitzer Ebb. After Earth 18 disbanded Graham played for several years in Mother May I.
Reunion (2006-present)
It was announced in May 2006 that Brannon and Moore would play a Negative Approach reunion show, of sorts, for Touch & Go's 25th Anniversary show on September 9, 2006, as well as two later shows in the UK - London on December 7 and at All Tomorrow's Parties on December 10. Despite repeated efforts by Rob and Graham McCulloch to be a part of the reunion and have the classic NA lineup play, John refused. It was instead announced that Harold Richardson (of Brannon's current band Easy Action) and Ron Sakowski (formerly of Easy Action, Laughing Hyenas, and Necros) would complete the lineup.
Negative Approach closed out the No Fun Fest in Brooklyn, New York on May 20, 2007. Thurston Moore played guitar on two songs at the start of their set.
Negative Approach did a brief reunion tour in the northeast United States in April 2008, performing in Brooklyn and Providence. They also played the wedding of Anal Cunt founder Seth Putnam. The band did a lengthier tour of Europe in June 2008, and later that year a concert in Los Angeles. In 2009, they played a string of shows in the US.
In 2010 Brannon discovered several unreleased Negative Approach recordings which contained the lost 1984 sessions of unreleased studio tracks. After meeting Curtis Casella of Taang! Records, Casella offered to release the recordings, which include "Friends Of No One", "Cargo Cult" "Kiss Me Kill Me", "Obsession", "Genocide" and a studio version of "I Got A Right". The tapes were brought to Jim Diamond to restore and preserve. Taang! released an album containing the recordings called "Nothing Will Stand In Our Way" in November 2011 around the time the band played the Fun Fun Fun Festival in Austin Texas with the band's friend and lawyer Anthony DeLuca sitting in on drums in place of Moore.
Performers
Date and Time
Location
Refund Policy