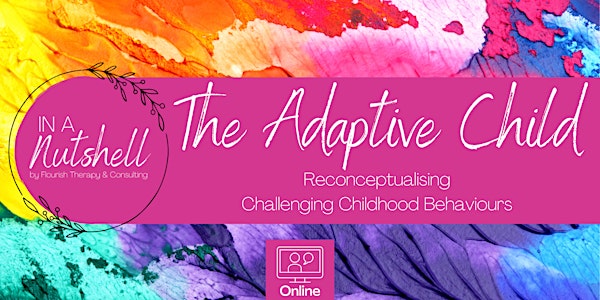 The Adaptive Child: Reconceptualising Challenging Childhood Behaviours
Up-to-date, modern and science backed understandings of challenging behaviours exhibited by children and adolescents.
About this event
Challenging childhood behaviours are arguably one of the greatest sources of frustration for parents, early childhood educators, teachers, support workers, therapists, medical professionals and the community. They are also hugely misunderstood, couched in outdated ideas about how children should behave rather than how they can behave based on their stage of development and a broad range of contextual factors.
This 4 hour live online workshop will:
Explore what challenging childhood behaviours are and why the systems around children are currently failing them (and you!) in the management of challenging childhood behaviours.
Unpack the core milestones in brain development and highlight their relationship to challenging childhood behaviours.
Compare traditional and modern models of children's behaviour and explain why traditional models have done a disservice to children and those who care for them.
Briefly introduce you to Oppositional Defiant Disorder (ODD) and make an argument challenging the validity of the diagnosis.
Present new ways to conceptualise challenging childhood behaviours in children and adolescents, with specific interventions you can apply immediately (without the need for any prior therapy training).
Workshop Details:
The workshop runs from 9:30am - 1:30pm (QLD Time) via Zoom. Participants will be provided an electronic copy of the workshop slides as well as comprehensive worksheets and handouts. Participants will have the opportunity to ask questions during the workshop.
Who Should Attend:
The workshop is suitable for anyone who works with children and adolescents professionally, as well as parents and carers of children and adolescents.
Tickets:
Early Bird: $140.00 + booking fee
General Admission: $165.00 + booking fee
Places are strictly limited!
Questions?
Further questions can be emailed to monica@flourishtherapyandconsulting.com.au
About the Facilitator:
Monica Lord is an Accredited Mental Health Social Worker and the owner of Flourish Therapy & Consulting, a private practice operated on the Gold Coast. Monica holds a Bachelor of Social Work from Griffith University and a Master of Youth Mental Health from the University of Melbourne; she has been practicing as a Social Worker for 13 years and has been in private practice for 6 years.
Monica has a broad range of practice experience in drug and alcohol, youth mental health, parenting support, adult mental health and mental health system reform. Monica now focuses her practice on working with children, adolescents, women and parents across a broad range of presenting concerns, but with a special interest in challenging childhood behaviours. Monica has also worked at Griffith University for the past 3 years in the teaching and marking teams across a range of subjects in the Bachelor of Social Work, Master of Social Work and Master of Mental Health programs.
Want to know more: www.flourishtherapyandconsulting.com.au