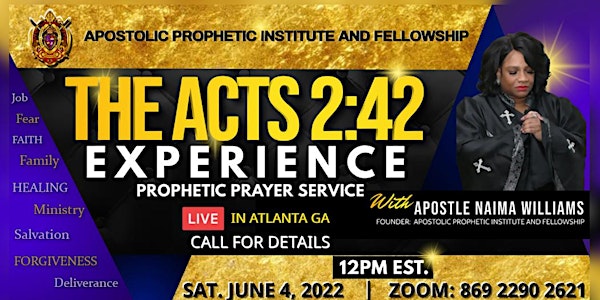 The ACTS 2:42 EXPERIENCE (InHouse/ZOOM)- PROPHETIC PRAYER SVC WORSHIP
MONTHLY HOUSE/ZOOM WORSHIP SERVICE - THE ACTS EXPERIENCE PROPHETIC PRAYER SVC & WORSHIP! The Gathering of the Saints!
About this event
And they continued steadfastly in the apostles' [a]doctrine and fellowship, in the breaking of bread, and in prayers....So continuing daily with one accord in the temple, and breaking bread from house to house, they ate their food with gladness and simplicity of heart.. - Acts 2:42, 46, NKJV
WE WOULD LOVE FOR YOU TO COME! (virtually or physically, see below)
Join us as we gather for our monthly in-home worship service! We will be praying with you and for your loved ones, as we lift up the name of Jesus! Our Apostle will be bringing a Word to the house, and we invite you to receive and partake.
There are NO Gimmicks. NO Games. Just Ministry!
FIRST SATURDAYS @ 11:00 AM EST.
Access: ZOOM or PHONE (See flyer)
Zoom info to come post registration. Physical location is in ATLANTA, GA. Email for more details.