The Accidental Bookkeeper Training Series #1 - "Sorting Out the Basics of Bookkeeping"

Wednesday, September 15, 2010 from 11:00 AM to 12:30 PM (EDT)
Event Details
Looking for practical and easy-to-understand guidance on keeping your books?
Want a better understanding of bookkeeping to help simplify your job?
Need to learn bookkeeping secrets and tips from someone who knows accounting but doesn't talk like an accountant?
Your solution is right here, in...
The Accidental Bookkeeper Training Series
You'll benefit from this webinar series, regardless of whether you are using QuickBooks, Peachtree or ledger paper to keep your books!
The content of "The Accidental Bookkeeper" Training Series will be timely and extremely informative. It was built to relate to you as a bookeeper that may NOT have had much training or experience.

You'll find the concepts Scott teaches in "The Accidental Bookkeeper" series to be very practical, understandable, and easily applied in your office.
Scott will be using QuickBooks to demonstrate and share some bookkeeping concepts, as it will be easier to understand them visually. However, it is NOT mandatory to use or even have a copy of QuickBooks to benefit from "The Accidental Bookkeeper" training series.
THE ACCIDENTAL BOOKKEEPER TRAINING SERIES: WEBINAR #1
"SORTING OUT THE BASICS OF BOOKKEEPING"
WHEN: WEDNESDAY, SEPTEMBER 15, 2010 - 11AM-12:30PM ET

In this 90-minute webinar, you will conquer your fear of the confusing terminology in the world of bookkeeping and set your mind at ease as Scott teaches you:
The inner workings of the chart of accounts and other commonly used terms - this insight is absolutely a key to your success. He'll help you develop a crystal-clear understanding of what the terms mean, why they are important, and tips, tricks and traps in working with your chart of accounts.
Is it a debit? Or is it a credit? And why you should care! (plus a handy chart for all attendees that makes it easy to remember what happens when you debit or credit an account).
What the heck the differences are between cash and accrual basis and which option is better for running a business.
Think you might be able to skip this webinar and go directly to webinar #2? Take this quiz and find out just how well you understand the information Scott will be presenting in webinar #1!
To sign up for this webinar,  simply click the "Webinar #1" button at the top of this screen.


Great idea! Bad timing? Sign up anyway! This webinar will be recorded and you will have a full 30 days from the date of the webinar to access it 24/7.
OTHER ACCIDENTAL BOOKKEEPER TRAINING SERIES WEBINARS AVAILABLE (click the links below for details and registration):
WEBINAR #2 - "HANDLING TRICKY TRANSACTIONS, WHY RECONCILING IS CRITICAL TO YOUR SUCCESS AND 5 THINGS YOU NEED TO KNOW ABOUT INTERNAL CONTROLS"
WHEN: WEDNESDAY, SEPTEMBER 22, 2010 - 11AM-12:30PM ET

WEBINAR #3 - "UNDERSTANDING THE END RESULTS OF YOUR HARD WORK!"
WHEN: WEDNESDAY, SEPTEMBER 29, 2010 - 11AM - 12:30PM ET

Great ideas! Bad timing? Sign up anyway! These webinars will be recorded and you will have a full 30 days from the date of the webinar to access it 24/7.
If you find that this webinar does not meet your expectations, simply disconnect within the first thirty-minutes and request a refund. Your registration fee will be cheerfully refunded in full.
IMPORTANT NOTES ABOUT "THE ACCIDENTAL BOOKKEEPER" TRAINING SERIES WEBINARS:
Each webinar will be recorded and available for playback by attendees for a period of 30 days after the completion of the webinar.
Windows Media Player will be required for viewing the webinar once it has been archived (but not needed if you are attending live). Most Windows computers have this software already installed!
Refunds will NOT be issued for any cancellation received less than 48 hours ahead of the webinar date.
E-mails will be sent out several times prior to the webinar with login instructions. Please make sure to test your connection to the webinar prior to the event to ensure you can connect properly to the webinar.
When & Where

Internet Webinar




Wednesday, September 15, 2010 from 11:00 AM to 12:30 PM (EDT)
Add to my calendar
Organizer
Scott Gregory, QuickBooks Specialist and CFO
Scott has been helping businesses unlock the mysteries of QuickBooks, accounting, inventory, manufacturing/distribution and finance for over 30 years.
His easy-to-understand teaching style has helped hundreds of business owners, entrepreneurs, and bookkeepers gain clarity with QuickBooks, eliminate confusion, and be successful with their favorite software!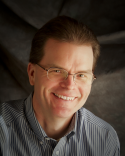 Some of Scott's credentials:
 - Certified QuickBooks ProAdvisor
 - Certified QuickBooks Enterprise ProAdvisor
 - Certified in Integrated Resource Management (CIRM) from the American Production and Inventory Control Society (APICS)
 - QuickBooks instructor in such venues as: Ohio Society of CPAs, Ohio Small Business Development Center, Lakeland Community College, Intuit Town Hall Meetings
 - CPA
 - Worked with QuickBooks software for 19+ years and in business finance and accounting for 30+ years.