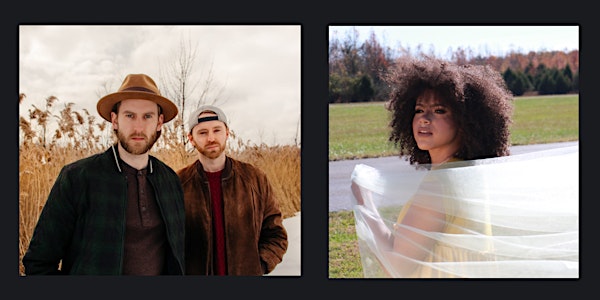 The Abrams and Julie Williams
Performers
The Abrams, Julie Williams
Location
The Evening Muse
3227 N. Davidson Street
Charlotte, NC 28205
Canadian and Nashville Rising Country Stars
About this event
These days, a lot of what we experience has been carefully curated, filtered and targeted. It seems we've become desensitized by it, especially where every little social interaction and every mundane object is glossed up to look #instagood.
But when The Abrams play live, what you see is what you get. Still in their 20s, they have the hard-earned ability of seasoned touring veterans. They perform with an explosive energy, honed over two decades of experience in front of audiences around the world. Their live show is the kind that can't be whipped up over a few weeks in a rehearsal space.
The Abrams make honest music.
The country duo from Kingston, Ontario, are something of an anomaly, having performed at Nashville's Grand Ole Opry and embarked on repeated tours across multiple continents. With their acceptance of the Daniel Pearl Memorial Violin award in 2006, They were recognized as ambassadors for peace in the Middle East through music. All of this took place before they reached legal driving age.
Their 18-year touring career has had a significant influence on their songwriting, which continues to have a lasting emotional impact with their fans across cultural divides, whether they are playing in a community hall in Texas, or at a world music festival in Israel. John and James's most recent songs speak about experiences of love and loss, through good times and tough times, partly drawn from their long-term relationships with their wife and girlfriend respectively, who support them through the successes and difficulties that come with a touring lifestyle.
As many are aware by now, The Abrams are the 4th generation in a line of songwriters, performers and recording artists in their family, who instilled in them the ability to tell stories that speak to the hearts of their fans. The result is a new album of songs that are both deeply personal, and widely relatable, led by the first single Sounds Good To Me, produced by Matt Rovey (Zac Brown Band, Alan Jackson). "Sounds Good To Me is all about the little things. The real and honest things. The simple moments in life that end up being everything we live for, especially with the people we love."
While John and James have gone through many different stages of their career, two things have always been true: their deep and intrinsic love of country music, and the fact that they cannot remember life before they started making country music. It has simply always been there, and they have always been doing it.
Knowing what they can accomplish in the studio, and how to translate that to the stage, The Abrams have taken their place alongside Canada's best-known country music stars.
To put it plainly, The Abrams are as authentic as it gets. There is nothing to hide here. No tricks. No gimmicks. No smoke and mirrors. No filters. The Abrams just make good honest music.
********
"Making waves with these waves"
Fearlessly forging ahead down country roads, singer-songwriter Julie Williams carries her mixed-race heritage proudly, just as she carries her tunes. Raised in Florida, Julie is turning heads in Nashville's country music scene with the soft but powerful songs that capture the soul of growing up as a mixed-race child in the South.
Music has always been a part of Julie's life - honing her singing talent in church and beach bars and belting national anthems before packed stadiums. She grew up listening to everyone and everything, from The Chicks and James Taylor, to Gladys Knight and Michael Jackson. Even though she was drawn to the storytelling of country music, she never quite found the sound that spoke to everything she was: Black, white, Southern, a woman, hopeful, truthful. So naturally, it was up to Julie to make this sound. "My music is mixed like me," is how she describes it, "I want to tell the stories that need to be told."
Julie started sharing those stories, and the people listened. A student at Duke University, Julie was signed to Small Town Records whose alumni include Mike Posner and Delta Rae and sang as a vocalist for the Duke Jazz Ensemble. In April 2019, she released her debut EP, Lovecycle, earning a feature in People of Duke Arts in 2019. After graduating with a public policy degree in 2019, she moved to Nashville, where she became a regular host of The Song Suffragettes, Nashville's premier collective of female singer-songwriters, and performed her upcoming single Southern Curls at the State of Tennessee's 100th anniversary celebration of the 19th amendment. She was named in Rissi Palmer's Color Me Country Class of 2021 and featured on She Wolf Radio's Ones 2 Watch list. In April 2021, she was featured in a PBS NewsHour special on Black women in country music.
"People want to hear black voices, black stories," Julie always says. "I was nervous about how my songs would be received by Nashville - but people want honesty. They want honest songs about real life, and for the artists they follow to take a stand." Julie´s upcoming single Southern Curls embodies this - making waves with her soulful lyrics about the struggles of growing up mixed in the South, aiming for the heart and striking true. Her fans responded by raising over $5000 in only one week to fund the song´s music video that was brought to life by an all black creative team. The single and music video, released in March 2021, covered by Billboard, CMT, World of Country, and numerous music publications.
Julie has begun touring the country with the Black Opry Revue, a showcase featuring Black artists in country, blues, folk, and Americana music, and performed at their CMT-sponsored anniversary gala in April 2022 that was covered by NBC News. Julie is taking the stage with the group at CMA Fest in Nashville in June 2022 and will follow this performance with her first solo tour. The tour will bring Julie and her songs across the country and globe - with performances in London, Nashville, Charlotte, Washington, D.C, Philadelphia, New York City, and Boston.
"I'm writing my songs for the 10-year old girl who cries in the shower as she tries to detangle her hair and is afraid to look in the mirror because she hates what she sees; for the 20-year-old who is just now learning to love herself; for the new mom that wants her daughters and sons to love themselves as themselves and to hear music that celebrates them. That's who my songs are for."