Description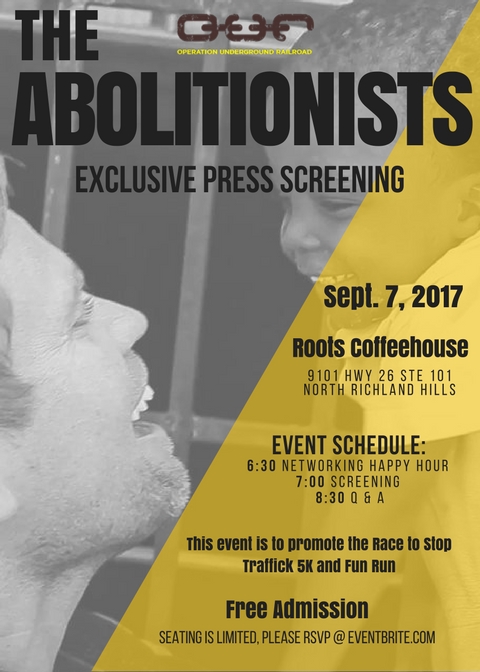 The OUR Dallas/Ft. Worth Volunteer team is hosting an event especially for the local press and local social media influencers.
Our goal with this event is to promote our 5K and Fun Run (October 21st) on local social media outlets. Also this may help provide our attendees with inspiration for stories.
6:30 pm - Happy Hour and Networking
7:00 pm - The Abolitionists Screening
8:30 pm - Question & Answer Session
FAQs
I am not press or social media, may I still attend the event?
Yes, please do! Everyone is welcome to this event! However, please be sure to reserve your spot/RSVP, just because space is limited.
Is this film safe for children?

The Abolitionists is rated PG-13. It is also important to keep in mind that we will be discussing sex trafficking. Therefore, we are leaving it up to the discression of the child's parent(s).
Where should I go if I would like to make a donation to your cause?
Thank you for wanting to participate! The Operation Underground Railroad Dallas/Ft. Worth Volunteer Team has an online campaign. Here is the link. This is the best place to go to donate to our cause!
Where can I go to learn more about or sign up for the 5K Race and Fun Run?

We have a website. This site includes all the information you need regarding the race. This includes location, costs of participation, donation information, sponorship information, and so on.

Do I have to bring my printed ticket to the event?
No, you do not need a ticket to get into the event. However, as space is limited, we ask that you get a ticket anyway so that we may have a head count of our attendees.
Is it ok if the name on my ticket or registration doesn't match the person who attends?
Since tickets are not needed to attend this event, it is perfectly fine if the name on the ticket and the name of the person attending does not match.
I would love to see this documentary/get involved, but (for whatever reason) I am unable to attend. What should I do?

Please contact us! We will be willing to meet with you at another time! Or (if needed) we can always host another event!