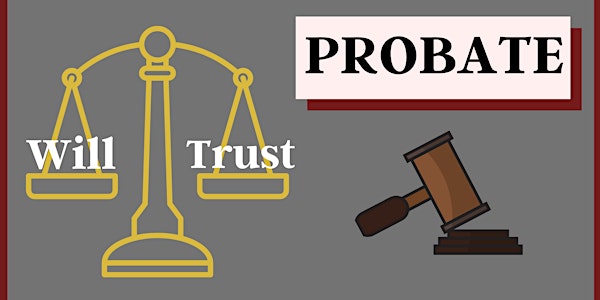 The ABC's of the Probate Process (Probate Webinar)
Important Things You Should Know if You Are Filing a Probate Estate in California – A Must Watch!!!
About this event
Get your probate questions answered during this FREE probate webinar and follow-up Q&A session!
Probate Topics Covered:
- Essential considerations for the handling of a probate estate. How to properly file and administer a probate case in California, without making costly mistakes.
- Do you have to pay an attorney to begin probate administration?
- Will you have to do a lot of work as a probate administrator?
- Is it true that the attorney will handle most of the work in the probate administration?
- How will I be compensated for my services as probate administrator?
- What are the fees and costs which must be paid in the handling of a probate estate, and when must they be paid?
- Will you be able to keep the affairs of the probate private?
- How long will it take to close the probate estate and distribute the assets?
- Will I be personally liable if I act as the administrator of the probate estate?
Register for an upcoming probate webinar today and have all of your probate related questions answered by attorney, William K. Hayes who has over 30+ years of probate experience.
We are excited to announce our newest Probate webinar, which is part of a 3-part webinar series. Check out the link below to read more about our newest probate webinar!
Register Here: https://hayeslawfirm.easywebinar.live/registration-wtdwlod-part3
*Visit our website for a full list of our probate, trusts, trust administration, and Medicaid webinars!
https://www.losangelestrustlaw.com/seminars-and-webinars/