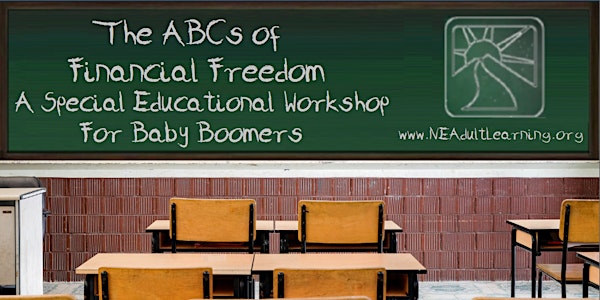 The ABCs of Financial Freedom
When and where
Location
Benoit Education Center, Rivier University 29 Clement Street Second Floor Nashua, NH 03060
Refund Policy
Contact the organizer to request a refund.
Description
What Baby Boomers Need to Know to Have a Worry-Free Retirement
You've worked hard your whole life and have saved just like you were told to. You paid into the Social Security system for years. Perhaps you've funded a pension. Soon it will be your turn to retire. Advance planning is essential, and the decisions you make now can have a tremendous impact on the total amount of income you stand to receive over your lifetime.
Success in retirement isn't accidental; it requires clear understanding, deliberate decision-making, and careful planning. In this course you will learn:

The best time to take Social Security so it enhances your other retirement assets.

The most efficient and profitable way to structure your employer pension should you be fortunate enough to have one.

How to create your own "Personal Pension," that may double or triple the amount of retirement income from your 401(k).

The proper timing and ordering of your assets so they will last longer and keep your taxes to the minimum possible.

Why your 401(k) may be your least desirable retirement asset and how to fix it.

How to prepare for long-term care, without purchasing long-term care insurance.

Savvy tax strategies that can save you thousands.

RMDs/MRDs: what are they, when they kick in, penalties, and strategies to maximize them.

How to have a "More Now, More Later" retirement plan.