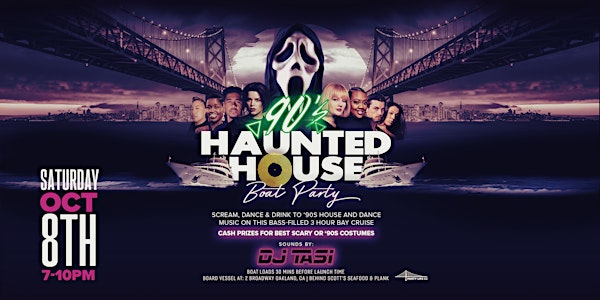 The '90s Experience Day Party Cruise Yacht Party
90s HAUNTED HOUSE BOAT PARTY
When and where
Location
Jack London Square 2 broadway Oakland, CA 94607
Refund Policy
Contact the organizer to request a refund.
Eventbrite's fee is nonrefundable.
About this event
'90s Haunted HOUSE Bay Area Boat Party Cruise
🗣 DANCE INTO THE NIGHT with one of the funnest party cruise experiences during spooky season! It's a Halloween-feel mixed with '90s house music for a feel-good, funky, fun and oh-so-fly kind of vibe. A perfect party for groups, friends, celebrations, couples, '90s junkies and house party music lovers!
Departing from buzzing and eclectic Jack London Square Oakland, this cruise is filled with breathtaking views, wave-your-hands-in-the-air feel-good party music, dancing, food, drinks, and epic photo ops.
This selfie-worthy adventure at sea will take you under the ICONIC Bay Bridge all the way to San Francisco's colorful sparkling skyline. Then you'll cruise down to larger-than-life Coit Tower and gorgeous views of North Beach...
...all the while, the bump & grind '90s house music fills the Bay Area sky with bass and harmonies to keep the party movin', groovin' and singing along.
This is a boat party experience so fun, sooo '90s, and ALL THAT & a bag of chips!
Don't miss out, don't be late cuz if you do you're gonna hate! These parties sell out so for real get tickets early! Watch the video to see the onboard fun!
Two dance floors & VIP sections
MUSIC BY: DJ TASI
SOUNDS LIKE: '90s house, dance, funky, disco-y, pop, sing-along, uptempo, just say haaaay!, sing-along, feel good, groove, familiar favorite hits, party-starters, iconic hits remixed
VIBE: Fun, friendly, Halloween, party, dancing, drinking, good time, Bay Area views, spooky, night sky, celebration, no haters, no scrubs
WHAT TO WEAR: Costumes and/or '90s encouraged! CA$H prize for best costume!
Food by: Chef Oooweee (available for purchase)
- VIP tables available with bottle service (available for purchase)
CRUISE PARTY HIGHLIGHTS:
Full Panoramic Views of the aesthetic Bay, best Views of SF City Skyline, Bay Bridge
2 Levels of Entertainment and Fun (VIP SECTIONS WITH PLUSH SEATING)
12000Watts of roaring Music
The Cruise**
+ Boat Loads 30 min before the cruise.
+ All ticketed passengers will be boarded first.
All ticketed passengers must be in line or on the boat 15 min before boarding.
YOUR TICKET WILL BE CANCELLED IF NOT CHECKED IN. No refunds
AFTER ALL PASSENGERS ARE BOARDED WE WILL SELL CASH TICKETS - FIRST COME FIRST SERVE
Departure:
+ BOAT DEPARTURE ADDRESS:1 Broadway, Oakland Ca 94607
...in the Jack London Square (area of Oakland) at the very end of Broadway Street (also next to Lungomare restaurant - in case you need another reference).
The Boat Departs:
3pm SHARP - not a minute after
We "MUST" leave on time and stay on schedule. The boat will not wait for you so please arrive extra early to get good parking and familiarize yourselves with the area. There are big parking lots in the Jack London Square area close to our departing place and public parking on the streets but can be busy with the many restaurants and shops so please, prepare.
Tickets/Entry:
Please bring your ticket print-outs (if possible). *If you have bought multiple tickets, please have these persons with you on arrival before entering the boat to avoid confusion! This is a 21+ event.
About the boat: "Bay Celebrations" is a locally owned, double-decked riverboat style vessel powered by twin engines. The boat is wheelchair accessible and features a full bar and indoor/outdoor areas. The boat moves slowly for maximum comfort and will tour the lovely waters of the SF Bay. This boats' capacity is 145 people.
Beverages Available:
Beverages (water, alcohol, soda, juice, etc.) sold at the boats two bars.
Attire/Dress Code:
Dress to impress and/or '90s style encouraged!
Strongly suggest bringing a thick jacket as it can get chilly & windy during the evening hours or out on the deck. No backpacks allowed.
Let's have some fun!
Frequently asked questions:
Is there an age limit for the cruise? Answer: yes our events are 21+ unless specified.
Is there food and is it free? Yes there is food available for purchase only
Is there a lost and found? Yes bay celebrations will keep items for up to a certain time before donated to good will. Contact at baycelebrations.com
Can I bring a cake aboard for our birthday? We do not allow a cake but have allowed cupcakes without colored icing due to clean up issues.
Can I purchase bottle service and how much? Bottle service is available and can range from 30$ to 350$
Can I smoke aboard the vessel? Yes we have a smoking deck outside and ask you not to liter in our bay waters please use ashtrays.
Where do we meet to load before the party? We load up in jack London square behind plank and Scott's seafood. We ask you to arrive a bit early to prepare for parking.
It's sold out can I get a ticket it's my birthday? We have a capacity due to safety and regulations. We will sell tickets at the dock first come first serve.
Do people get motion sickness? Very rarely to people get motion sickness on our vessel. The bay waters are known to be calm especially at night. We do offer medicine aboard if you do become motion sickness.
Do you take credit cards at the bar? Yes we take cash and credit
Are there life vests aboard the vessel? By maritime law we have to provide a life vest for every passenger on board. The captain will tell you where they are located. Our captains are very well trained and masters at sea.
Purchase Policy:
No REFUNDS, Ticket sales are final
No REFUNDS if you miss the Cruise departure
NO REFUNDS OR EXCHANGES. ALL SALES ARE FINAL
Purchase Policy:
By placing an order, you are confirming that you received this policy and are agreeing to abide by the clauses within. This Purchase Policy is a binding contract between you and event Promoter.
Event Booking:
By purchasing a ticket, package or reservation you're entitled to entry to event you're purchasing it for. At the time of your order, Eventbrite will place an order for your ticket(s) in the Promoter's ticketing system, reducing the number of tickets available for the chosen event. Before purchasing your ticket(s) we urge you to confirm the title, time and location of the event(s) you wish to attend, as there are no refunds. Each event has a definitive date, start time and end time. If you do not show up to the event, you understand that you are forfeiting your ticket(s) and therefore your ticketing fee (the entirety of what you paid) will not be returned to you. If you do not attend your event, you're still 100% financially liable for your purchase. If you cannot attend event, you will not receive refund.
Release of Liability:
By purchasing the tickets through Eventbrite, you hereby release and forever discharge Promoter from any liability or claims for damages that may arise as a result of your attendance at, and voluntary participation in, the event(s), including claims for personal injury, or damage to personal property, or any other claims for negligence on the part of the event's Promoter. By purchasing the tickets through Eventbrite for this event, you hereby release and forever discharge event Promoter, and their officers and agents, from any liability or claims for damages that may arise as a result of your attendance and participation at the event(s). It is hereby understood that the purchase of tickets by you and your participation in the events shall not be construed as an assumption on the part of Promoter of responsibility, liability, or control of the events.
Indemnity:
By Purchasing tickets for this event, ticket purchaser agrees to indemnify and hold harmless event Promoter, said entities officers, owners, employees, and agents, from and against all claims, damages, losses and expenses, including reasonable attorney's fees arising out of or by reason of complying with this Indemnity Clause. Ticket purchaser, their heirs, executors, administrators, successors and assigns, hereby release, remise, and forever discharge event Promoter and its entities owners, officers, employees and agents, from all manner of actions, causes of actions, suits, debts, judgments, executions, claims, demands whatsoever, known or unknown, in law or equity, which ticket-holder has ever had, now have, may have, or claim against event Promoter.
Collections & Legal Action Against Debt:
Once you make a purchase, if those funds are removed from the Promoter's account and given back to you, you owe the Promoter that money back, plus applicable fees as outlined below. If you owe money to Promoter, Promoter reserves the right to take legal action against you and/or send you to collections for the recovery of said debt. If you are sent to collection or there is legal action taken against you, you are fiscally responsible for any and all legal costs and fees, directly associated and/or indirectly associated, with recovering the debt owed by you. Promoter's collection's agencies reserve the right to negatively affect your personal credit score until your debt is paid. Once an account has been placed in collections, the only way to get yourself out of Collections is to pay the debt owed by you to the collections agency.
Arbitration Agreement:
In the event there are any legal disputes against Promoter, by agreeing to this Purchase Policy, you agree that such disputes will be arbitrated. You further agree that the location of arbitration will be set in Alameda County, California.
Severability:
If any clause, aspect, part or provisions of this Purchase Policy is found to be null, void, illegal or otherwise unenforceable, the rest of this Purchase Policy remains in full binding effect, and the unenforceable provision(s) shall be deemed modified to the limited extent required to permit the enforcement of said clause that required modification and of the agreement as a whole.
Thank you for your purchase!
NO REFUNDS OR EXCHANGES. ALL SALES ARE FINAL