Description


A book gives you credibility, celebrity and authority. Published authors receive better opportunities, more invites for solo speaking engagements, radio shows, and appearances on stage and tele-summits with other luminaries in your field.
I've seen so many potential Authors and Entrepreneurs let years pass them buy, with a book in their hearts that never makes it onto paper. Don't let this happen to you!
What it you could 'Get Your Book Done', share your knowledge and make more money? What if I dared you to? I Dare you to WRITE YOUR BOOK IN 90 DAYS!
In this workshop, we will help participants go from dreaming about their book to penning their masterpiece. Participants will learn:
How to uncover their book's true purpose and message
How to attain unstoppable confidence in their writing
The Secrets and Our Strategies on How to Write A Book in 90 Days
How to Market and Launch their books to Best Seller
*Bonus* - We will also talk about how a book can be 'Monetized' and Repurposed into multiple income streams, such as speaking, coaching, courses and products.
THIS EVENT IS LIFE CHANGING!
Free Hotel Voucher when you Register and Attend! You must stay until the end!
Agenda:
9:45AM Doors Open
10:00AM Start of workshop
11:00 PM Networking/Vendor Introductions (This training will be interactive as well! Be sure to bring your business cards for networking!)
12:00 PM How to Market and Monetize Your Book into Multiple Streams of Income and Launch Your Book to Best Seller,
1:00 PM Close of Workshop (This is when you get your FREE Hotel
Voucher!)
VENDOR TABLES ARE AVAILABLE AND GOING FAST!!!!
There will be an opportunity to join the 'The 90 Day Book Dare', which will be offered at the end of this training.
Please keep in mind that everyone who registers qualifies themselves to get a 3 night 2 day hotel voucher FREE OF CHARGE for attending the workshop. You will redeem your voucher when you arrive, however we will call you prior to the event within 24 to 48 hours after registration to confirm your information so that you can get your voucher. Please make sure that you include your phone number that you can be reached outside of your home and/or office. If we are not able to speak with you on the phone, you will not be able to redeem your voucher.
Contact us at (704)701-6791 or kelly.campbell@90daybookdare.com for questions and information on vendor tables or visit www.90daybookdare.com!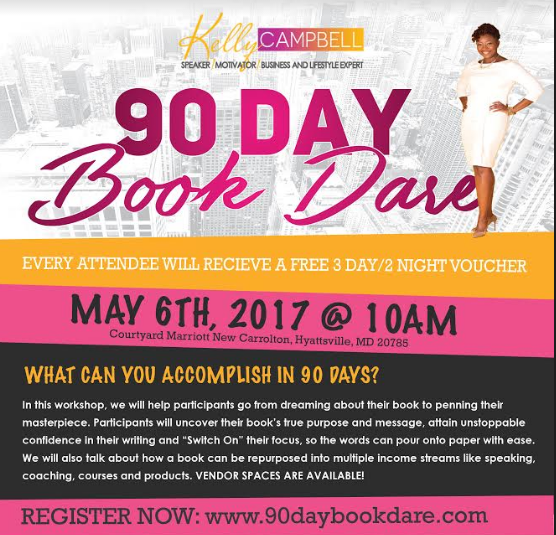 GET YOUR FREE TICKET TO THIS EVENT NOW!
For more information visit www.90daybookdare.com