Description
The Body Design University 90-Day Fit For Life Challenge is designed to get and keep you fit!
Lose body fat! Gain energy, muscle, strength, endurance and flexibility!
Open event - Anyone can enter!
INCLUDES CUSTOM MEAL & EXERCISE PLAN (Reg. $150)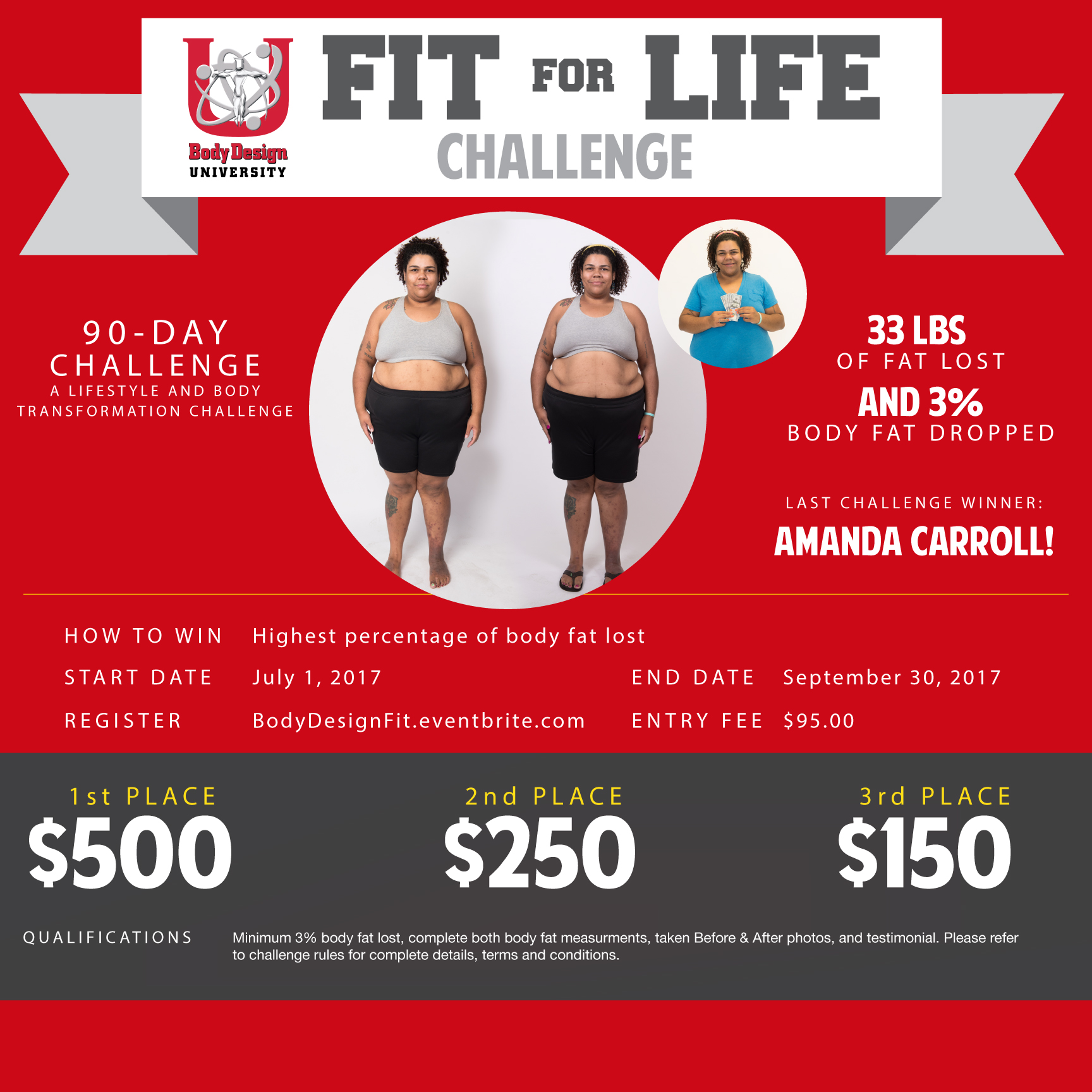 Prizes:
$500 First Place
$250 Second Place
$150 Third Place
When:
Start - Saturday, July 1st
End - Saturday, September 30th
Before Weigh-In: Friday, June 30 from 6:00 PM—7:00 PM -OR- Saturday, July 1 from 9:00 AM—10:00 AM

After Weigh-In: Friday, Sept. 29 from 6:00PM—7:00PM -OR- Saturday, Sept. 30 from 9:00 AM—10:00 AM

Optional midpoint Weigh-In: Tuesday, August 15 from 6:00-7:00pm.

There will be an Awards Ceremony approximately 1 week after the contest. Date/Time TBD.
Where:
Body Design University
1040 West Marietta St. NW
Atlanta, GA 30318
Entry Fee:
$95 (includes both body fat measurements and professional before and after photos)
If you'd like a Personal Trainer to help you during the challenge, just ask! We can provide you a referral!
PRIZE QUALIFICATIONS
Write a one paragraph testimonial of your 90-day challenge experience/results.

Minimum of 3% body fat loss.

Before & after photos and body fat measurements at the set location on dates and times above.
TERMS AND CONDITIONS
I should consult a physician before starting this fitness challenge.

Must be at registration location on specific start and end dates/times. No makeups. No Exceptions.

BDU and your Personal Trainer (if applicable) own the unrestricted rights to photos and testimonial.

Once entry fee is paid the is no cancellation or refunds for any reason whatsoever.

We use the InBody machine to measure Body Fat Percentage and Body Composition. In order to get accurate test results, you must fast for 3 hours prior to testing. NO FOOD OR LIQUID!
Please wear swim or sportswear for photos (sport bra and shorts or swim trunk. Ideally, wear the same outfit for Before and After!