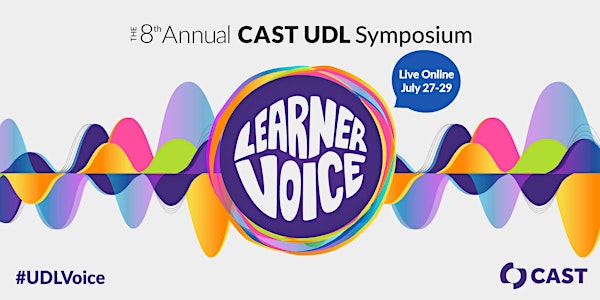 The 8th Annual CAST UDL Symposium: Learner Voice
Join us for a learning and networking experience filled with conversations that elevate our thinking around UDL and learner voice.
Refund Policy
Refunds up to 30 days before event
About this event
Universal Design for Learning is founded on, and committed to, the fight for educational equity, until learning has no limits. At CAST, we believe true equity must involve the power of the voices of our learners. This year's Symposium is designed to amplify those voices, particularly those who have been most marginalized by traditional educational systems. Learners' voices must be lifted and made central to how we engage, teach, and assess learners, because each and every voice enriches learning for all.
Conference Goals
By engaging in virtual sessions that encourage innovative ideas, systemic thinking, and application of theory to practice, participants will:
Imagine radical new ways to include learner voice in all aspects of their education across the lifespan.
Explore how assessments, post-secondary planning, and UDL implementation could include learner voice.
Be inspired to experiment with and implement new systems for empowering learners.
Examine ways in which we may unconsciously support systems that disadvantage or exclude certain students, and learn how learner voice can build racial and cultural equity.
Challenge their own assumptions about teaching, instruction, and learning.
Imagine innovative policies and practices for lifting up student voice in their work (no matter the context), and understanding student voice as the most necessary foundation of positive educational systemic change.
Funding Resources
Paying with a Purchase Order: If you are paying for your Symposium ticket with an invoice, Purchase Orders must be submitted at the time of registration to submit your order successfully. All Purchase Orders should be uploaded to the Purchase Order Submission Form at the time of registration.
Tuition Refund Policy: Cancellations made 30 days or more in advance of the event date will not be charged. Cancellations made within 30 days – 7 days in advance of the event date will be charged $100. There will be no refund issued for cancellations made within 7 days of the event.
Scholarship Program: If the cost of the Symposium presents a barrier for your participation, please consider applying for our scholarship program. Please complete this survey to add your name to the list of sponsorship applicants. We are still in the process of reaching out to potential funders and actively working to secure scholarship funds.
Learn more about CAST's 8th Annual UDL Symposium: Learner Voice