The 8th Annual California Banjo Extravaganza Banjo Mini-Camp Featuring Gina Furtado, Leroy Troy & Bill Evans
About this Event
Saturday, November 9th, 1 to 5 p.m., $70. Choose two 75-minute banjo workshops of your choice in bluegrass or clawhammer style, followed by an all-group Q & A session with banjo and mandolin instructors.
Sponsored by Banjo Boy Coffee, Elderly Instruments, Peghead Nation, Homespun Tapes & Miniflex Microphones.
And catch the California Banjo Extravaganza in concert at the Freight, Saturday, November 9, 8 p.m. Tickets available here.
For all levels of bluegrass and clawhammer banjo players, Gina Furtado, Leroy Troy & Bill Evans will each teach two 75-minute small group sessionsf from 1 to 4pm. You will choose which workshop session you want to attend. All participants will the come together at 4pm in the Littlefield Room for a final Q & A session. Your $70 admission covers the entire afternoon of workshop sessions.
This is a hands-on, "bring your banjo and let's pick" afternoon with topics appropriate for all levels of banjo players. Audio and videotaping of workshops are allowed and students can attend any session of their choice. Don't miss this unique opportunity to learn up close from three of the best players and teachers in the world.
At the conclusion of the Mini-Camp, store your instrument safely at the Freight, grab dinner in downtown Berkeley and come back to enjoy the California Banjo Extravaganza in concert at 8 p.m.
Session 1: 1 to 2:15 p.m.
Gina Furtado: Getting The Most Out of the Fretboard (bluegrass, intermediate but beginners also welcome) - A key to improvisation is knowing the fretboard. In this session, Gina will locate all of the major chord positions up and down the neck and demonstrate licks and techniques that are associated with each position. You'll be able to put this knowledge right to work whether you're improvising on standard bluegrass tunes or creating your own music. Gina teaches without tab but she will provide a written summary of what is covered and students are invited to record her recap/review at the end of the session.
Leroy Troy: The Legacy of Uncle Dave Macon (and Other Things) (old-time, all levels) - Uncle Dave Macon was one of the first stars of the Grand Ole Opry in the late 1920's and is viewed as a bridge between 19th century American folk and vaudeville music and 20th century rurally-derived styles. Leroy is the present-day embodiment of Uncle Dave's lively stage presence and musical personality. As a young man, Leroy learned man of Uncle Dave's banjo techniques from Cordell Kemp, who knew Uncle Dave personally. Enjoy this rare opportunity to experience the early roots of country music as Leroy informally discusses Uncle Dave, his career and his banjo and singing style. Students do not have to bring banjos to this session.
Bill Evans: Bluegrass Banjo Jam Survival Skills (all levels) - This will be a practical, "hands-on, bring your banjo and let's pick" kind of workshop covering easy-to-learn techniques that you can put to immediate use in your jam session. Topics to be discussed include navigating the fretboard using movable chord shapes for vamping, up-the-neck backup using the F and D shapes and the "In The Mood" roll, down-the-neck backup using forward rolls and target tones, how to "hear" chord progressions, and using the capo to play in different keys. Tab examples will be presented for everything covered in the session but its not necessary to read tab to get a lot out of this workshop. This workshop is ideal for those with six months or more of playing experience who are ready to start playing in jams and informal bands. Audio and/or video recording is encouraged.
Session 2: 2:45 to 4 p.m.
Gina Furtado: The Beautiful World of Double C Tuning )bluegrass, upper intermediate/advanced) - An often-overlooked tuning in the land of bluegrass banjo, double C tuning (where you tune the 2nd string up one fret from B to C and lower the 4th string down two frets from D to C) can drastically change the overall feel of what we play and open the door to exciting new playing possibilities in the keys of C and D. In this class, you'll learn the basics of double C tuning, along with tips and tricks for when and how to use it to create a more subdued vibe when needed and you'll even learn a simple tune. Gina teaches without tab but she will provide a written summary of what is covered and students are invited to record her recap/review at the end of the session.
Leroy Troy: Singing With the Banjo (old-time and bluegrass, all levels) - Leroy is one of the most entertaining performers in old-time country music today and in this workshop, he'll share his ideas on how to sing with the banjo. He'll discuss the different right-hand rhythms he uses and show various walk-ups and walk-downs used in banjo accompaniment to vocal tunes. He'll also cover projecting your voice and singing with and without a microphone. This is a hands-on session, so bring your banjo! Leroy might even teach you some of his banjo tricks!
Bill Evans: Working Up Scruggs-Style Solos (bluegrass, all levels) - One of the greatest challenges for banjo players at all levels is finding the melody and choosing just the right rolls and licks to create legitimate sounding, driving bluegrass solos. In this "hands on, let's pick" style of workshop designed for players with one or more years of experience, Bill shows you a step-by-step process that will unlock the secrets of great soloing. You'll first learn short shortcuts on how to find melody notes on the fingerboard, and how melodies relate to chord progressions. Bill will then cover how roll choices can enhance the effectiveness of solos and he'll teach some of the most essential licks that come up again and again in the greatest bluegrass banjo solos. The class will also analyze and play several classic Earl Scruggs solos note-for-note as time allows. Tab examples will be presented for everything covered in calss and audio/video recording is welcome.
Session 3: 4:15 to 5 p.m.
Grand finale with Gina Furtado (banjo), Leroy Troy (banjo), Bill Evans (banjo), Dale Adkins (guitar), and John Reischman (mandolin). An open-ended Q & A, comparing styles and approaches, playing your requests and providing a concert preview.
About the teachers:
Gina Furtado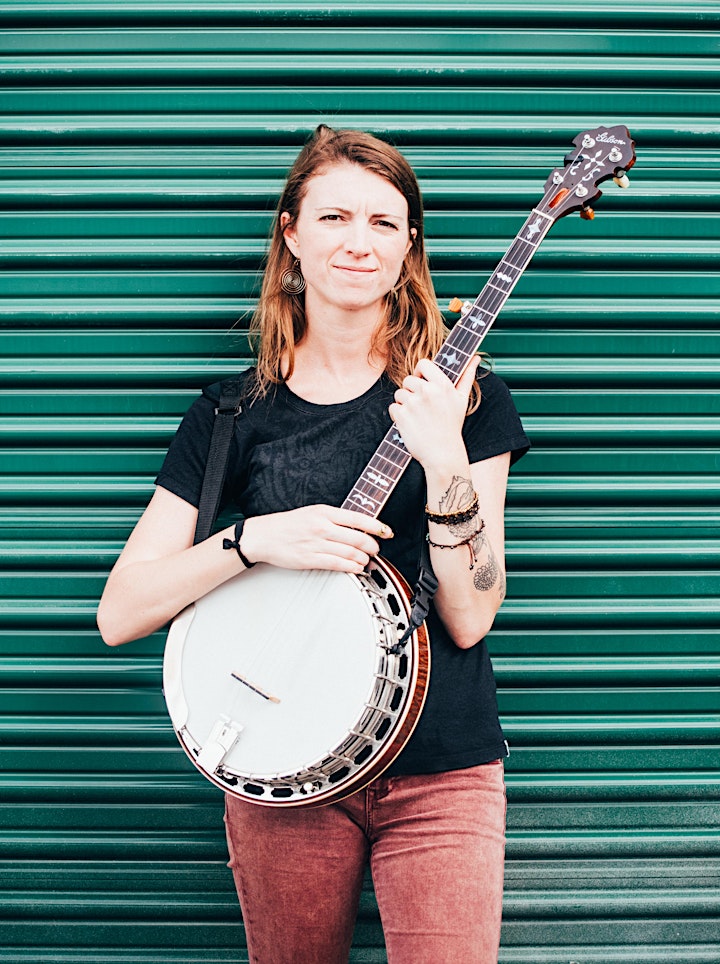 "Gina Furtado is a rising major talent on the banjo...along with her wealth of talent as a songwriter," says Bluegrass Unlimited magazine. From Winchester, Virginia, Gina was a 2918 and 2019 final nominee for the International Bluegrass Music Association's Banjo Player of the Year award. Know in the last few years for her work with Chris Jones & The Night Drivers, she has now stepped out on her own to lead the Gina Furtado Project. Her brand-new Mountain Home project "I Hope You Have A Good Life" moves Gina in a more progressive direction spotlighting both her stellar banjo technique as well as her considerable talent as a singer-songwriter, blending contemporary bluegrass and swing.
"Absurdly talented." - Bluegrass Today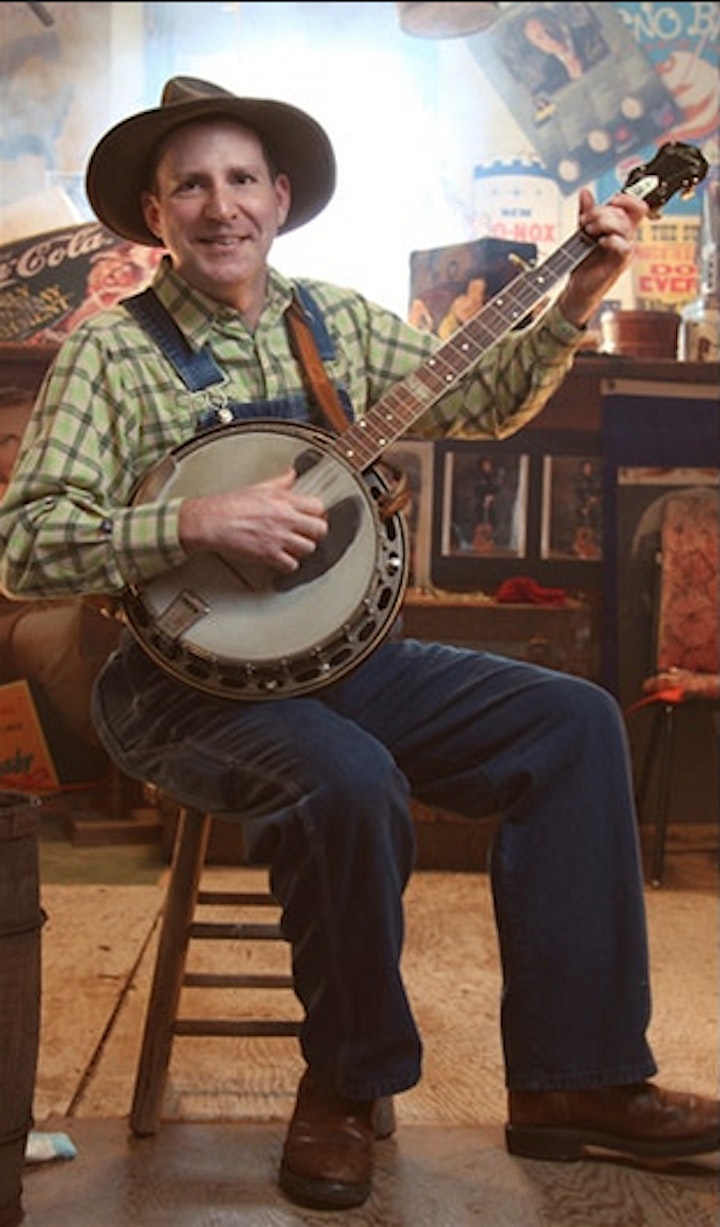 "Leroy Troy is an American treasure, a musical wizard," says Marty Stuart. From Goodlettsville, Tennessee, Leroy is the living heir to the banjo entertainment traditions of early Grand Ole Opry star Uncle Dave Macon. None other than Roy Acuff was an early mento, followed by the Bailes Brothers and Cordell Kemp, who learned directly from Uncle Dave Macon himself. know to audiences internationally from his appearances on television's "The Marty Stuart Show," "Hee Haw," and "Outsiders Inn," as well as multiple appearances on the Grand Ole Opry, "The Tennessee Slicker" will amaze California audiences with banjo acrobatics and lively old-time songs with maybe a little bit of flat-foot dancing thrown in for good measure. When he's not touring the world as a solo performer or with his trio, he performs with the Tennesseee Mafia Jug Band. Expect banjos to be thrown in the air during a Leroy Troy performance!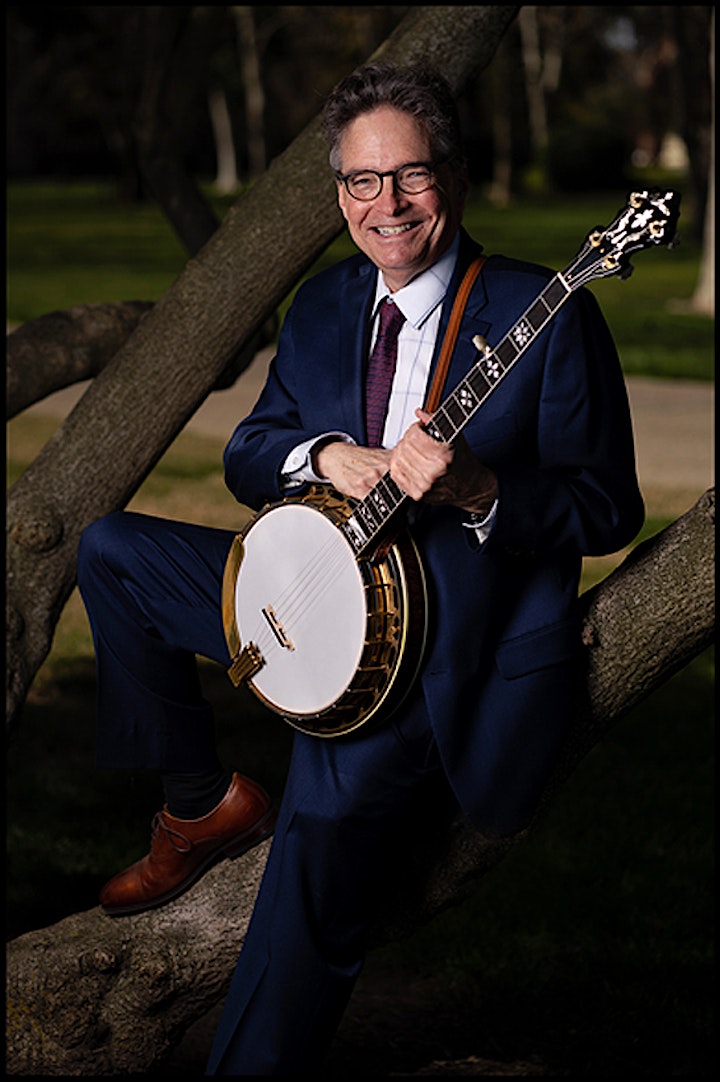 Bill Evans came up with the idea of the California Banjo Extravaganza eight years ago as a way to bring together banjo players and fans from all over northern California to celebrate this most American of stringed instruments. now living in New Mexico, Bill has spent a lifetime bringing together folks who love and play the five-string banjo. His books Bluegrass Banjo for Dummies and Banjo for Dummies are among the most popular instructional books in the world. These days you'll find Bill performing with his solo show The Banjo in America and with flatpicking legend Dan Crary and bass player Wally Barnick. Over the last twenty-two years, Bill has graced the stage of the Freight, appearing with David Bromberg, David Grisman, Peter Rowan, Dry Branch Fire Squad, J.D. Crowe and Kathy Kallick, among many others. His monthly free shows in Kensington with Bangers & Grass, now in their eighth year, attract audiences from all over the world. His latest release is Songs That Are Mostly Older Than Us, recorded with late Chattanooga, Tennessee fiddler Fletcher Bright and Norman and Nancy Blake. Bill also offers online lessons at www.pegheadnation.com.
"Bill Evans does for the five-string banjo what Van Gogh did for color...treats it in a different way and then shares it with you. And his recent release "In Good Company" is a virtuoso master class in exploring bluegrass from the tradition to the far edges of alternative." - Tom Franks, FolkWords
Questions? Email Bill Evans at bill@billevansbanjo.com.
Note: Pre-registration is recommended for this event. Thsoe choosing to register on the day of the event should arrive by 12:30pm, while others should arrive by 12:45pm. We will hit the ground running at 1pm. Paticipants may choose any workshop topic.
Performers
Date and Time
Location
Refund Policy