The 7th International Conference on Public Health 2021 (ICOPH 2021)
THEME : "DRIVING INNOVATIONS IN HEALTHCARE, STRENGTHENING HEALTH SYSTEMS: ADDRESSING COVID 19 PANDEMIC"
About this event
The 7th International Conference on Public Health 2021 (ICOPH 2021)
The International Institute of Knowledge Management (TIIKM) takes the pleasure to invite you to the 7th International Conference on Public Health 2021 (ICOPH 2021) which will be held from 04th – 05th August 2021 in virtual platform.
ICOPH 2021 is a premier event that brings together 250+ academicians, public health specialists, health professionals, healthcare providers, researches, scientists, policymakers, pharmaceutical developers, and health workers from countries around the world to present their latest research ideas, development, and applications in all areas of Public Health.
– CONFERENCE TRACKS –
01. Primary Health Care
02. Metabolic Syndrome
03. Maternal, Infant and Child health
04. Family Planning
05. Occupational and Safety Health
06. Environmental Health
07. Epidemiology
08. Mental Health
09. Adolescent & Young Adults Health
10. Social Determinants of Health
11. Non Communicable Diseases
12. Health Communication and Health Information Technology
13. Health Economics
14. Sexual and Reproductive Health
15. Oral Health
16. COVID -19
17. Functional Foods for Anticovid-19
18. Other Disciplines
Call for papers : https://publichealthconference.co/call-for-papers/
PUBLISHELP
-A BREAKTHROUGH FREE TIIKM PROJECT TO MAKE YOUR RESEARCH PUBLICATION POSSIBLE-
Preliminary Reviews for Your Full Paper with the world-class publication "Steering Committee" prior to the conference
One of the major issues faced by novice researchers/authors in the present setting are the lack of perspectives to improve writing for academic publications. As a "PUBLISHelp" is introduced by TIIKM to help authors develop their full papers prior to the conference. Once the request is been made, a steering committee member will be assigned to provide the author with developmental comments for the improvement of the full paper. Our main goal is to assist our conference participants to keep one step ahead to improve their valuable research papers.
TO WHOM:
This project is designed to help researchers/authors who aspire to develop their full papers up to the standard of high quality academic journals
BENEFITS TO AUTHORS:
Obtain experts' inputs to improve your paper
We assist you to obtain constructive inputs and different perspectives from qualified scholars. This will help strengthen the quality of your paper. Reviewed and revised paper with a world-class scientific committee will make your paper more likely to be accepted by high standard journals.
Ability to gain tips to strengthen your presentation
Feedback received via this committee will help you polish the final presentation at the conference as well.
Help develop academic writing skills
The knowledge that you will be gathering from this initiative will benefit you in your future academic writing for academic publications.
Free Service
This is a free project designed by TIIKM and IAPH to help conference participants develop their career an extra mile.
TO APPLY FOR THIS VALUABLE OPPORTUNITY:
You have to be a paid participant for the conference
Have your full paper sent to publication@tiikmedu.com 6 weeks prior to the conference date with the subject "Application for PUBLISHelp Service – Conference Name"
Please mention your abstract ID and Registration ID in the email body
**Limited number of opportunities based on a First Come First Serve basis
If you are interested in joining the Steering Committee:
Please convey your interests to Ms. Yasodara at yasodara@tiikm.com with your CV. (Please indicate "Application for Steering Committee" in the subject line)
Publication : https://publichealthconference.co/publication-opportunity/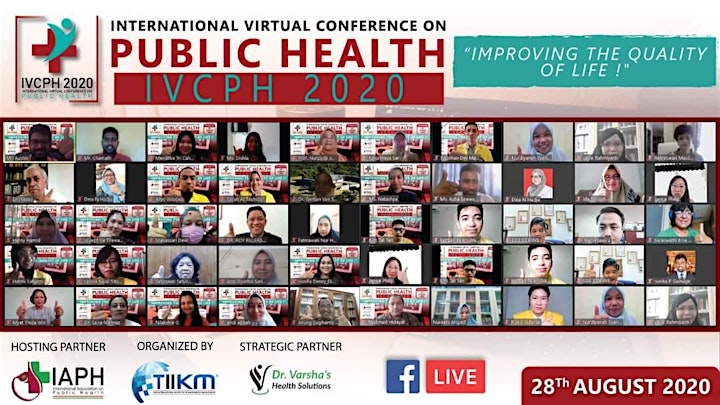 Organizer of The 7th International Conference on Public Health 2021 (ICOPH 2021)
The International Institute of Knowledge Management (TIIKM) is an entity that facilitates the purpose of knowledge transfer by constructing research fraternity, empowering decision making in the corporate sector and by promoting quality decisions for policy makers through academic conferences.